"Nature sustains us, and is a living force to be remembered and to be honored. She clothes us in sunlight and shadows, leaves and sand, flowers and geometry. This is the beauty of life off the runway and beyond seasonal trends."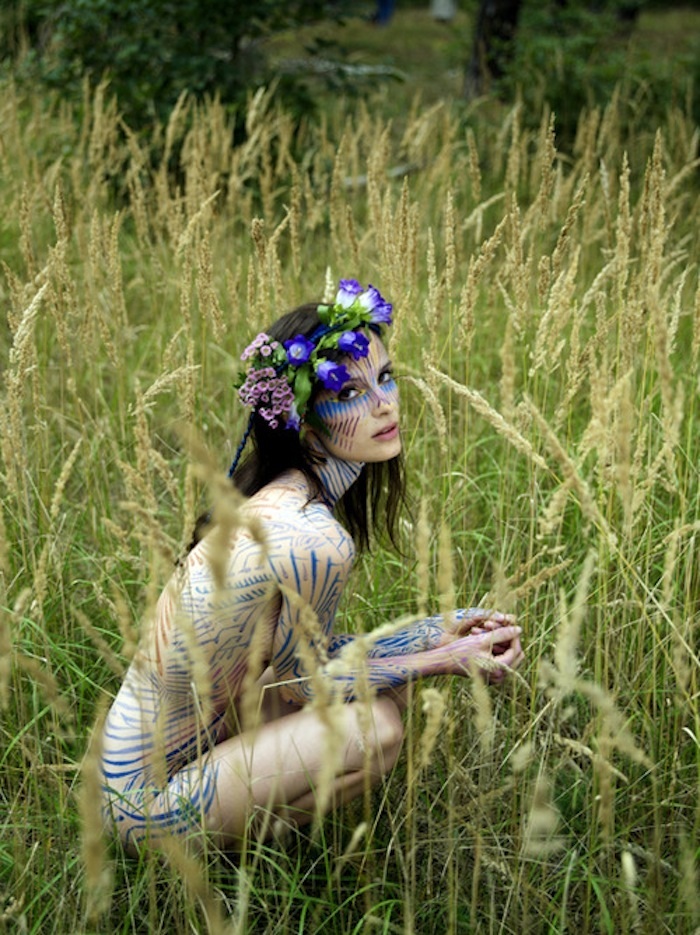 When I first saw Oliver Halsman Rosenberg at a party on the roof of the Standard Hotel this summer, I knew it was only a matter of time before we'd be featuring him on the site. The NYC-born artist and global nomad wore bones around his neck and silver paint on his face, and is the living embodiment of the consciousness-expanding message of his work, "body glyphs" which use the human form as a canvas for messages divined from the world of the unseen.
Described as; "vibrational mantras manifested on skin," Oliver's latest project, Ceremony, is a collaboration with the photographer Polina Sirosh. Begun in Tulum, Mexico, on the cusp of the Mayan calendar change in the winter of 2012, the project continued over the summer of 2013 in Berlin.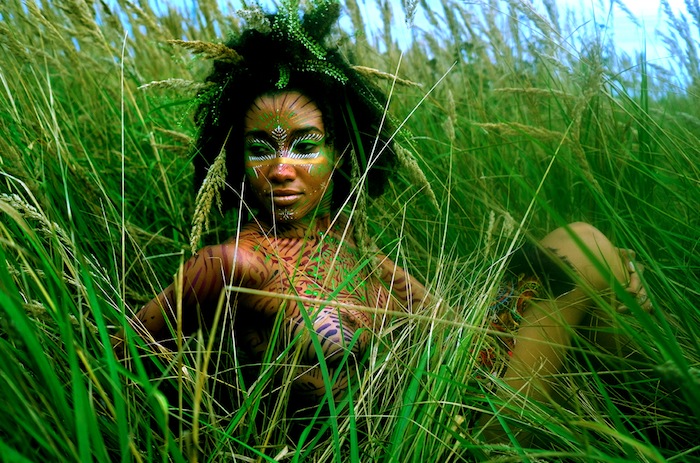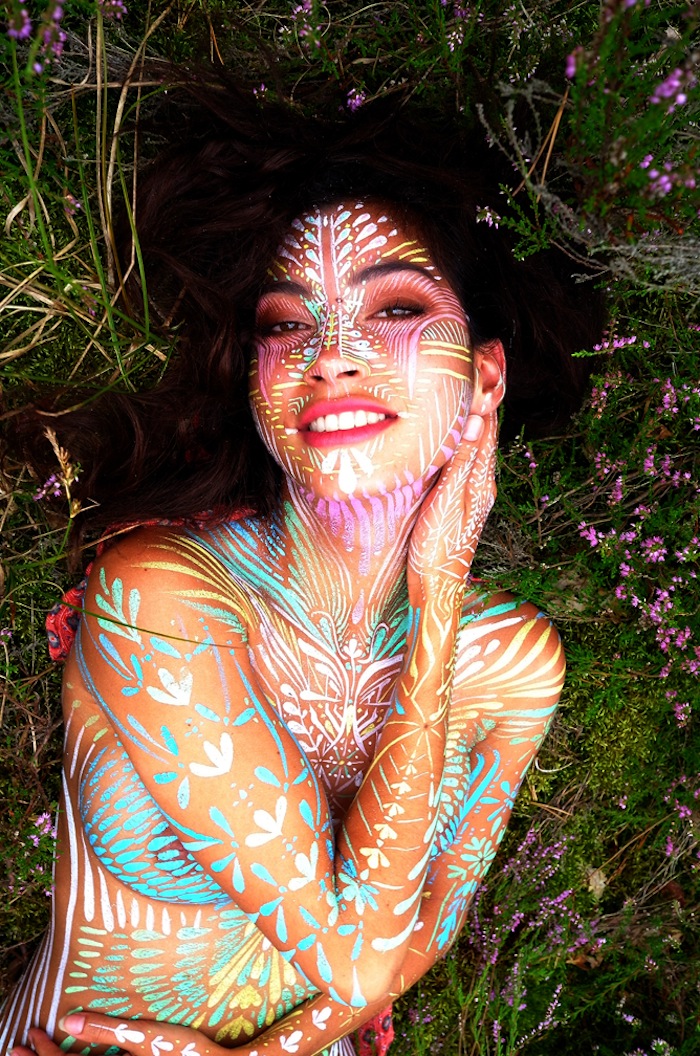 HOW DID THE CONVERSATION ABOUT THIS COLLABORATION START?
I was in Tulum as part of a Design Hotels' "Pop Up Ashram" project at Papaya Playa, where Polina was living with her husband Claus and two kids (in an amazing home in the jungle right on the beach). She saw me doing my body glyphs at an event there, and proposed we do a shoot. At first it was for fun, but we got such magical results that I moved into her guest hut and we continued to work together for a few months; shooting on the beaches, in the jungle, on ruins, and in cenotes.
WHERE DID YOU SHOOT AND WHY? 
Polina lives in Berlin part of the year, and she invited me to continue working on the project with her there. We used her house as a base and a studio, and then we would drive out into the amazing forests and fields that surround the city. We both have an attraction to the purity of nature, and for this series we wanted to explore and be inspired by the landscape.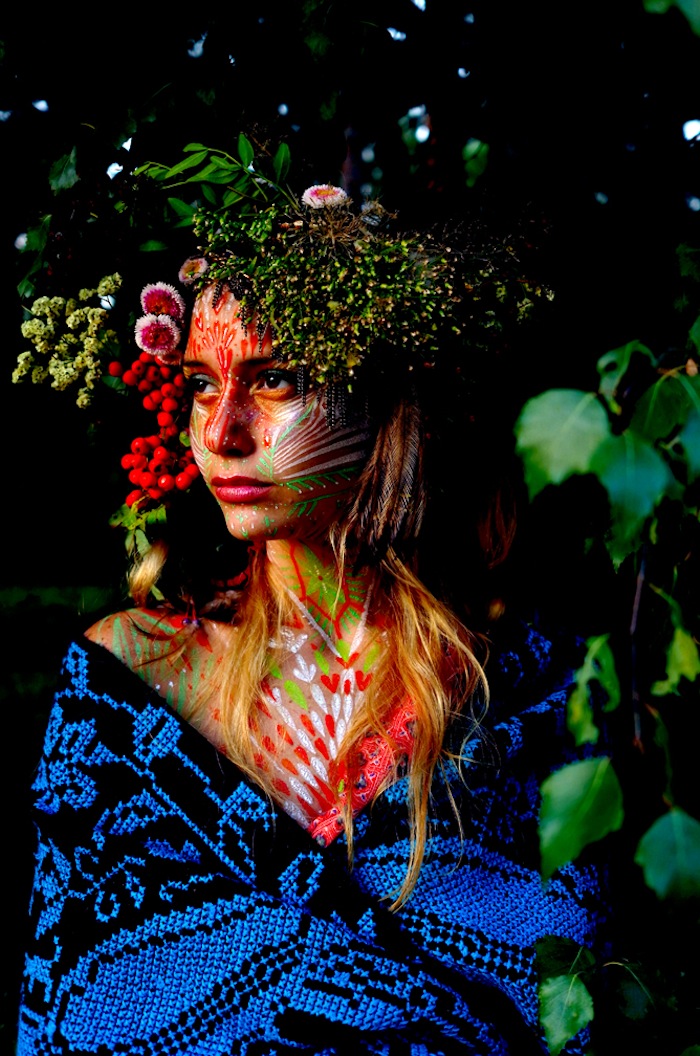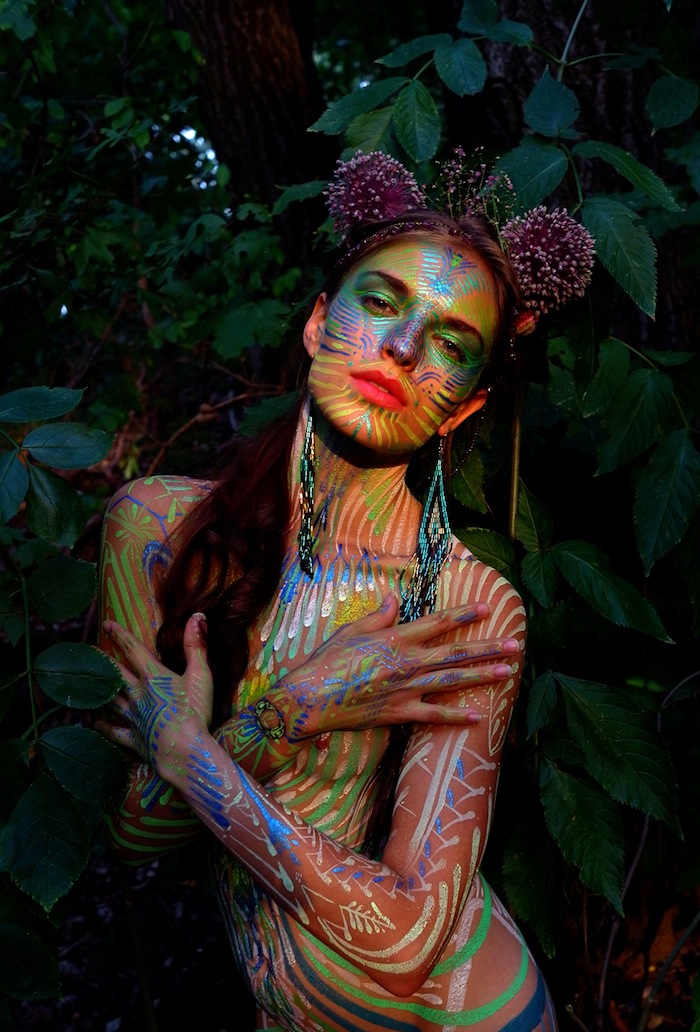 HOW LONG DOES EACH PAINTING TAKE, AND WERE THESE ALL PRODUCED ON SITE?
Each painting takes three-four hours. Because I never know how Polina will ask the models to pose, I need to cover practically every square inch. I used her rooftop as the studio. It had an amazing view of the city, and created quite a meditative space under the expanse of the Berlin sky.
YOU HAVE DESCRIBED TO ME BEFORE HOW THE PAINTING PROCESS IS ALMOST LIKE 'CHANNELING' AN ALIEN LANGUAGE – WHAT'S THE MESSAGE WITH THIS PROJECT?
The calligraphy I do on the body is a language, it's poetry, it's math, it's energy, and it's meditation all at once. It's always unique and un-premeditated. Often I just sit with the model, and based on her vibration different patterns emerge on her skin. One model I started to paint with King Tut colors and patterns unconsciously, and it turned out she was part Egyptian. For me it's just a precious gift I have that I am trying to take care of, and explore in creative ways with creative people. I think with this project, Polina and I both wanted to communicate to the world is that Mother Nature is precious, perhaps the most precious and magical resource we have. And that the body the temple where we worship her. So this project is a celebration of all things natural.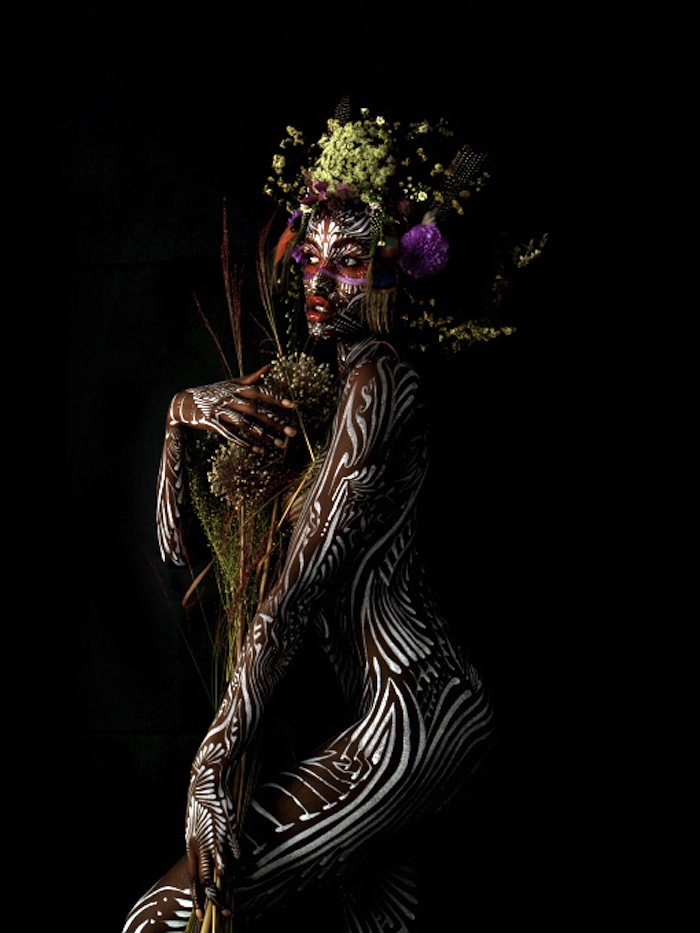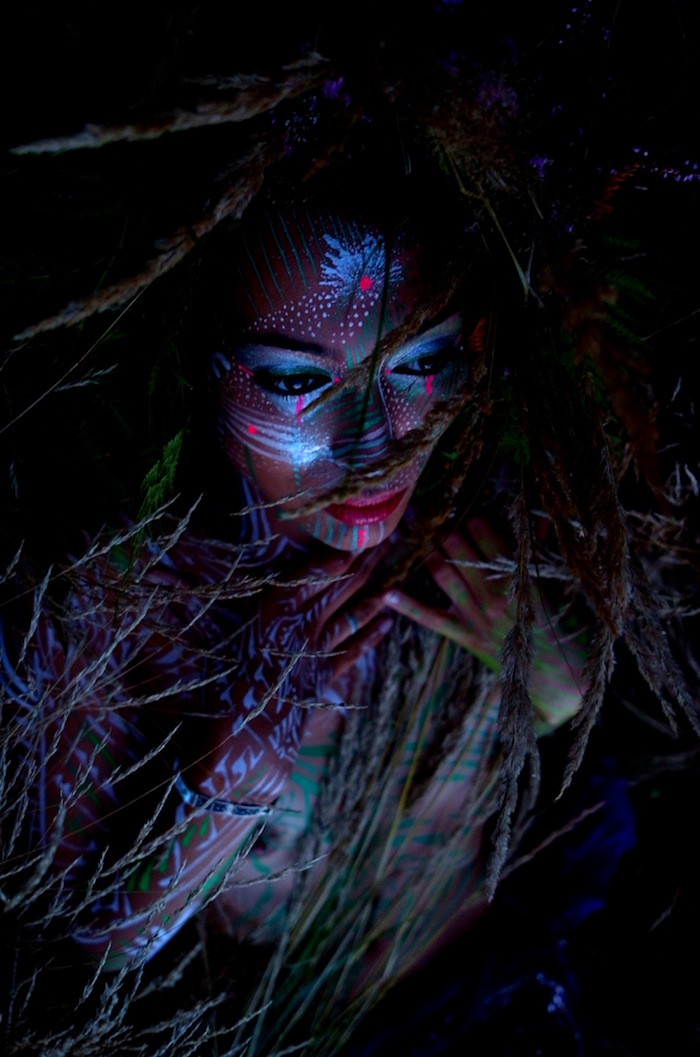 WHERE WOULD YOU LOVE TO SEE A WOMAN WEAR ONE OF YOUR 'PIECES'?
Polina often talks about a fantasy she has about being able to wake up in the future, and instead of wearing clothes, just step inside some machine that prints a fresh pattern of mine on her every morning. As far as seeing women wearing my pieces, I am really curious to see what the designers ThreeAsfour come up with for their next season's line, which will be based on some textile patterns I created before I went to Berlin in Aug. But I guess the ultimate would be to see my future beloved wearing an otherworldly bridal dress at an altar out somewhere in nature.
Catch Oliver's body glyphs in person as part of NYC fashion group threeASFOUR's PERFORMA 13 event on Nov 10th at The Jewish Museum (RSVP only). The glyphs also feature in the threeASFOUR Fall 2014 collection, premiering Feb 2014