Being a "conscious intuitive" means being aware of spiritual appropriation, says Natalie Miles …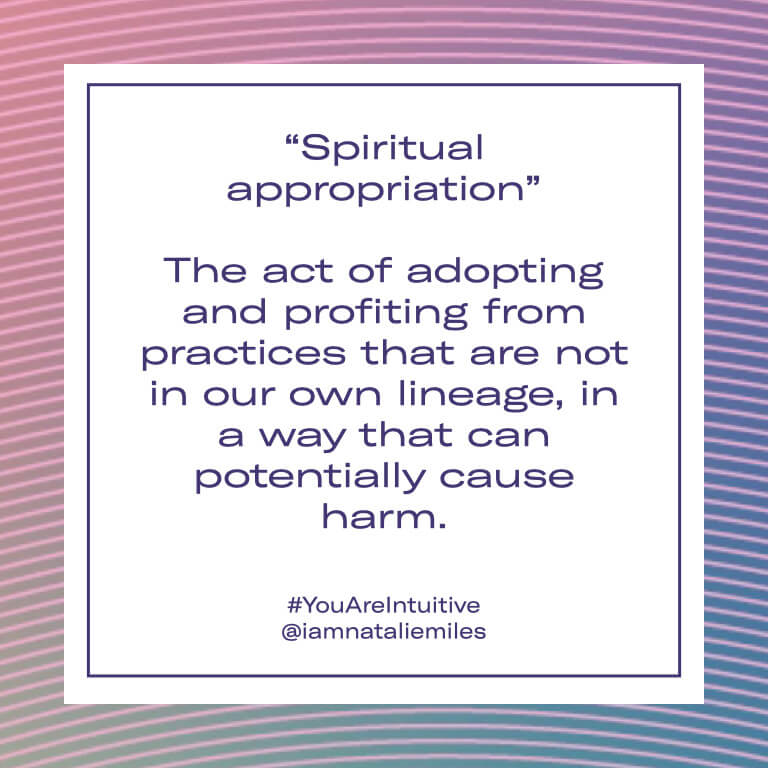 Being a "spiritual" person in 2020 means something very different to what it did the New Age movement of the 1960s and 1970s. Back then, it felt okay to learn and borrow from spiritual traditions from all over the world, sparking an explosion of interest in Eastern and Indigenous healing modalities.
But fast forward half a century, and the world we live in has changed. These days, anybody on a spiritual path needs to practice what I call "conscious intuition"—that is, to acknowledge that we are each a unique expression of the collective energy of the planet, and that while we live our lives as individuals, we can impact and be impacted by the energy of the whole. Living from this place, we begin to understand that each and every action creates a ripple effect, and that the more aligned we are with our inner guidance, the more we can have a positive impact in the world.
This sheds a whole new light on the concept of "spiritual appropriation"—and how adopting, and especially profiting from, practices that are not in our own lineage can potentially cause harm to others. The dictionary definition of cultural appropriation is: "the act of adopting elements of an outside, often minority culture, including knowledge, practices, and symbols, without understanding or respecting the original culture and context."
This is actually rife in modern spiritual communities, and being a conscious intuitive means doing your research and becoming aware of how you may unwittingly be exploiting the spiritual traditions you are borrowing from. For example, placing statues of gods and deities that aren't from your lineage on your altar, or using sage or palo santo to "smudge" your home or your body of "bad vibes," could all be labelled spiritual appropriation if not engaged in with reverence, respect, and honoring of the traditions that they come from.
For example, smudging is an Indigenous practice used for purification during ceremony and prayer. But it's become so appropriated, that the traditional white sage used by Indigenous communities is becoming endangered, with bundles for sale in high street stores. While this is detrimental for the environment, the original sanctity of the Indigenous practice is also lost as white colonialist capitalism profits from a practice that has essentially been stolen.
In the US and Canada, Indigenous people have lost their lives to defend this practice, along with other spiritual traditions. It wasn't until 1978 with the passing of the American Indian Religious Freedom Act that these people were even allowed to practice their own spiritual traditions. In this context, can you see how harmful it is for the descendants of white colonialists to engage with these practices without asking—and even profit from them?
Which is not to say you can't borrow from these traditions respectfully. Ideally, find a way to participate in a cultural exchange where you gain permission to participate and learn from that culture, practice or ritual. And if smudging with sage, for example, is not something that's in your lineage, you can engage with "smoke clearing" using other substances instead, such as rosemary, sweetgrass, and mugwort.
We must also be aware of cultural appropriation in the language used by spiritual communities. For example, the word "woke" is often used as a term for someone who is experiencing their Spiritual Reactivation—as in, somebody who has "woken up" to the true nature of the world and who they are.
But the word "woke" originated in the African American community, and was originally used to describe issues of social and racial justice. As far back as 1962, William Melvin Kelly wrote an article in the New York Times called "If You're Woke You Dig It," detailing how white Americans were appropriating black people's phrases as their own. More recently, "woke" has been used by the Black Lives Matter movement to highlight the continued oppression of black communities, calling them to #staywoke and take action on the flawed political and social systems. So, using the word "woke" in the wrong context actually harms communities of color, as it bypasses and minimizes the struggles of their oppression.  
The word "tribe" is also widely used in spiritual and wellness circles, but this is disrespectful, offensive and culturally appropriative to Indigenous people. We should only be using the word when referring to Indigenous tribes—and using words such as team, group, network or collective to describe non-indigenous communities.
 If you identify as a white person, it may be triggering to read this. Which is a perfect example of being confronted by a collective shadow. While it might feel easier to brush off accusations of cultural or spiritual appropriation, and send "love and light" to all involved, can you see how this is also perpetuating systems of oppression and injustice?
ASK YOURSELF: WHERE DOES IT COME FROM?
Equally as important as considering the lineages of the rituals and practices we engage with to connect with our intuition, is the provenance of any "tools" we pick up along the way: crystals, plants, herbs, oracle decks, tinctures, and energy clearing sprays to name a few. Some important questions to ask yourself might be:
 Where were these crystals mined or sourced from?
Were they ethically sourced?
Are they even real? (Yes, there are a LOT of fake crystals out there, just like fake Gucci handbags!)
Am I using local wildcrafted plants and herbs?
Am I buying from a reputable source?
Can I buy from a local, independent supplier, versus one of the big corporations?
Never has it been more evident that we each have a responsibility to Mother Earth. The same way we care about the province of our food, clothes, and other products, this means being super aware of the sustainability and environmental imprint of our intuition practice.
THE DANGERS OF SPIRITUAL LABELLING
Adding to this, it has never been trendier to label a brand or business as "Spiritual" or "Intuitive." We're in a time where everybody gets to be their own brand (myself included!)—and with this, there also comes the temptation to trademark "new" healing methods, modalities, products, and services. But nothing about spirituality and intuition is new. These are human tools, available to everybody, free of charge, that have been around since time began. This means Intuition is SACRED. But as spirituality becomes more and more mainstream, and develops into an even bigger industry, the power of the $$$ potential means the brand often becomes the priority.
As humans, labeling things makes them more accessible, for ourselves and our potential audience. But be aware of the spiritual labelling that is happening across social media platforms and businesses. Practice discernment. Ask yourself, "does this feel genuine? What does the energy of this brand/person feel like? Is it legit?" And remember, whenever someone says they have a "new label" to a healing modality, or have discovered a "new" way to work with Spirit, it's just that. A new label. What we're connecting to comes from the same source.
It's exciting that more people are looking towards intuition and spirituality as an anchor during these shifting times. That more of us are returning to our inner power and connection. It's also fantastic to see more people sharing their experiences and their intuitive gifts with the world. But let's not lose sight of the fact that intuitive power and connection to Spirit are the property of the collective, and make it all about the label, the brand and the trademark.
Here's to us all becoming conscious intuitives for the Now Age, and engaging with our spiritual growth and development in a way that benefits not just us, but the collective.
///
Excerpted from You Are Intuitive: Trust Your Truth, Take Back Your Power by Natalie Miles, out now with Numinous Books.