Who says you have to go meditate in a cave for days to find your true life purpose? Not Numi fave Gabrielle Bernstein, who's new book Miracles Now offers 108 almost instantaneous tools for bringing less stress and more flow into your life. But do they really work, asks Ruby Warrington? Images: Chloe Crespi.
Gabby B isn't exactly the kind of girl to sit around waiting for s*** to happen. A New Yorker through-and-through, when it comes to crossing off her to-do list yesterday is never soon enough. Same goes for attaining enlightenment – and her die hard fans are of the same mindset.
"I was finding a lot of people in my workshops would say, 'but what can I do right NOW, I want to fix this today'. I think that the next generation of spiritual seekers want immediate change right now," she says, over a lunch of salmon and cauliflower rice in her light-filled East Village apartment. And so she set about compiling a volume of all the tools she uses herself to bring peace, stability and a sense of inner knowing to her own fast-paced, inner city existence.
"A lot of it came through just living," she  explains. "Something would come up for me and I'd be like; 'I have to put that in the book'. It's all self-prescribed. Like I've had to practise saying "no" a lot lately – which was the inspiration for an exercise called #Sometimes NO is The Most Loving Response."
A certified Kundalini yoga teacher, getting deep into this spiritual "technology" no doubt opened her eyes to the speed with which breath work in particular can create a shift in our internal (and therefore external) environment. She nods; "I included a lot of what I learned during kundalini teacher training – a lot of pretty 'do-them-now' meditations, but which all address pretty specific things we're all faced with. Like the #Meditation to Prevent Freaking Out!"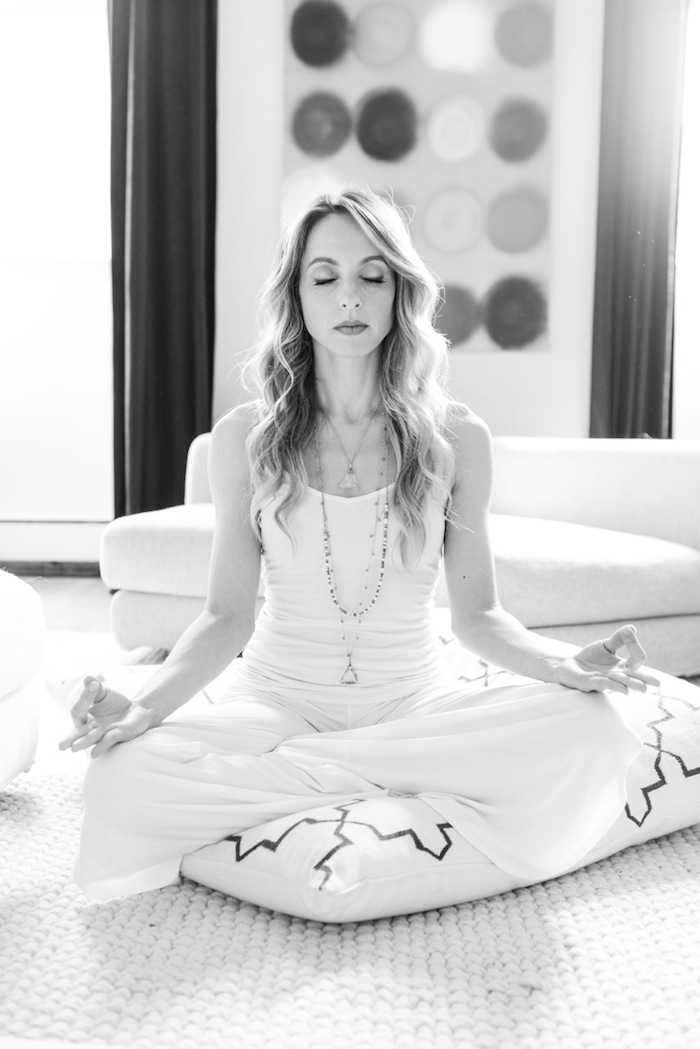 But isn't it kind of "spirituality lite"? How can repeating a two-minute mantra, or whatever, take the place of the deeper work that we're often called to do to elevate our lives beyond the confines of our current situation? Her eyes widen; "Oh I am by no means suggesting bypassing the steps to look at deeper issues – I wrote three other books on that. But what I love about Kundalini in particular is that the small things that come up always have their root in bigger issues. It's an invitation to go deeper."
Which sounds like my invitation to put the theory to the test. Here's how a week's worth of Miracles Now played out for me.
Day one: #Value Yourself and the World Will Value You
I'm en route to London, on a work trip that represents a new challenge for me. Am I up to the job? This exercise, borrowed from spiritual money guru Kate Northrup, suggests writing down three things I value about myself so that the world can reflect that back to me. Mid-way across the Atlantic I fire up my iPhone notes app. "I have strong willpower which I use to keep healthy and direct my life the way I want." "I have the ability to remain calm and positive in a stressful situation." "My friendships are real and deeply felt." YES – I can do this!
Day two: #Energize When You're Short on Sleep
Ugh, jetlag. Gabby suggests doing a 15-minute shoulder stand – "which (Kundalini guru) Yogi Bhajan taught can equal two hours sleep because it relaxes you so deeply." Unfortunately I didn't bring my yoga mat, and getting into position on the hard wood floor of the apartment I'm staying in equals a major ouch. I stay up there for 60 seconds max – fail. (NB. should have noted option two, "simply lean your legs against the wall.")
Day three: #Honor Your Commitments
This is a random one – Gabby suggests letting the book just fall open some days and seeing what "comes up for you," and, fittingly, I get this on a day where I'm tempted to back out of a team bonding workout session with my London crew. I don't have time to do the actual exercise – "make a list of the ways you may flake…the write a list of how this behavior affects others" – but I get the message loud and clear. I go workout, we bond, I feel great.
Day four: #Rest, Relax, Restore
Back in NYC, I'm feeling too amped from my trip (it was a success!) to sleep but I need to be on my A-game tomorrow. In this exercise Gabby introduces the "Yoga Nidra", a deep relaxation technique that involves lying on your back and focusing on relaxing each body part individually, and then your body as a whole. "Do your best to stay awake," she advises. But I'm asleep before I've even got as far as my left earlobe.
Day five: #A Meditation for Healing Addiction
I like to party, oh yes I do, and with some of my more cocktail-loving friends coming over for dinner I am bracing myself for a hard drinking evening – but with a full work schedule for the weekend, I have zero space in my diary for a hangover. Can this meditation help keep the white wine monster at bay? I am instructed to press my thumbs into my temples and repeat the mantra "Saa-Taa-Naa-Maa" for five minutes, while clenching  my molars rhythmically together. Two beers into the evening, I open the Sauvingon Blanc (white wine monster: "screw the hangover, this is fun!"). But what's this? No-body else is drinking that much. Could it be the meditation worked on them instead of me? I go to bed relatively sober, so success…sort of?
Day six: #Be More Childlike
Another random, and oh-so-fitting with that weekend workload staring me down. "It may seem counterintuitive, but one key to feeling more productive and satisfied is to step away from your responsibilities from time to time," Gabby writes. Being more curious, more present and allowing yourself to daydream are ways she suggests to bring a more creative, childlike quality to the task in hand. I find myself adding "dance break" on my to-do list. Er, yay.
Miracles Now is out now on Hay House, and Gabby is giving away a free half-day workshop to anyone who the book via her website: Gabbyb.tv