"We all tweet incessantly the way parrots in the jungle do; we never consider how far the smallest idea can travel and how it can affect the people it reaches." M.I.A. (a.k.a. Matangi)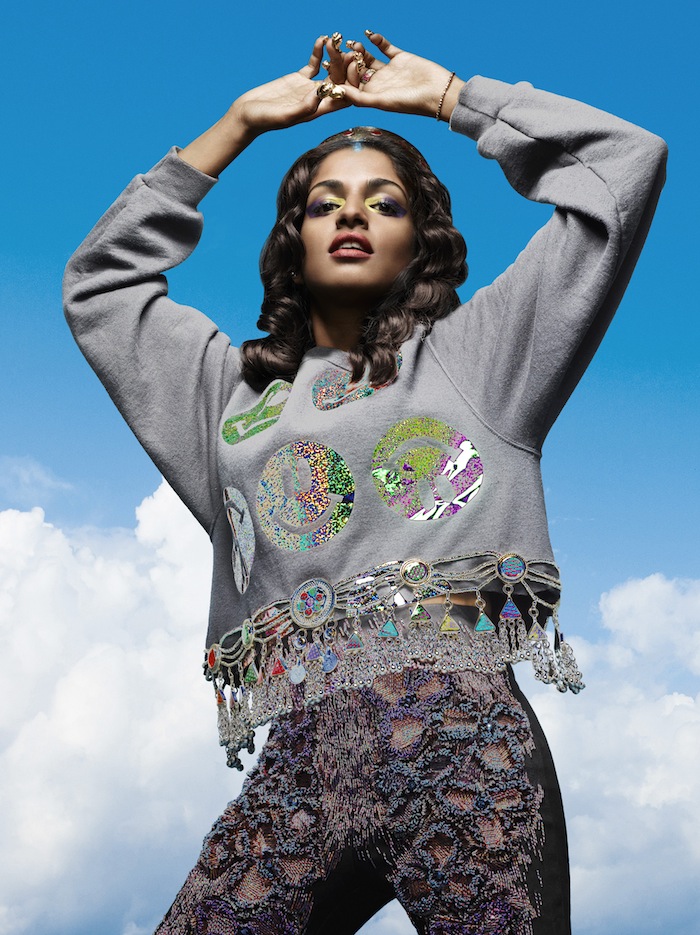 Music with a message has always been M.I.A.'s MO. As global consciousness expands, her latest release, Matangi, is like a missive from another realm on the the power of our thoughts. If there has been a theme to 2013, our first year on post-Mayan planet Earth, then isn't that exactly it? We are what we think.
With this understanding comes an awesome responsibility – because, oh s***, now the ball is in our court. For M.I.A. Matangi is here to remind us all that we better beware of our thoughts, and that we better back that up by speaking (not to mention tweeting) our truth.
Everybody's favorite rap-tivist explains the story behind it all.
WHO IS MATANGI?
Matangi is a 5000-year-old concept of a Goddess who fought to keep thought and information pure. She sits on a gem-studded throne with a sitar. In Hinduism, the Goddesses have different life roles, and when Matangi is in a tranquil, meditative state, she plays the sitar.  Her instrument symbolises each part of the human experience…the consciousness, the breath, the heart, the body…and she plays to keep the universe and the people in harmony.
WHAT'S THE MESSAGE IN HER MUSIC?
She's here to remind us that information needs to be spoken from the heart. If it's not it's false, and she defends that and fights for that. She fights the pollution of frequencies – which is all to do with words and how they come out, the articulation of inner thought to outward expression – which can happen through music, or any of the 64 ways to express your inner thoughts.
WHAT ELSE DO YOU KNOW ABOUT HER?
She's the ninth of the ten Goddesses that Shiva's wife splits into when he's at work – because when she's not being Shiva's wife, she's got s*** to do! His wife is called Parvati – and Wikipedia says she's also the Goddess of power, because if Shiva is the god of destruction, you can't destroy without power. In Hinduism it's all about couples – and while the men are alright they're not the main thing, which is really cool.
WHY DOES MATANGI'S STORY RESONATE WITH YOU?
I found about about her because my birth name is Mathangi, and how funny that her mantra is "aim" – which is M.I.A. backwards. But right now you can apply her myth to what's happening in the world. Matangi also carries a parrot – she's got her sitar and she has a sword in one hand and a parrot in the other, which represents the nature of humans.
WHAT PART OF HUMAN NATURE?
It's an intelligent bird because it can repeat words, but it doesn't have the consciousness to understand what it's saying – and how funny, today we have a thing called "Twitter" – where we tweet, and then we re-tweet! And we're judged on how many re-tweets we get. Not by the one intelligent thing we said that no-body re-tweeted, but because we said something stupid like; "I'm having a cheeseburger" and 1000 people re-tweeted it. Hinduism works in symbols, and the parrot means nothing in itself. It's there to remind us to be conscious of what we say.
Matangi by M.I.A. is out now.
@MIAuniverse