In this excerpt from his memoir, Venus Juice: When I Tried to Live in LA, Luke Simon ponders our disconnection from nature and the rules of the new American Dream …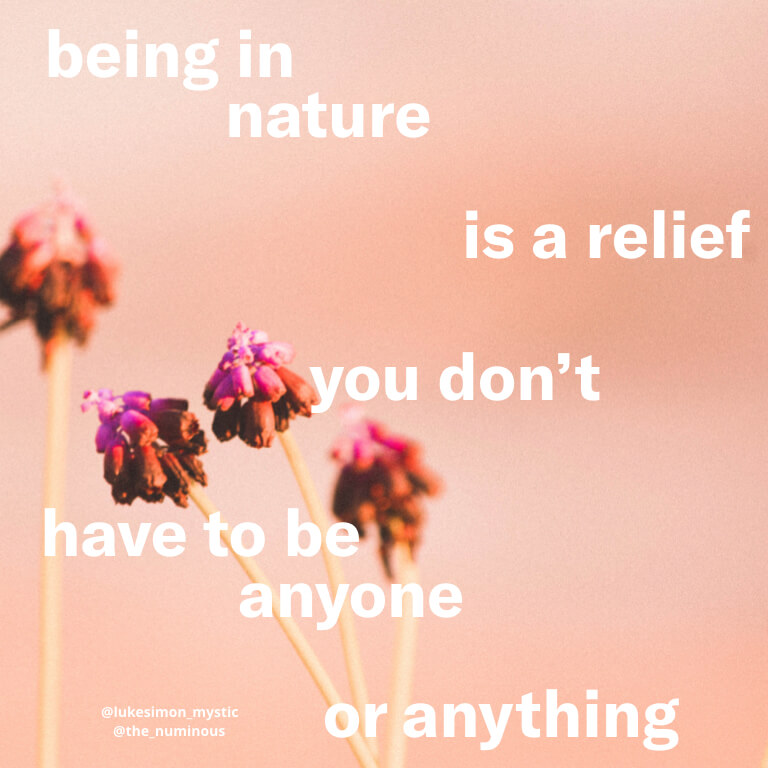 In a lull at work I researched hikes, and decided to go once I got off the morning shift. Since I passed the six-month mark and got promoted to assistant manager, the shop started feeling like a normal job. The initial learning hill and uphill climb had been realized. Now the high-maintenance customers and their dietary restrictions annoyed me.
I was tired of talking up the benefits of natural beauty products and balancing herbs. I wanted to be in Nature and get the direct experience. Maybe what was making us imbalanced was our total disconnection from Nature and obsession with work?
The shop was empty and I looked out to the endless passing cars. Everything in America was enclosed in glass, air conditioned, and divided up into single portions. Everybody was working to get theirs. I wanted to take all the herb jars on the hike and liberate them back to the land. I wanted to pour myself out of the jar of who I thought I was or should be.
I got stuck in traffic on my way to the mountains and was disturbed by how few cars were in the carpool lane. All of us were alone in our own cars. Finally we started flowing and I could see the San Gabriel Mountains in their full glory. If you can withstand the frustrating slow downs, the roads will lead to pristine places. The thought cut through my crankiness and I snapped back into faith that synchronicity was still guiding me.
I had started working five days a week at the Juice Shop since I'd been promoted to Assistant Manager. I had been proud of the achievement and pay raise, but now I was feeling drained and lost. I had been too exhausted to work on music or promote myself as a healer online.
Why was I giving so much time and energy to this job that wasn't my life purpose? This was a familiar struggle I'd had at other jobs. Doing something just for the money always feels soul sucking.
The new American dream is making money from your passion. I was tired of serving rich creatives. I wanted to be a rich creative. I wanted to get paid to be myself. I parked and breathed the higher elevation air. Nature is a relief because you don't have to be anybody or anything. I saw footprints in the dirt, someone had been hiking barefoot. We all need a break from human society.
I followed the bushy, dirt trail that zig-zagged down the side of a mountain. White sage bushes burst with their sacred, purifying leaves. I was glad no one had picked it to bundle and sell. I sent the sage protection prayers as I passed and stroked it.
The plant has been over-harvested in our struggle to rid the world of negative energy. I don't ever use the words "negative energy," though. For me, the problem is ego, and I can detect when I'm trapped in my head, my sense of self struggling to assert itself, to make sense.
Nature is the healer's healer: wild and pristine in harmony with the Divine. We fall in and out of tune with that rhythm, but being in Nature helped me reset. As I hiked, the bay laurel smell was potent, like mint soaked in whiskey. I wondered if I could make a cologne from it and sell it?
I caught myself again in the constant search for how to make money off something. Why wasn't it enough just to exist? I wanted to learn to value things in their natural form, when they haven't been packaged and promoted. I snorted in the bay laurel and brush smells to re-wire myself back to Nature.
The guidebook said there was a stream in the canyon. I could discern the distant sound of the stream, and got quiet to listen. I could notice the difference without my noisy intellect. I walked the rest of the way down in an observant, walking meditation. The plants were more lush down by the creek, like a happy trail, guiding me to the source of life.
A flat meditation rock on the side of the creek beckoned me. I sat down crossed-legged and closed my eyes. The constant gurgling sound guided my meditation. As thoughts fought for my attention the river sound kept bringing me back to just sitting. I blinked my eyes open and took in the lush creek bed around me. The Sun was glowing through the pine and laurel trees.
I kept practicing letting my worries go, feeling the breeze on my t-shirt. As I let myself be influenced by the vibration of Nature, it tuned me like a guitar, out of the ego chatter. I didn't have to hold on so hard, I could be drawn like the creek, finding its way to the ocean. The thought sent me into quiet stillness, feeling the inter-relatedness of things.
At the end of my meditation I asked what my life's purpose was. The feeling in my heart made me laugh. Like my soul was tickling me from inside my heart. "Bringing new energy to Earth" were the words. I realized, sitting there, that I got to do everything I loved at the Juice Shop—talk to people, make smoothies and tonics, listen to music, counsel people, stare out the window.
I could feel God laughing at me. When would I learn to trust the flow of life? I felt ready to go back and enjoy my life, armed with this new understanding and reconnection to my purpose and my essence, my vibe. It didn't matter where I was, I was going to keep being myself and grow this energy that made me feel happy.
I stood up, sent Reiki to the water and thanked it for healing me. For holding space for me to let go and clarify my mind. I had never felt Nature so alive, and wondered if it was the herbs in my system from the Juice Shop? Walking back, the bare earth felt so much softer than concrete.
I took off my sneakers and walked barefoot. I felt in awe of the Sierra Anita Ridge plants, river and hills, as well as the juice and herbs in my system, their magical ability to realign us to the Earth. The biggest mystery is under our feet.
///
Venus Juice: When I Tried to Live in LA is out now. Find all the links to get your copy HERE.