NUMINOUS TAROTSCOPES: MARCH 2018
Your Numinous Tarotscopes March 2018 are here, cast by Melinda Lee Holm using the Starchild Tarot …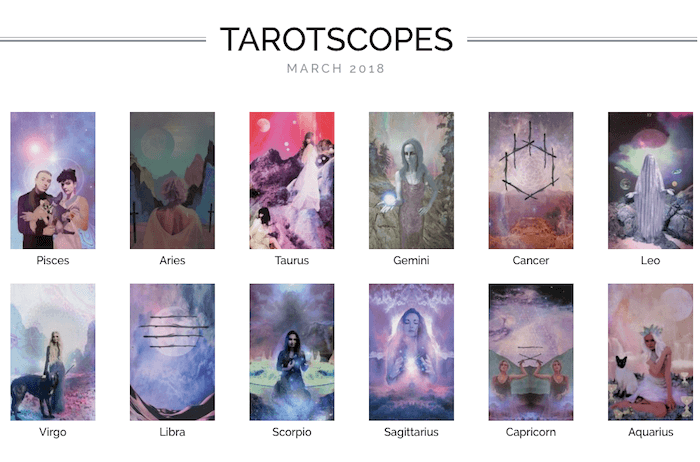 PISCES // PISCES RISING
The Lovers
Happy solar return, dear Pisces! You know I have your symbol tattooed on my finger, right? I have an absolute riches of Pisces in my life. We seem to be cosmically drawn together. This is surely due in part to your enviable ability to deeply empathize and identify with others. Sometimes, however, this gift can lead you to engage in some patterns of behavior that don't serve your highest good or that of others. Therapists call these patterns co-dependency, but any pattern that has you consistently putting the needs of others before your own, leaving you feeling drained and unappreciated is one that could use a tune up. How are you staying small or silent to avoid conflict? Where are you leaking out personal power in the service of maintaining an uneasy peace?
This month, The Lovers is here to help you practice the art of being a great partner through being great on your own. The astrological correspondence of this card is Gemini, mutable Air sign ruled by Mercury, planet of communication. So The Lovers is not really about romance. Its teachings concern the art of being close to another, "twinned" even, while maintaining autonomy and individuality. When we diminish ourselves to make others comfortable, we are not serving anyone's best interests. Our partners need us strong, healthy, and in posession of a unique perspective that can only be offered by a fully autonomous individual. They key here is communication. How can you open up to your partner to express your needs in a way that allows you both to maintain your sovereignty while affirming your dedication to your relationship?
Your stone for March: Sunstone
>>>
ARIES // ARIES RISING
Two of Swords
If you liked the week of February 1st, I have great news for you, Aries! You get a whole month of it in March. The Two of Swords is back for you, giving you a great opportunity to deepen your understanding and mastery of this fundamental Air energy. And if the idea of reliving that week for an entire month makes you want to pull your hair out, fear not! You integrated the lessons you needed to learn from this card during that week (for a reminder, go back and re-watch the Tarotscope video for Feb.1). This month, the guidance is tailored to your firey nature and you have a whole month to soak it all in. Your tendency to speak and act quickly, sometimes impulsively, will be challenged by the contemplative demands of the Two of Swords.
March is your chance to take a step back. Get a good lay of the land. Your intellectual, rational, and communication abilities are heightened this month and you have a great opportunity to develop and master new techniques for decision making and conflict resolution that you can carry forward in your life. Indulge in intellectual exercises, practice bouncing ideas off of each other while you feel your physical and emotional body remain calm and collected. Branch it out and engage in some friendly debates. You'll be pleased to find how much easier it is to reach agreement with others when you allow your Fire to be fed by the Air of thought and communication and not emotional conflict.
Your stone for March: Aquamarine
>>>
TAURUS // TAURUS RISING
Six of Crystals
My dear Taurus, you have been digging in the dirt all year! March brings you yet another dose of Earth energy and this time you've come over the bell curve and back down the other side. Following February's expansive push, we arrive now at the Six, the Tipharath of Beauty on the Tree of Life, the moment when we can see the fruits of our labor and begin to give back, to spread the spoils and see how our personal efforts can benefit the collective. This is a wonderful opportunity for you to expand your vision of what it means to live a comfortable life – and let's face it, Taurus, being truly comfortable in all aspects of your life is all you've ever really wanted.
All month, I want to invite you to be a completely unapologetic optomist in terms of the material world that surrounds you. Tap into the beauty of the flow of resources and see how you can redirect them to where they can best be of service. Cook dinner for the homeless, drop off supplies at an animal shelter, treat a friend who has fallen on hard times. So often we get trapped in a loop of seeing the material need in the world as hopeless and dire. But when you choose to see the beauty in the material world instead of only the ugliness, you can begin to activate the profound power of the element of Earth to provide for you and those around you.
Your stone for March: Peridot
>>>
GEMINI // GEMINI RISING
The Hierophant
Goodness, Gemini! We've had a couple of doses of Hierophant wisdom already this year, and now you are set for a whole month of it. Get ready to be filled with the gift of ancient wisdom, but also to be humbled. The Hierophant is the great teacher of the Tarot and often when we encounter great teachers, they challenge us to confront our beliefs in ways that can be uncomfortable. When you feel yourself resisting, that's where you push further. This is a time when your ability to see and even embody both sides of a situation will be very useful. Get up close and personal with those places that get you thinking, questioning, pushing back, learning. Lean into discomfort.
Be sure to take time to digest and integrate what you are learning. Remember, The Hieropant is the spiritual teacher. These lessons will require meditation, reflection, and prayer to fully unfold and ripen. This would be a wonderful time to dedicate or deepen your spiritual practice to unlock levels of knowing and understanding not available to you before now. We start March with a Full Moon in Virgo on the 1st, so you have an excellent chance to dust off your witchery and put those crystals and candles to good work in a crown opening spell to kick off your month. Get out and get connected with nature, finish Autobiography of a Yogi, and most of all – listen. You cannot hear the lessons that are gifted to you if you are filling the space with your own voice.
Your stone for March: Lemurian Seed Crystal
>>>
CANCER // CANCER RISING
Nine of Wands
We've got two planets headed into retrograde motion this month, Cancer, but that won't stop you from striding forward in pursuit of your goals. With the power of Fire fueling you, your month will be supercharged with action, intuition, and magic. Get your to-do lists ready and your wish lists and vision boards polished up! Your ability to effortlessly tap into the cosmic stream of insight is amped. goals that have seemed overwhelming will suddenly become totally doable as the shortest distance between any two points magically appears before you. How will you know? Oh, you'll KNOW, Cancer. The high practical wisdom of elemental Fire does not deal in subtlety. Intuitive hits will hit hard and lead you to places where you can accomplish a ton – if you're willing to put in the work.
Let's talk about it, Cancer. I have my Sun placed here too. We crabs can have a tendency to hide away in our shells where it is dark and cozy and safe. Even as we outgrow our shells we can resist coming out. (It just feels like a tighter hug, right? Right?… ) Now is the time to embrace the risk of vulnerability, to come out and face the tasks we've been avoiding, to really take advantage of this push. Yes, there is a chance of being hurt or disappointed, but the potential payoff is more than worth it. The numbered cards so often revolve around practical matters, and the Nine of Wands especially so. It's time to take risks in the service of making major progress in our every day lives.
Your stone for March: Carnelian
>>>
LEO // LEO RISING
Oppression
I've got a game for you, Leo. Treat this month like an Easter egg hunt or a spy novel or an epic video game. Always be looking for clues. Assume there is hidden meaning behind everything. Use your inherent connection to the Sun to shine a bright light into every metaphorical dark corner and find what's been lurking there. March is your opportunity to discover and dig out ways you are holding yourself back, manifesting heaviness instead of expansion. We often think of oppresion as something that is put upon us from the outside world – and, yes, that is far too often the case in the world. But we also oppress ourselves in large and small ways every day. No more! Take this month to identify, correct, and reset.
The most common way we engage in self-oppression is through the story we tell about ourselves. What is in your story that keeps you small? Do you repeatedly say that you are bad at business, not good at finance, just not creative, not a very happy person, or inherently unlucky in love? Stop it. Right now. All words are magic words, Leo. The story you tell about yourself is a spell you weave that manifests the life that is possible for you. Get it right. And while you're at it, get your house in order. Make sure that the physical container of your life is not sending subtle messages to you and the Universe that you are derserving of less materially, emotionally, intellectually, or spiritually.
Your stone for March: Herkimer Diamond Quartz
>>>
VIRGO // VIRGO RISING 
Queen of Wands
You did it, Virgo! You came through February, you did some tough work, and now you are rewarded with a blast of feminie Fire energy in March to expand into all that space you cleared out. Queens are the Water of their element, so in Wands we have the Water of Fire. You know how water has the ability to seep into every little crack and crevice, to soak in and become a part of what it touches? Think about what would happen if elemental Fire could do that. Envision that eternal flame of finely tuned intuition and instinctual action soaking its way into every tiny corner of your life, and then look up and see it happening all throughout your existence all month long.
How will you harness this molten magic, my dear Virgo? If I know you, you've got pen and paper at the ready to start making lists and checking them twice to find the exact right way. Take a step back, put down the pen, and take a moment to meditate on the intuitive aspect of Fire. Fire is magic, pure and simple. Just as our ancestors stared in astonishment at the first human-made flames, we too remain amazed at how Fire works to bring us intuitive hits, sparks of deep inner knowing, affirmations that seem to spring from thin air and let us know that our instincts were right all along. Keep your eye on that prize this month. Be guided by your gut and see what treasures lay in wait for you.
Your stone for March: Blue Kyanite
>>>
LIBRA // LIBRA RISING
Four of Wands
Your project for March, Libra, is to actively create the stability you crave in life. After spending last month getting in tune with what you truly want to manifest, now you have the energetic support to actively create a base of stability to build on moving forward. This is a first level, so try not to be too precious about it. As with most things in life, this is a work in progress. Think solid outlines, business plans, and a budget and living situation that supports your vision. Grand schemes for building your legacy will come later. For now, take a good critical look at your life and see where there are patterns that are not in support of – or even in direct contradiction to – your vision of your Best Life and take action accordingly.
I wouldn't be your friend if I didn't come out and say this directly, Libra – your love of beauty is a GREAT place to start with this project. Yes, being surrounded by beauty makes you happy, and I support that. Draw it in! Just be sure that you are not undermining your own goals by living in the service of aesthetics. Could you maintain the same or better quality of life in a way that better serves your goals by reframing your ideas around beauty? To achieve the stability you want, everything in your life must be judged by whether it supports your broader vision. Your surroundings are a mirror of yourself. Be sure the reflection is accurate.
Your stone for March: Ametrine
>>>
SCORPIO // SCORPIO RISING 
Page of Cups
Oh, Scorpio, this makes me very happy. You are being coaxed out of the deepest emotional depths you feel so at home in to get a little emotional freshness and sweetness this month. The Pages ask us to forget what we think we know, what we've been taught, and – in the case of the Page of Cups – how we've been hurt. They beckon us to come explore their element with new eyes and open heart, to start over and build a new understanding. Does that mean that we lose all of the hard earned wisdom we've gathered? Not at all! It is simply time to set it aside and go back to square one to see if there's anything we dropped along the way that we'd be best served by picking back up.
March is set to be a great emotional reset for you. Relax your tail, disarm your stinger, and allow your emotional programming to be washed and refreshed by elemental Water. Venture out of your safe zone, open up your heart and try like hell to trust in the power of vulnerability. In matters of the heart, make no assumptions, take things as the come, and accept all persons and situations as the unique entities they are. If something doesn't go well, simply walk away. This is a time of exploration and experimentation. Think of the world as a vast open classrom or art studio, not a battle ground. Open your heart to your fellow students and collaborators.
Your stone for March: Kunzite
>>>
SAGITTARIUS // SAGITTARIUS RISING
Starseed
Well it appears you really took my advice about digging in and getting serious about your life's work, Sagittarius! You are now stepping into a completely new world, energetically speaking. Trust in yourself, trust in all the hard work you've done, in the wisdom you've gathered, and in the Universe itself to bring you what you need exactly when you need it. This month is offering you an invitation to begin a new level of existence and a great push forward in your personal evolution. The trick for you is going to be that this big, profound, high spiritual energy requires a good measure of wandering. You are not traditionally comfortable with being directionless, but if you want to make the most of this month, start cozying up to the idea.
If you frame it right, this can be a VERY welcome departure from last month's seriousness. Trust in the work you did and allow yourself to play in this new space you've created. Babies grow and learn and develop through play. It can get a bad rap in the adult world as being a frivilous waste of time, but it's how every single one of us formed our relationship to ourselves and the world around us. Take this month to play, Sagittarius. Really play. Head out into nature, read a decadent novel, take a class in something you're a complete novice at, try new foods. Explore! We so rarely get a chance to reconnect with that spark of discovery we came into the world with. Drink it in.
Your stone for March: Moldavite
>>>
CAPRICORN // CAPRICORN RISING
Three of Wands
After a year filled with deep inner searching and swimming around in the intuitive depths of the psyche, you are ready to step into the practical world this month, Capricorn. You are ready to make some moves, and with the power of elemental Fire at your side, what these moves are will come to you intuitively. Aren't you glad you spent the past two months getting so deeply in touch your inner voice? You will have options presented to you this month, likely through collaborative efforts. This should be a welcome relief to your steady and perseverent nature. It can be frustrating for you to stay in the mystical realm too long, feeling like you are not making progress toward your goals, but it was necessary to prepare you for this moment.
March is all about action and opportunity, often created or stimulated by you. Do not be afraid to speak up and ask for what you want. Like the TSA tells us – if you see something, say something. If you see an opportunity in a situation, a place where you could be helpful while also benefitting, shout it out! Let people know when they are your ideal collaborators or when you have skills or perspectives that could serve their cause and your own. It can be scary to put yourself out there like this, I know. But you have done so much work on sharpening your intuitive powers AND you have Fire on your side. Trust your gut and go for broke.
Your stone for March: Malachite
>>>
AQUARIUS // AQUARIUS RISING 
Four of Cups
This month is going to be an interesting one for you, Aquarius. With your constant desire to live outside the box, the idea of stability – especially emotional stability – can be deeply unattractive if seen in the wrong light. I want to present to you a view of stability in the realm of Water that may be different from what you have been presented with in the past. Most of us were taught that emotional stability means making ourselves palatable enough to another person to stay in a long term relationshiop, ideally for life. Essentially, that we needed to learn to compromise. Now, compromise is not inherently bad, it's actually very useful and necessary to living a full life. However, it is not the only requirement for emotional stability.
What is required is patience, kindness, tolerance, and understanding. And we cannot offer those wonderful gifts out to anyone else until we have offered and accepted them to ourselves. This month, I want you to work on getting your relationship with yourself into the best shape it's ever been. Reach for new heights of intimacy and acceptance. Revisit old stories about your origin, your path, and your future and retell them in a way that is more supportive, more loving. Go get your annual check up, feed your body with care, take a look at your mental health. When you love yourself completely, you don't even have to try to show that love and kindness to others, it just oozes out of you. Thus is your path to true emotional stability.
Your stone for March: Rose Quartz