A TAROT JOURNEY THROUGH DECEMBER 2017
This month's cosmic shifts give us the opportunity to pause, prepare for expansion, and rediscover a sweet sense of hope, says Melinda Lee Holm. Set your sights on new horizons with this tarot journey through December 2017 …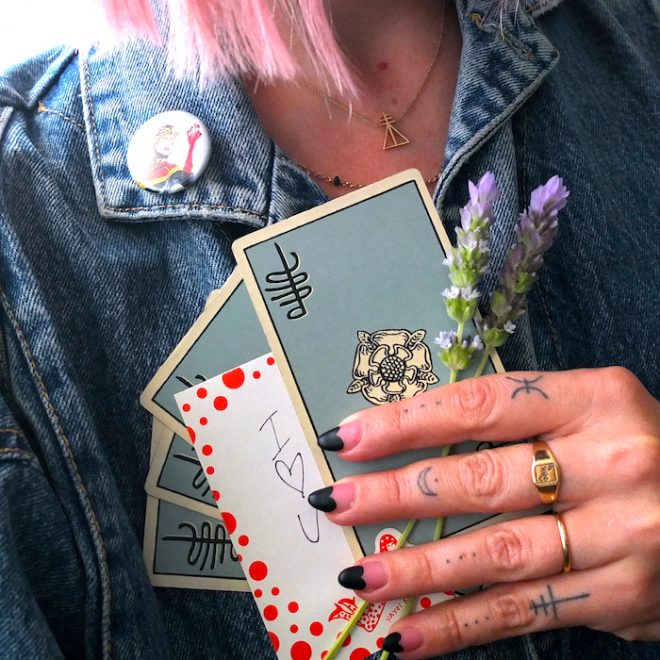 The theme for December is HOPE. After the inner work and expansion of November, we open ourselves back up to the world around us. And with a major slow down courtesy of Mercury Retro to kick off the month, we'll have plenty of psychic space to stop and appreciate beauty, realign with what truly matters, and set our sights on the new hope of longer days to come.
Prepare for expansion with this tarot journey through December 2017 … 
>>>
//12/3 Mercury Retrograde: 4 of Pentacles  
While it may sound crazy, the forced slow down of Mercury Retrograde (until 12/22) is exactly what many of us need this time of year. This cosmic downshift begs us to get crystal clear in our communications, methodical in our actions, and to give ourselves plenty of extra time to get things done.
Get grounded and prepared with the 4 of Pentacles. In the 4 we get our first taste of true, earthy stability and we're not giving it up easily. Generally, I advise people to be mindful of hanging on too tight to finances when this card comes up, but with Mercury in Retrograde, I say clamp down! Keep your spending in check and stay slow and steady to avoid upsetting the delicate balance of the material world that is earned in the 4 of Pentacles.
Calling in the 4 of Pentacles: 
Wear or carry Garnet to help stay grounded in your body, the Earth, and reality
Eat mandarin oranges, symbols of abundance and good fortune
Be like Santa Claus – make a list of daily tasks and check it twice
Budget in cash – bring only as much money with you for the day as you can responsibly spend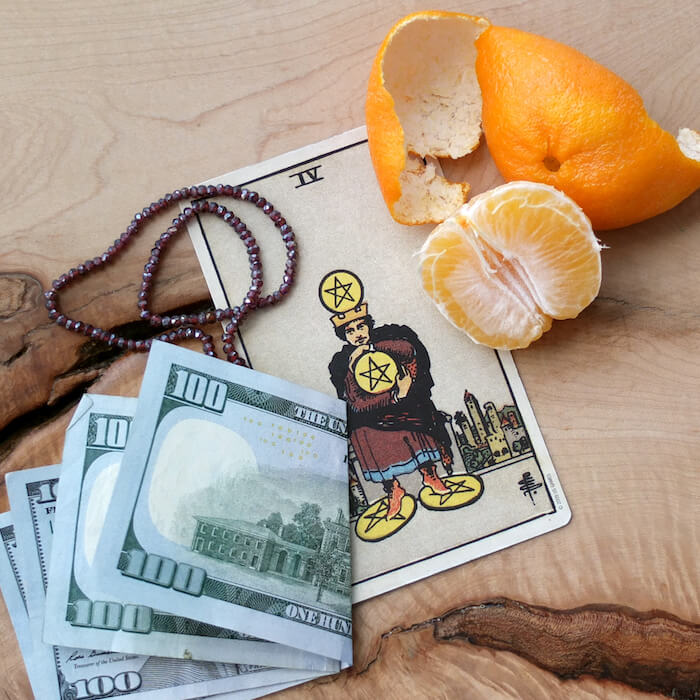 >>>
//12/10 Human Rights Day: Knight of Swords 
Human Rights Day honors the anniversary of the United Nations' adoption of the Universal Declaration of Human Rights in 1948. This document's anniversary invites us all to get familiar with the rights our fellow humans are entitled to, and to be empowered to speak out and act when those rights are violated.
The Knight of Swords has the energy and the will to speak up and speak out. Wielding the power of intellectual and communicative Air, the Knight rides boldly into battle to defend his convictions. The red feather of passion streams from his helmet as he charges forward, no longer content to stand on the sidelines, ready to take action for what he believes in.
Calling in the Knight of Swords: 
Carry or wear Ruby to inspire passion to speak up for others
Donate to the Global Human Rights fund or any other charitible organization working to defend the rights of those in need of advocacy 
Drink peppermint tea to suport internalizing positive change
Go for a run to feel the wind through your hair and the power of your own speed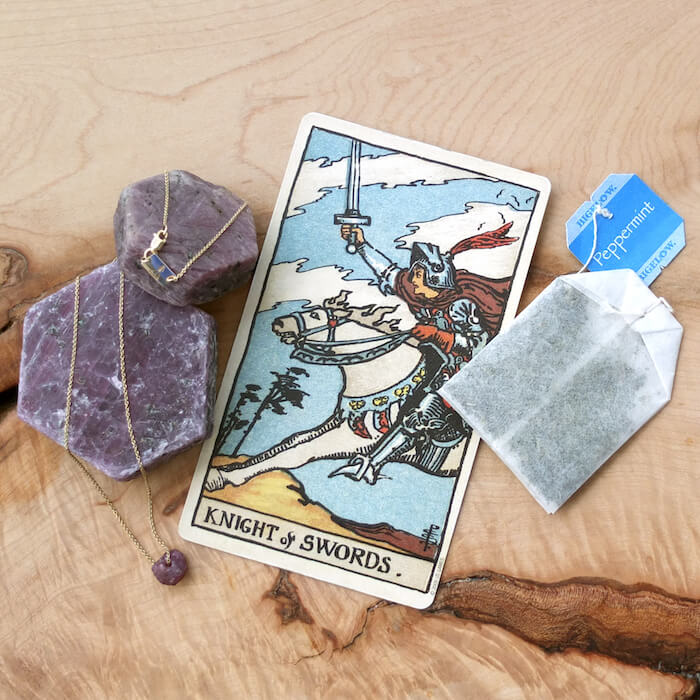 >>>
//12/13 Geminid Meteor Shower: Page of Cups 
Our annual show of racing lights, the Geminid Meteor Shower arrives on the 7th and peaks on the 13th. If you grew up wishing on "shooting stars," this peak night is a beautiful time to reconnect to that childish sense of wonder and open your heart to the beauty, majesty, and magic of the Universe.
The Page of Cups provides just the right brand of unguarded emotional exuberance to help us fully enjoy and embrace the magic all around us. Not burdened by past woundings, regrets, or by any set of rules about how to handle the emotional element of Water, the Page is free to give and receive freely, unabashedly appreciating and loving the world around him.
Calling in the Page of Cups: 
Gaze up in wonder at the beauty and magic of the Geminids in the night sky!
Wear lace or fanciful patterns – clothing that expresses the romantic within
Express your love openly – let your friends know how you feel
Add a little brown sugar to your coffee or hot cereal to sweeten your outlook on the world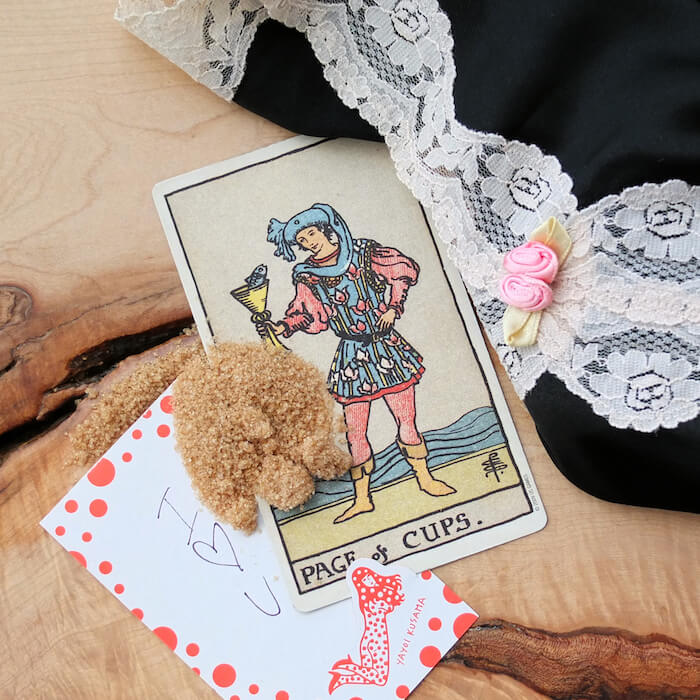 >>>
//12/21 Winter Solstice: The Star 
As we reach the longest night of the year, it's time to celebrate the coming light, to look forward with bright hope to the new year ahead, and to begin to set intentions for what we will grow come planting time.
A card traditionally associated with hope, the 8-pointed star seen on most versions of The Star was originally known as the star of The Goddess. As an ancient symbol of Divine Feminine Power, this calming and peaceful card is a reminder that The Goddess is always with us and within us, lighting the way.
Calling in The Star: 
Ingest or wear lavender for a calm, peaceful feeling, and to shield hope from negativity
Read Wonder Woman or Captain Marvel comics for inspiration – both superheros wear the 8-pointed star as their emblem
Treat yourself like the manifestation of the Divine Feminine you are with a trip to the spa or a home treatment
Make a list of all your hopes for the next 6 months so you can stay focused on actualizing them as the days grow longer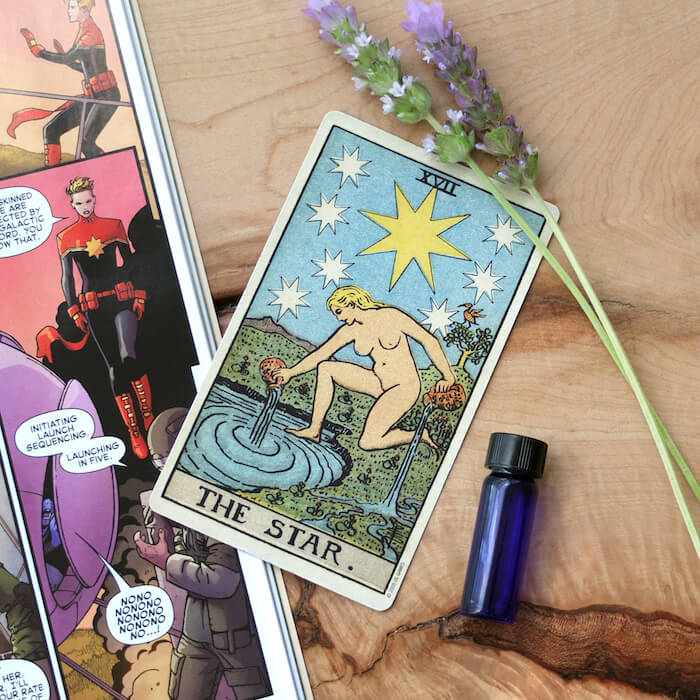 Want more tarot magic? Book a session with Melinda here, and make sure to follow her on Instagram and Facebook.