HOLY F*CK: HOLDING SPACE FOR MY SHADOW SELF
"Just like our sexual self don't have much space to roam in this world, neither does our shadow self…" says Alexandra Roxo.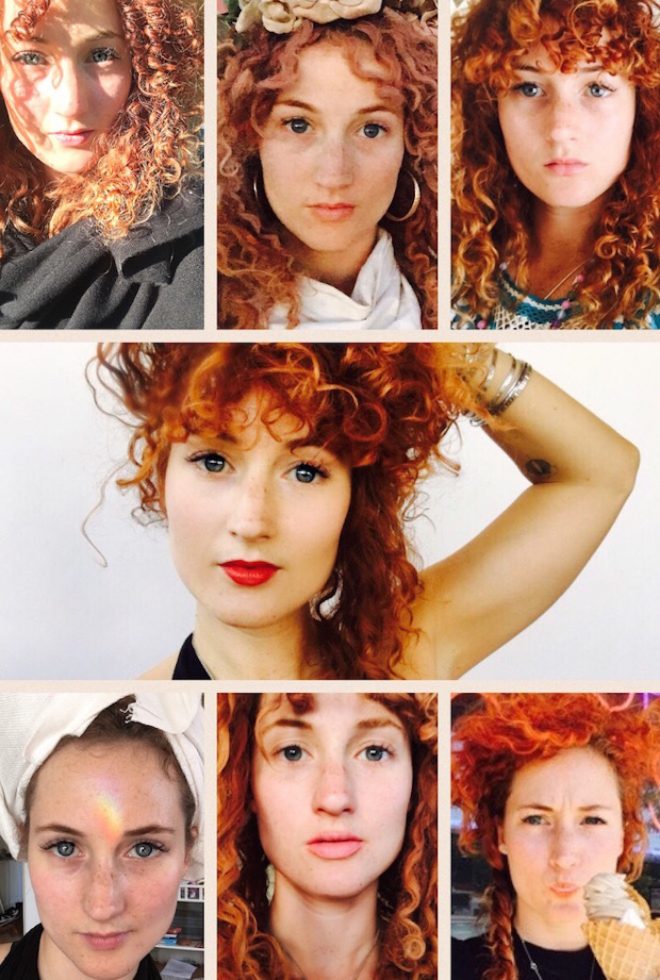 Last week in my Holy F*ck salon I felt a heaviness as we gathered on the call, and so I asked: "How many of us are in pain today?" To which everyone replied: "Me." Some quietly, some more boldly. We were about to do a round of storytelling around transcendental orgasms, but instead I decided: "Fuck talking orgasms today. Let's talk shame. Sorrow. Rage.'"
I myself was in the deep throes of having let my shadow out to speak her voice at Burning Man, having been silenced for months. I'd literally called on my WHOLE healing team to help me process the experience. Coach Perri Gorman. Intuitive wizard Luke Simon. Michael Ventura, who's been working with me on this for three years! And a psychologist I met at Burning Man, Justin Hartery.  Plus all my besties. LIKE WHOA IT TAKES A VILLAGE, and I'm so grateful I have help when I need it.
Somewhere during Eclipse season, at the Temple on the "playa", some old wounds had gotten a fresh surface scrape. As a result I was oozing blood onto everything in my life. And as my wounds and the wounds of all the ladies of the salon were given a voice on that call, I realized—just like our sexual selves don't have much space to roam in this world, neither do our shadow selves. But when they come knocking we have to answer.
We put on happy faces left and right and keep our shadow tucked away. We don't want to "be a downer" at a party. So we tuck those feelings away. They get judged, while the "positive" feelings get center stage. Sometimes these are the shadow itself behind a clever mask, and sometimes the positive feeling is holding its hand over the "negative" one, creating a carefully curated dialogue.
"Who, me? No! I'm not insanely horny today! I'm great! Been meditating and doing Bikram!"  Or…."I'm fine! I'm not grieving the fact my dad forgot my birthday for the 18th year in a row. I'm a grown up. I should be over it by now, right?"
We walk around as if "doing okay" and "keeping it together" are badges that will earn us Love and Life Merits. We live by "shoulds." I "should" be grateful. I 'should" be strong (p.s. I have eliminated SHOULD from my vocab and I challenge you to do the same).
One shadow that surfaced in the salon was the overwhelming shame of being single. Of showing up to weddings and dinner parties alone. Of having people ask you, "Are you seeing anyone?" before asking about your work, your passions, your friends.
Another that floated into our call was about being in your 30's and having your parents still supporting you. Many women I love deeply are supported by their families as adults, and since society says this is wrong, it creates yet more shame. When in truth their tribe is caring for them.
On the flip-side, another of my own shadows has been wearing the "Independent Woman" costume (ahem armor) that serves me so well at times, but had become hard to pull off, creating a tough barrier to deeper connections and vulnerability'—until it got ripped off at Burning Man that is.
As we gave these feelings a voice, they were like orphaned children being held tightly for the first time in a long time. How beautiful it was to each other say: "I pretend it's okay. But I'm in pain." As we each cried, the rest of us just listened. And I got to thinking…
What if we did this at dinner parties? What if we could eschew some of the socialization that keeps us separate and lonely by keeping these feelings—our truths—hidden away? And what if when I said: "I just feel ugly today"—instead of you replying, "Girl, you're beautiful!" you just honored my feeling?
What if we just held space for that feeling like two wild witches on a Full Moon in the woods, and watched her fly around the room until she disappeared out the window and into the stars to be at home with all the other parts of our souls? And then we ate spaghetti with marinara sauce until it made our lips red, and talked about where we want to travel before we die and danced to Bowie.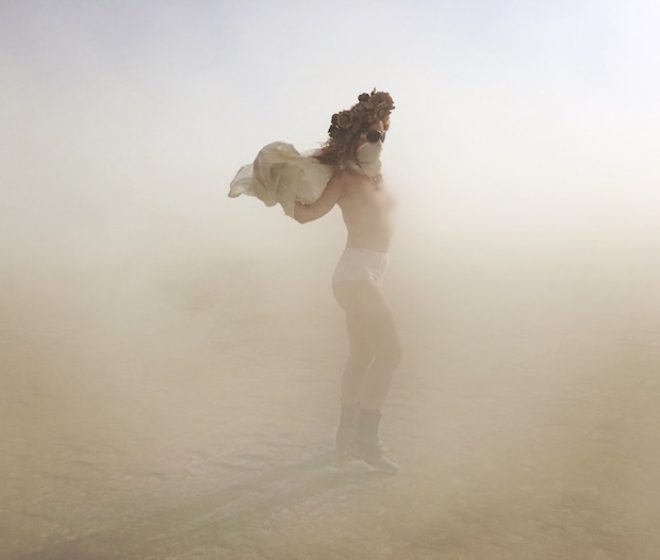 How about we reclaim old rituals for honoring the shadows together, and make some new ones of our own? How about I just listen as you speak every fear to me…and I don't try to fix them. I don't offer you a solution. I don't tell you "Everything is going to be okay." I just hear you and see you and witness you and hold you.
After all, we came here to be wild. We came to make "mistakes." We came to try things and fail. We came to let our hearts be smashed to bits and to carefully sew them back together. We came for glory. And we came for failure.
They tell us to keep it neat and pretty. To "be the light." But your shadow is your asset. When you hide her away you teeter along as a half version of yourself, dragging a corpse of old, half-acknowledged feelings around. And so next time shame or grief comes calling, answer her. Make her a temple. Throw her a party. Give her center stage for once.
Will the shadow start running the ship? Most likely not. But if this fear exists, then create a container for these feelings. If you know rage could cause chaos, then take her moshing at a concert. Or give her a punching bag at a boxing gym.
In my Holy F*ck salon that day, I made a pledge to my group and we made a pledge to ourselves:
"When you cry I promise not to comfort you. I promise not to usher away your feelings with my ideas of what's "right" and "wrong." When you scream, I promise not to shush you and tell you it's going to be okay. I'll admit I don't know if it will be, but I'll listen and stand tall with you, and be by your side."
I pledge this to you now and welcome you to share this with the people you call tribe.
This column is dedicated to those Wild Women and Men who are willing to go there with me and grieve and mourn and rage and laugh and cry and dream with me. Who don't shut me out when things get ugly, and who aren't afraid to get down and dirty in the name of growth and change. You know who you are.
Alexandra Roxo is a Spiritual + Creative Mentor, Writer, and Filmmaker living in LA.  Find out more on alexandraroxo.com and instagram.com/alexandraroxo/