READING FOR THE 2016 LIBRA NEW MOON
The Libra New Moon is an invitation to seek balance, by fully embracing the needs of yourself and others, says Sandra Sitron…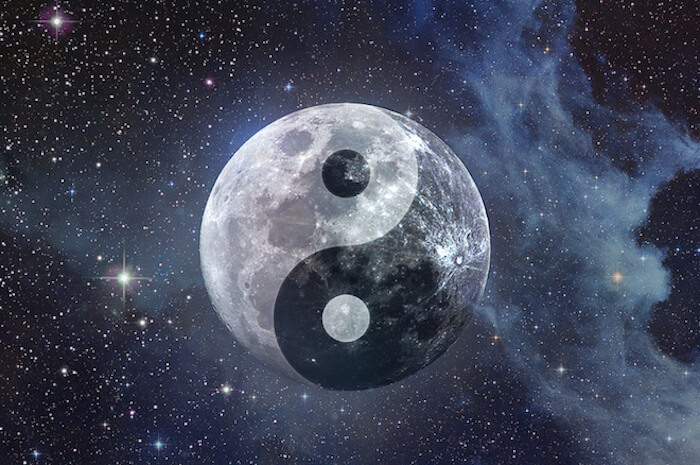 New Moon :: Friday September 30, 2016 :: 8.11 PM EDT :: 8 degrees 15 minutes Libra
The New Moon is a time to set intentions—and the Libra New Moon wants you to initiate balance. Libra represents connecting people and ideas. Take this moon as a reminder to listen and share, to give and receive. To breathe peace. Within this balancing act, acknowledging what you need is so important. This Moon is a reminder that you deserve to get your needs met.
But you also have a responsibility to expand your thinking to include the other person's position. To become an expert at walking with one foot in your own shoes, and one in someone else's. So be humble. But don't deny yourself in your humility. Seek to be satisfied with yourself too. The Libra New Moon offers big bright bold expansive rays of love and joy. This moon wants to help you fill your heart with joy. And from that place of joy, do the kind thing for someone else.
Stretch yourself to be generous with your words. Look for ways to balance out injustice. This moment is a reminder to find joyful and exuberant balance. Just remember: balance requires discipline. Requires us to be steady. Through disciplined actions now, you can create a sense of balance that will help you to expand.
***
New Moon In-conjunct Neptune
The dart falls in the sand. 
So close to target, but getting lost in confusion. This aspect is important because it reminds us that we have spent the last year being prodded by the uncomfortable intersection between reality and illusion. The Libra New Moon reminds us that we are still coming to terms with our collective denial. The ills and unbalance that we have been denying in our society are being seen—and it is very, very necessary. This Moon reminds us that illusion is uncomfortable and we must demand truth. The scales of justice must be balanced. Denial is unacceptable.
***
New Moon Conjunct Jupiter
A frog's bellowing love-song.
The Libra New Moon is so big and expansive, our hearts can grow three sizes now. We can use this energy to fill us up with so much love that we are truly able to see things with a new perspective. This aspect is about growth. Higher truth. Inclusiveness. Adventure. Generosity. Set your mind to your greater purpose. Use this lunation as a reminder that you are unlimited. This moment asks you to define your most inclusive and just philosophies on life. How can you show up as your best self?
***
New Moon Sextile Saturn
A pyramid glows in bright sunlight.
The Libra New Moon is a moment to seek stability. To judiciously create balance in your life. If there is a area where you seek moderation, this will feel like a practice of self-love, opposed to a denial. Discipline is your friend. Planning is your friend. Systems are your friends. There is real security to be found in this moment. This is wonderful time to get your goals figured out. To plan out your projects and start mapping the steps that you need to succeed.
In Summary
The Libra New Moon feels secure. You can allow yourself feel secure enough to simple be yourself. To connect to the part of you that is untamed. To defend who you are, and defend the rights of others to be themselves too. By knowing yourself you will be reminded to trust in the goodness of all humanity.
***
SELF-INQUIRY BY SIGN FOR THE LIBRA NEW MOON
ARIES :: ARIES RISING
What can I do to be more emotionally open in my partnerships? Am I challenging my assumptions about what it means to be in a relationship?
TAURUS :: TAURUS RISING
What is one thing taking up my time and energy that is not a priority? How can I change it to become more efficient?
GEMINI :: GEMINI RISING
How can I make more space for fun in my life? Am I prioritizing this enough? Am I celebrating my success?
CANCER :: CANCER RISING
Am I naming my feelings as they come? How can I allow myself more space for all of my feelings?
LEO :: LEO RISING
How am I engaging mentally with the world? When was the last time I was playful? When was the last time I was curious?
VIRGO :: VIRGO RISING
Do I believe that life is about the journey or the destination? If it is about the journey, then how can I allow myself to feel rewarded in the moment?
LIBRA :: LIBRA RISING
How am I showing up as a leader in my life? Am I truly saying Yes to what I want and No to what I don't want?
SCORPIO :: SCORPIO RISING
Can I give myself some more free time? Am I prioritizing time for meditation? How easy is it for me to do nothing?
SAGITTARIUS :: SAGITTARIUS RISING
How can I make more space for my hopes, dreams and aspirations? What is my brightest future vision for the collective?
CAPRICORN :: CAPRICORN RISING
Have I defined my goals and the steps necessary to achieve my goals? How can I link the steps of each project to a desired emotional outcome?
AQUARIUS :: AQUARIUS RISING
What enticing new philosophies am I being exposed to? Do I trust myself to speak my truth?
Or is ti time to re-evaluate some of my beliefs?
PISCES :: PISCES RISING
Am I feeling all my feelings? How can allow myself to surrender emotionally? What makes it safe for me to let go of control?