YOGI SAYS: "HOW CAN I BE OF SERVICE?"
In a new column, yogi and philosopher Eddie Stern offers advice from a yogic perspective—with additional guidance from the tarot. This month's question: "How can I be of service?" Artwork: Lucy Dyer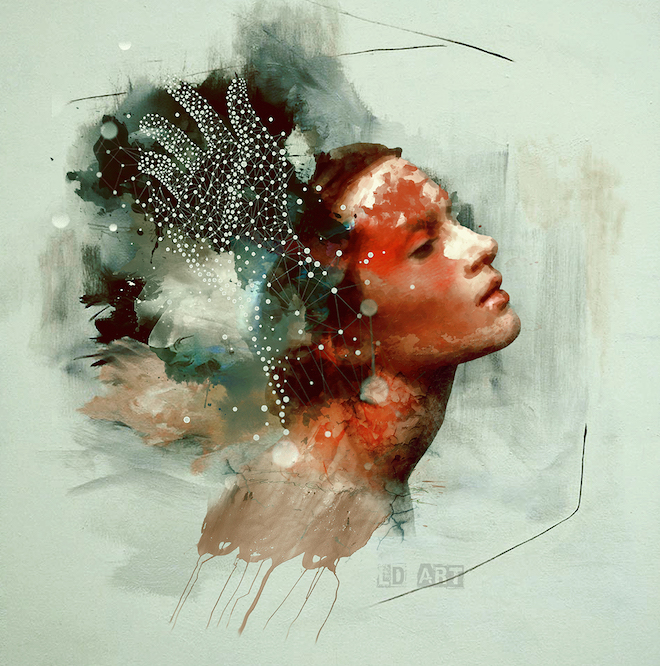 QUESTION: "All the recent socio-political unrest has left me feeling equal parts vulnerable and impotent. Alongside feelings of fear about what the future holds (environmental issues obviously play into this also), there is a huge sense of compassion for communities who've been affected directly and a newfound depth of empathy for all the displaced and marginalized people in the world. This has stirred up a desire to want to help in some tangible way, but it's so hard to know where to start—and to not feel hopeless about the impact one individual can possibly have on such monumental global issues. How can I be of service?"
SUGGESTION: Knowing where to start is often the hardest part of service—the same way you might look at your kitchen sink after preparing a huge feast. Your sink will be overflowing with dirty dishes, pots and pans, fragile glassware and sharp knives, all covered in gook, and the thought of washing them, while you are tired and overfed, is overwhelming. Your initial thought might be to leave them for the morning, and perhaps you secretly hope that one of your guests or your partner will do it for you. However, while the whole mess is indeed completely overwhelming, washing just one single cup, or one plate, is not. If you start by washing just one dirty dish at a time, before you know it, the whole kitchen sink will be clean.
We can look at the world in the same way. For one person to clean up the whole mess of global warming, geopolitical conflict, poverty and hunger is not only impossible, it's completely overwhelming to even think about. But taking personal responsibility for trying to do one thing better, and inspire others to do something better, is totally doable. In yoga, Sun Salutations—breathing slowly, and connecting each movement with one breath—teach us to embody a step-by-step approach to our lives. Further, if you can choose that one thing that you are going to work on or perfect about your behavior and attitude while here on our small, green and blue planet, you'll also find that you are re-inspired, and will become filled with energy, inspiration and creativity.
In the Tarot, the Eight of Pentacles might be a good card for you to meditate on. This card shows a young man absorbed in his work; he is an apprentice, meaning that he is learning and perfecting a new skill, and has committed himself to hammering out the details that will lead to mastery. He works on one coin at a time, without stress, only moving on to the next coin when the one he is working on has been completed. The Pentacles are the suit of physical work, and are representative of the Earth energy. This is essentially what your question was regarding. Our planet Earth is a mess, what work can I do to help?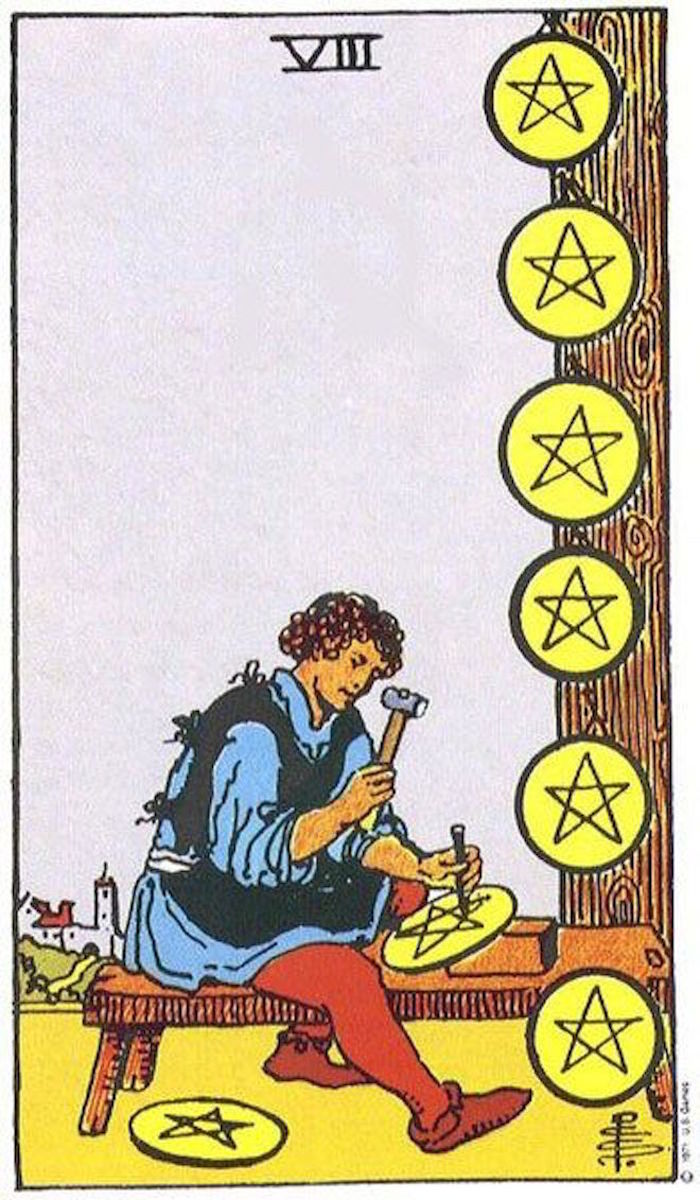 The first thing is to be grounded, stable, and practical, like the Earth; and then to take it one step at a time. Come up with a simple strategy that you can stick with, like the washing of one dish at a time. This is how a big job gets done. Your commitment to being of service to the world will strengthen and blossom when the job before you feels like it is attainable. The Eight of Pentacles also teaches us that we should not isolate ourselves for too long, for the kind of work you wish to do is not the work of one person.
We need spiritual friends to work with, and communities to develop who share our ideals, values and desire to be of service. Cleaning up the world is not the job of one person, it's the job everyone! If you take it all on your shoulders, it will just be depressing. So look around, see what is close by that you can take participate in, or what you can create from scratch. After you have taken small steps, you can build bigger teams if you wish to, delegate more, and fulfill your vision of creating a more loving, compassionate world.
Discover more about Eddie Stern and his work here. Do you have a question for "Yogi Says"? Email: [email protected]