MY MYSTICAL LIFE: AN ENCOUNTER WITH ROSE HEALING
Following the emotional July 4 Cancer New Moon, it's been a week for connecting to Universal mother energy—with the beautiful experience of rose healing…
:: MON-WEDS ::
Many many magical, manifestational meetings—TF for Mars direct! Finally life feels like it's moving again, which means you can expect all sorts of Numinous fun in the months to come. Also, checking out potential covers for my BOOK (woot), a special acupuncture + deep tissue massage situation (amazing combo), being quoted on a new era of astrology for self-actualization in British Vogue, and an invitation to join an actual "coven" (!) But I want to focus on Thurs and Friday this week, so…
:: THURSDAY ::
It's been an emotional time for many of us, for so many reasons. And against the backdrop of a deeply saddening series of world events, I've been feeling extra vulnerable since my mum has been reading the manuscript for my book. Vulnerable because it's made me realize how much I have chosen not to share with her over the years (which I have shared in my story)—mainly for fear of her judging or being disappointed with some of my life choices.
Naturally, this is something I also had in mind when writing the report on Monday's super, super emo Cancer New Moon—which, forming a grand water trine, opened the floodgates for some deep emotional healing this week, particularly to do with issues of family, and the mother. So fitting, since discussing my manuscript with my mum has also brought up a LOT of realizations for me about the ancestral wounds I am carrying for the women on both sides of my family tree—my paternal Grandmother, somebody I barely knew but have a strong genetic connection to, in particular.
But little did I know how perfectly events this week would line up to help facilitate healing around this for me!
So cut to a couple of weeks ago, when amazing Deborah Hanekamp introduced me to a healer friend visiting NYC from India. Padma works with rose healing, which she described as: "a very beautiful technique inspired from the Virgin of Guadalupe in Mexico, where I place fresh roses on a persons body and they connect to whatever form of the Goddess they resonate with. Would you like to come and experience a session?" she asked. I signed up without asking any more.
I was instructed to bring a selection of pink roses along with me, and when I arrived for the session Thursday, I asked Padma to explain more. "When we work with pink roses, we are clearing hurt and wounds from our mother relationship, from the lineage of women in our family tree, and asking them to be transmuted, so that we are open to receive unconditional love from the Universal, cosmic Mother," she told me. Just WOW. And what a testament to how the cosmos begins to align with our needs once WE get attuned to the energies currently available to us.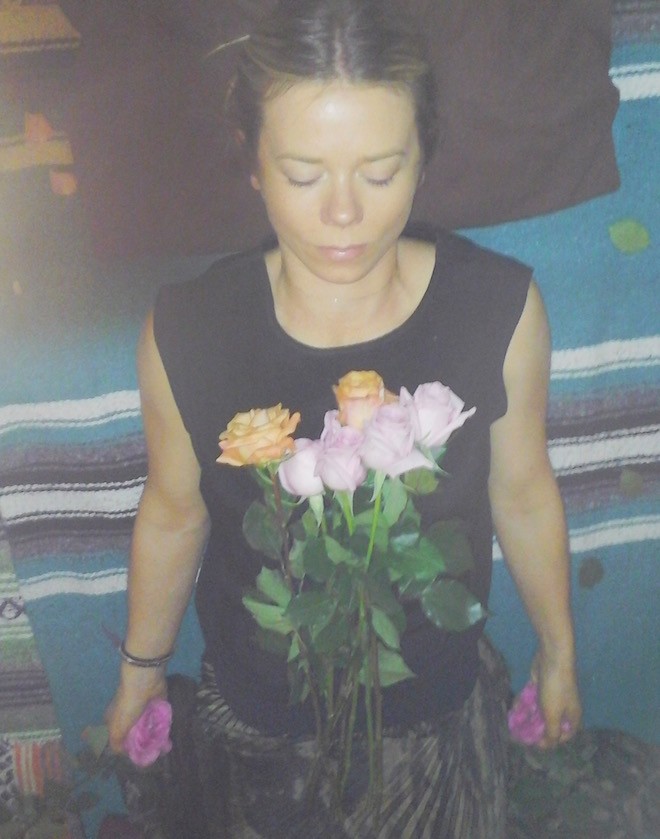 During the treatment, Padma placed the roses on different parts of my body, played a crystal singing bowl, chanted over me, and recited prayers to the Goddess. And I remembered what my friend Aly had told me about how, as a conscious being, it was within my power to call on the spirit of my Grandmother and let her know that I was ready to take her wounds from her. As I did exactly this, internally evoking her image and connecting to her energy as a young woman, tears began to flow and Padma seemed to sense what was happening—instructing me: "now take this and offer it to the Goddess, back to the Universal Mother."
Afterwards, we spoke for almost an hour about what had come up—particularly my need to soften around difficult situations, surrendering emotional upsets rather that hardening around them. A valuable take-away for us ALL right now. I also got to take my roses home, with instructions to sleep with some of the petals in my pillow case, with some stems in a vase by my bed, and to return the two "deposit" roses I'd been holding in my hands back to the Earth.
Overall, this was one of the most beautiful healing techniques I've experienced, and Padma (who actually spends most of the year on Amma's ashram in India), is a truly angelic being. And NYC Numis—she's only here until July 22, and practicing out of Maha Rose (of course) in Greenpoint. If this resonates and you feel so called, I urge you to take the opportunity to book a session! Contact: [email protected]
:: FRIDAY ::
And there's a sweet postscript to my experience with the roses too. I'm part of a distance Reiki healing group facilitated by Kerri Aab, who I often commission custom flower remedies from. She sends a sweet note to the group each morning with whatever message came up, and today I got a personal one:
"Just wanted to let you know that you came up STONG during Reiki this morning, bathed in and bursting with pinks, reds and magentas. It was pretty stunning. The image was accompanied by a joyful, child-like energy. I almost got the impression it was a younger version of you. Perhaps you're doing some inner child work right now?"
I mean, DOUBLE WOW. And thank you, Universal Mother.
Kerri is also accepting new people into her group Reiki healing circle. If you're interested, you can fill in the sign-up form on her website: Seedtoblossom.com