BALANCING ACT: GET TO KNOW YOUR LIBRA MOON
Libra season is also the perfect time to work on balancing the people-pleasing traits of a Libra Moon sign, says Ash Baker. Image: Prince Lauder via Behance.net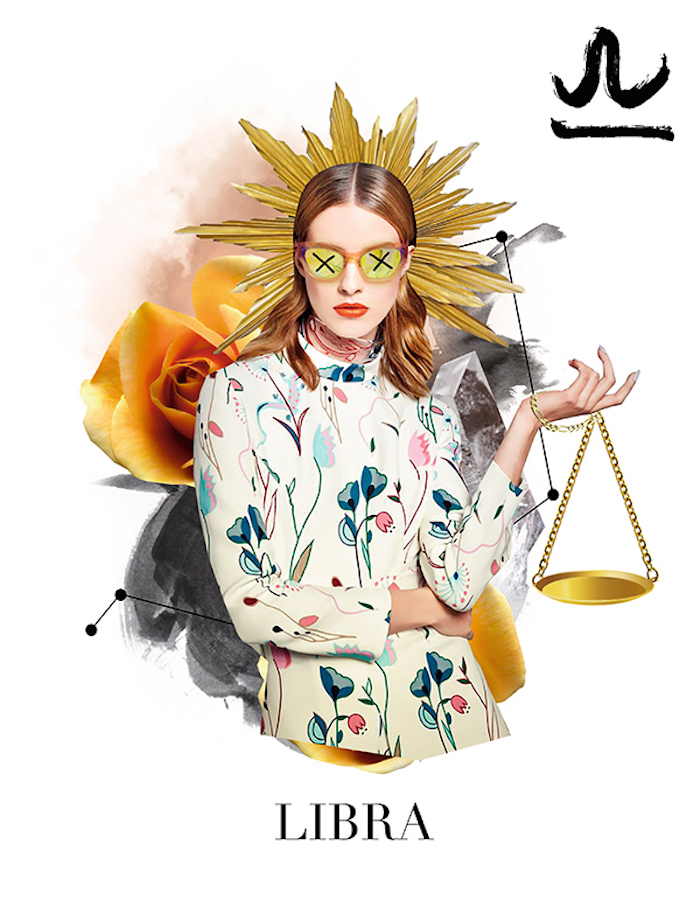 Hello Libra moons! Yours is the reflecting Moon, the mirror of the heavens. If our Sun sign is what others see in us, our Moon sign is what we feel within ourselves. As such, partnerships are big for the Libra Moon sign – you need to feel seen, heard, and appreciated. You don't have to be glued to a mate, but having close friends, colleagues and family to bounce ideas, attitudes and emotions off is a necessity.
Represented by the symbol of the scales, this Moon feels a deep need for harmony and balance in all areas of life. You are the peacemaker of the zodiac, and sometimes to a fault, going to great lengths to keep things copacetic at home or work. You are a firm believer in fairness and can genuinely feel like you've failed when emotional waters get choppy – even when it's not your fault!
The Libra Moon can be guilty of going against your authentic needs and desires to make the people around you happy. Libra Moon so dearly wants to be loved and accepted, but it's of no use if you're not being authentic. You want others to love you for who you really are, so there can be an internal struggle to keep the peace. Even worse, the people in your life can feel mislead if you're always being a "yes woman/man."
So how do you find balance? You focus on YOU. You get honest with yourself about what you want in any given situation and build from there. People who really love and care for you will accept your truth even if it's not what they want to hear. Your soul will only feel heavy and burdened if you always end up doing, feeling and being what you think others want.
So keep the order, but not at the expense of your soul. Focus on showing others how to treat you, by how you treat yourself. Also, practice the art of saying "no." It sounds simple but for the Libra Moon it can be torture. It's worth the effort though. It will show you and others you can create healthy boundaries.
Ruled by Venus, planet of beauty, the Libra Moon also has an eye for the aesthetic. An artistic flair. You will probably find symmetry, composition, and the skilled use of negative space extremely appealing. So make an effort to spend time getting artsy. Painting, photography, or even creating vision boards will fulfil the emotional need for visual harmony.
Since the Moon also rules our home environment, Libra moons need a safe, nurturing space without clutter. And with such a sensitive Moon, you really need a place that's peaceful. Hectic energy will only drain you.
:: CHILD'S POSE ::
You will know your Libra Moon is off if you find yourself plagues with indecisive thoughts. My suggestion for those moments is to go within with a simple Child's Pose. Feeling confused and stressed about a situation is usually a signal that you're not listening to your heart. Get grounded by connecting to the earth. Let go with your breath. Give yourself the time and space to really listen to your inner teacher. Really think about what you want, and make your decisions from that solid, still place inside.
:: GET GROUNDED ::
Libra is an air sign so this also an intellectual Moon. Your thoughts and feelings can move like the wind, and you can get quite ahead of yourself! When things get a little too breezy it's a sign to get grounded. Create a habit that you do everyday – maybe it's warm lemon water in the morning, or writing in your journal at night. Just pick something simple and do it without fail. Keeping a routine will help calm some of the nervous energy that comes with being an air Moon sign.
In short, take time to honor yourself and the rest will fall into place!