FUTURE PERFECT: A YOGA SEQUENCE FOR AQUARIUS
In preparation for Wednesday's second consecutive New Moon in the sign of the water carrier, Ash Baker shares a settling yoga sequence for Aquarius…Image: Nomads by John Lisle via Behance.net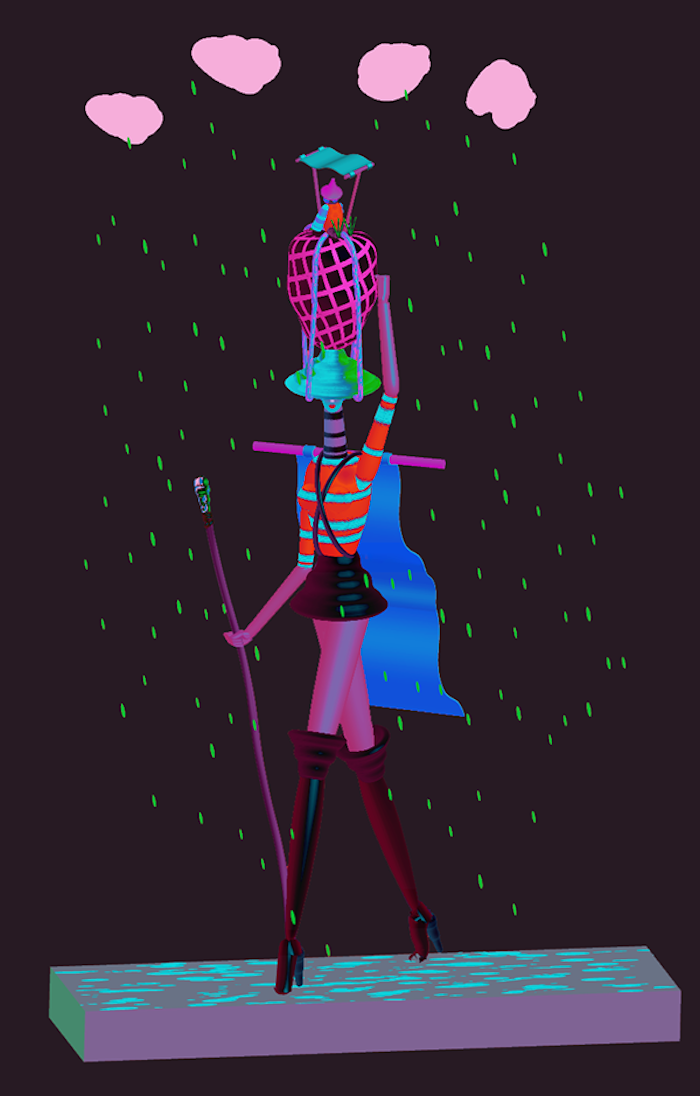 January 20 to February 19
Ruler: Uranus
Element: Air
Modality: Fixed
Anatomy: Nervous system, ankles, Achilles heel, calves and shins.
11th sign of the Zodiac
Ground control to Major Tom! We are about to experience the second consecutive New Moon in the sign of straight up energetic pulses, innovation, and intellectual connectivity. Represented by the symbol of the water carrier, now comes one final dose of this futuristic energy before the Sun enters dreamy Pisces.
The three poses below are designed to help you ground the Aquarian vibes, and settle into yourself a little deeper as you maybe take the cues from the past month to adopt a new angle or approach to whatever you are experiencing in life.
:: Eagle Pose / Garudasana ::
Come to stand at the top of your mat. Take a bend in your knees and cross your right leg over your left. If you have the flexibility, wrap your right foot around the back of your left calf. Make sure to squeeze the inner thighs together so there is no space between your upper legs. Now open your arms out to the sides like wings. Take the left arm over the right, crossing at the elbow. Bring your forearms to touch and if your shoulders are open enough you can wrap even further and place the right palm up against the left palm. Draw your elbows up so they can be directly in front of your shoulders. As you inhale, lengthen up through your spine. With each exhale, sink down a little further. Hold this pose for five rounds of breath, and then switch sides.
:: Wide-legged standing forward bend / Prasarita Padottanasana ::
Take a wide-legged stance on your mat with your feet parallel to one another. Reach your arms out like wings as a measurement. Your wrists should be directly above your ankles. Now take your hands to your hips. Make sure you are pressing the inner and outer edges of your feet into the floor. Take a deep inhale and as you exhale begin hinging at your hip creases to fold forward. Take your hands to the floor, or, for a shoulder stretch, grab your ankles. Let your neck and spine relax and lengthen while your legs do the work. Stay here for five rounds of breath. Take your time coming back to a standing position and move your torso upward on an exhale to help eliminate possible light-headedness.
:: Hero's Pose / Virasana ::
Come down to your knees and bring them in to touch. Take enough space between the feet that you can sit your hips down on the floor between them. If that hurts your knees/hips, take a block or stack of blankets under your seat. Let the big toe sides of your feet turn in towards each other slightly and press the tops of the feet down into the floor. Make sure there is about a one-inch space between the inner arches of your feet and your outer hips. Rest your hands comfortably on your thighs and lift your spine. Let your chest open with wide collarbones. Breathe here for up to one minute.
:: Meditation for Clarity::
Come to sit on a folded blanket up against a wall for spinal support. Cross your legs at the ankles or if that hurts, stretch them out in front of you. Rest your hands, either palms down for grounding or palms up for receiving, on your thighs. Close your eyes and begin gently breathing through your nose. Just notice all the different sensations, electric currents, and rhythms in your mind and body. Without trying to change anything, just witness yourself. Stay with your breathing and see if you can create a calming sync between the sensations of your own internal circuits. Stay open to anything that comes up in your mind or body and try to create a harmonious resonance. Establishing this type of self-awareness can be a powerful tool when you are stressed. The more you practice this meditation the better you will notice body/mind stress sensations, and will be better equipped to direct your breath accordingly. It's your very own auto-correct, allowing you to change course with greater and greater ease.
Monthly Mantra: I am the heroine/hero of my own journey.