WITCHY MAMA: 6 WAYS TO COMMUNICATE WITH YOUR UNBORN CHILD
You'd like to get to know the little spirit you're bringing into the world before you meet them, right? Cate Emond shares some simple ways to communicate with your unborn child. Images: Aurélie Raidron via Behance.net
There have always been the obvious ways of connecting with our unborn children; see women talking, singing, or reading stories out loud to our baby bumps. And whatever stage of pregnancy you Numi mamas are in, there are so many things you can do to feel bonded and connected to the little soul you've created a home for.
When I found out I was pregnant I was excited, but despite this I also felt very disconnected from my body, and from the little life steadily growing inside me. I realized I was going to have to go deeper into myself and my spiritual practise if I wanted to start creating a bond. Below are a few of my favorite ways to create that connection, and communicate with your unborn child:
:: Prenatal Meditation ::
Prenatal meditation is really no different from regular meditation, the only difference being that a) you, or your partner, are pregnant and b) you are specifically using this time to connect with a little spirit. It can be just as simple as taking 15-20 minutes of your day to sit quietly on your own in a relaxed setting with no distractions, to tune into the energy inside. But I prefer guided meditations because they help me to visualize the baby – especially this one, which that also incorporates some kundalini yoga, as well as this prenatal belly dance and meditation, whiCh has helped me feel more connected with my body.
:: Creative Journaling ::
I've kept a journal since I was a child, and more recently I've realized it's not just a place to record the events of your day or how you feel. You could use yours to write letters to your little girl or boy, write songs or poetry, or create collages and vision boards about your future life together – the possibilities are endless.
:: Intentional Dreaming ::
Dreams are a great way to send and receive messages from spirit. Before going to sleep, either think of the message you want to send or receive from your baby or write it down and place the piece of paper under your pillow. Keep paper and a pen by your bedside and record whatever dreams or messages came back to you as soon as you wake up. If the messages or images seem unclear, meditate on them for a few days, focusing on the feelings they arouse in you. You can also try this handy dream interpretation method I learned years ago:
Write down the events of the dream in short simple sentences.
Next, go back and underline one word in each sentence that jumps out at you immediately.
On a new sheet of paper, using the underlined words retell the dream as a brand new story in the way that best makes sense to you (but don't think too hard about it).
People are so unique, and though many symbols have common universal meanings, they can still represent different things to different people. The point of this exercise is to get an interpretation that's specific to you.
Early in my pregnancy I had a few minor complications and I was worried about losing the baby, so one night I asked for a message before going to sleep. The dream I had was about killer bees taking over my city, and I saw images of myself hovering over a little baby boy, protecting him. The next image I had was of a mailbox securely posted to a tree. I like to think that was a clever way of my baby letting me know he was safely waiting to be delivered, and that I was capable of providing a safe and protective environment. Much of my anxiety faded away after that dream.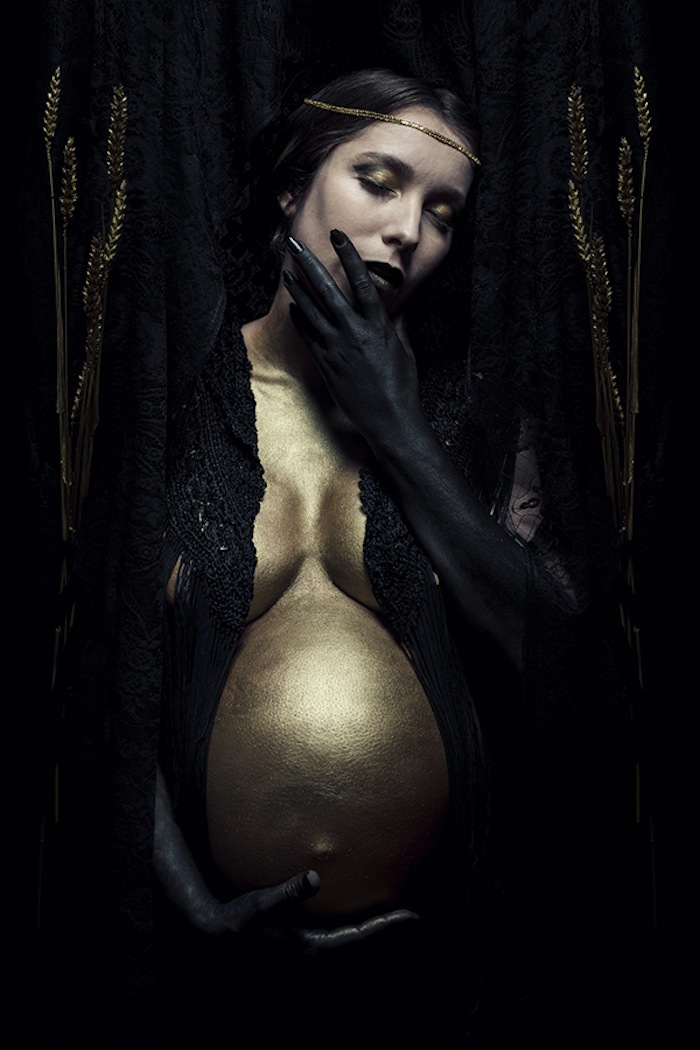 :: Connecting with a Birth Intuitive ::
Because I was feeling so disconnected from myself, and my pregnancy, I decided to book a session with a woman who specifically helps expectant mamas and couples communicate directly with what she calls their 'spirit babies.' This might be a great place to start with if you need a little bit of an outside boost to help get you in the spirit of connecting with your little spirit.
While preparing for my session with Colette, I had fun dreaming up questions such as "are you okay in there" (is my anxiety that obvious?), "how can I love you best?" and "what aspirations do you have for this life?" No question is off limits, though she was quick to point out that it wasn't about prediction, simply connecting. It was an interesting experience, and I would recommend it for the reasons mentioned above, as well as just for the fun of it.
:: Angel Cards ::
You can use any type of oracle card, but personally I love the Messages From Your Angels Oracle Cards by Doreen Virtue. The messages are comforting, clear and simple to understand. I tend to do single card draws because I like the focus of a single message, but there's no right or wrong way to do it. If I have one I ask a specific question, but if not I just ask for a general message and then I shuffle and wait for the right card to pop out.
:: Self Care ::
Okay, maybe not technically a way to bond with your baby, but it is one of the most important things to remember during pregnancy. We spend so much time worrying about how we're going to care for this brand new life, that it can be easy to forget to care for ourselves, and if you're neglecting your own needs you're most likely going to feel miserable. Not the most conducive environment for feeling bonded to the little human inside of you.
One of my favorite takeaways from my session with Colette was the idea of "grand-mothering" ourselves. She asked me to: "remember how grandma loved you…how grandma paid attention to you and gave you advice and support [when you were young]. This is the kind of self-love that is recommended for pregnant women."
So bake yourself some chocolate chip cookies, snuggle up with a blanket and a cup of tea, and journal, or meditate, or do whatever feels right to you in the moment. There's no right or wrong ways to communicate with your baby, but he or she is most definitely listening.
How do you communicate with your unborn child? Pregnant or not! Share your stories with us on Facebook, Instagram or Twitter.
You can read more from Cate Edmond on her blog, and connect with her on Twitter.