BE HERE NOW(ISH): IT'S GIRLS GONE NUMINOUS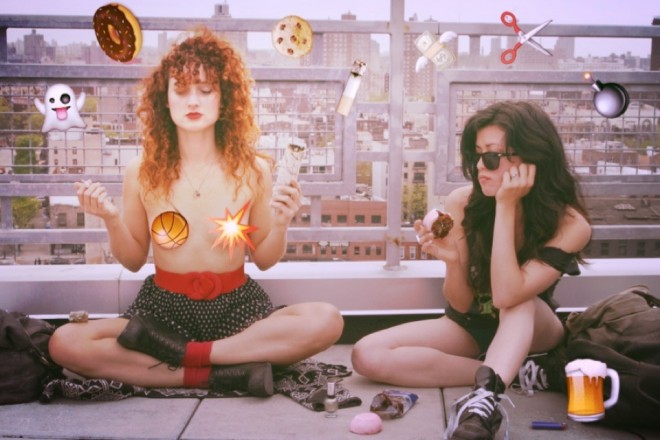 It's like us, in a web series (ish). Billed as "a comedy about two down and out New York gals who go to LA in search of  a spiritual awakening," Be Here Now(ish) follows the fortunes of Sam (played by Alexandra Roxo) and Nina (Natalia Leite), a New York City dating consultant and drug delivery girl respectively, on their journey to meet this guru-shaman Nina's heard about and transform their lives in the process.

Reaching La La land, they undergo spiritual bootcamp, have their first plant medicine ceremony and so find themselves faced with a different future than they'd ever dreamed of. But is it bye bye forever to beer and bad boys, or do they find a way to balance their old party lifestyle with their new, now age vibe?
LUCKILY (!!!) the Alexandra and Natalia just secured twenty-freakin-K on Kickstarter so they can finish the series and get their baby out there in a big way. And there are still two days to go for you to add your pledge! Just please don't steal all their ideas Lena Dunham.
We caught up with them at home base in BK to talk crystals, dharma and SXSW: the sweat lodge.
WHY IS THE NEW AGE NOW?
Natalia: "Because there is only the now, so it can't possibly happen any other time than right now."
Alexandra: "It's always the new age right? Or is it always the now age?"
WHY DOES ALL THE REALLY GOOD SHIT GO DOWN ON THE WEST COAST? ARE NEW YORKERS TOO UPTIGHT?
N: "Nah, that's just a myth. My first plant medicine ceremonies happened in New York and I've met such an amazing group of spiritual, creative, innovative people here. There's a lot of good shit happening in both coasts, if you care to look for it."
A: "I thought all the good shit was west but it isn't! There are medicine ceremonies and amazing people on both coasts. The west is just a bit more condusive to the vibe though."
WHERE DO YOU KEEP YOUR CRYSTALS?
N: "I have a few crystals spread out around the house. I carry an Aventurine on me at all times. I also love to have a rose quartz and a pirite nearby."
A: "Right now they are wrapped in tissue paper in a white and gold Chanel makeup bag because I've been living the gypsy life, but usually they would be on my altar, by my bed, under my pillow…"
WHAT WAS YOUR MOST NUMINOUS EXPERIENCE, EVER?
N: "My first peyote ceremony. Totally changed my life at the time."
A: "I remember this time I was running on a beach when I was about 10 or 11 and I had a thought to myself "This is freedom." It came back when I was in 8th grade and going through a shit time. I remember sitting alone and finding a great peace in my belly and understanding that that inner peace was always there if I wanted it."
DRUGS OR DHARMA?
N: "Both. I'm not a puritan, I'm a Libra, so I'm always trying to create a balance between the side of me that wants to go out, drink, party, be reckless, and the other side that wants to be present, healthy, meditate, devote myself to the good of others."
A: "Combo? A little marijuana can teach you many many lessons. Get you out of your tiny little mind, seeing a bigger picture. But duh so can Eckhart Tolle or Kahlil Gibran and they are both totally free and legal!"
MEDITATION OR MXOLOGISTS?
N: "Meditation, definitely. It's the best buzz."
A: "Lil of both. I tend towards extremes but I think extremes are easier than balance for me. Alcohol can also be a teacher at times but only at TIMES other times it can be like sleeping with an ex. Where meditation is always a teacher and will never make you feel shitty and haggard the next day."
SWEAT LODGE OR SXSW?
N: "They are kind of the same thing, no?"
A: "Sweat lodge! Def one of my most numinous experiences. SXSW is expensive and looks crowded from pictures. But then again I'd love to go!"
Pledge to the Be Here Now(ish) Kickstarter campaign
Facebook.com/beherenowish
@AlexandraRoxo
@natalia_leite1