What's in the cards for your sign this month? Resident tarot lady Loulou Androlia dips into her deck…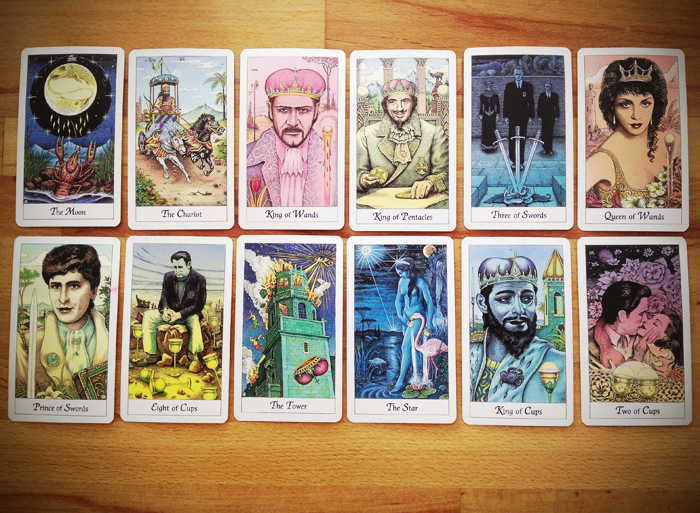 Taurus – The Chariot
Everyone on board? It's all go, action, adventure, work, love, money, play in the Taurus household this month. The Sun is in your sign and with two Eclipses this month there's no holding you back. If you aren't ready to grab the reigns of your life and start riding then The Chariot is your call to action. A wonderful and inspiring card that has a very determined energy, now is the time to really commit to all your ideas from the past few months and to maintain a focus on all that you wish to manifest. It is the perfect time to be very present in your own life, sometimes we stray from ourself and feel really out of control and all it takes is to step into our own personal power. Work wise it's time to really be assertive and put your energy into the projects you believe in, if you are self employed look at teaming up with people who share your drive right now, even just a spirited conversation with a new face may set you off in a new direction. This card can indicate physical movement as well as inner action, so you may find yourself zapping around town or cross country on a work trip or to visit a new love interest. Make sure to take advantage of this energy boost by continuing (or starting!) a healthy eating regime and don't forget to nurture your internal environment during this mad month.

Gemini – King of Wands
The Wand energy is passionate and blooming and inspired and the King is the master of this. I feel it's going to be a fruitful month for work and creative projects for you Gemini. Now the exciting thing about the energy of this card is about making things work FOR you. Yes sometimes the wands are about new ideas, but the King also knows that he can turn something already in play around to suit him. This month you have the gift of being able to make things work for you, an aspect that could go either ways. It might be that you can finally finish up a contract or project with others, or that you'll be the one sending yourself sailing in a new direction. I feel that this month could bring challenges and change but you are totally up for it, will invite it even. Step forward with intent and be very open to opportunities especially from areas that you might normally dismiss. This card is fear free and so that openness might be about taking on a different mindset spiritually or health wise, instead of fear you have positive adrenaline, so make sure to use it to nurture a balanced mind.
Cancer – The King of Pentacles
Continuing on from last month work aspects are still really strong for you and in fact I feel that in May you are on top of your game. The Kings hold a lot of the power of the suit and Pentacles are about the material world and earth energy, so he finds great success in this area. You have this power in May and material fulfilment is there for you. I feel that this stretches in all directions, personal projects and solo business adventures will gain a new sense of sense of purpose and security while it's also a perfect time to collaborate. Open your arms to joint ventures and seek out new business partners – opportunities to prosper are out there, so don't struggle by leaving your mind closed. Fire out a bunch of emails and reach out for help if you feel stuck. None of this is achieved without hard work so perhaps start out this month by revamping your schedule and creating some space for all this enterprising action. The Pentacles are the earth energy which indicates that a grounded approach is the way to success. Be practical whilst remembering that if you feel successful it IS ok to celebrate your achievements. You don't have to be afraid to treat yourself this month.
Leo – Three of Swords
A card that often is greeted less than enthusiastically the Three of Swords teaches us how to handle some of our more difficult times. I feel that this month you may be working through some emotional pain. The Swords are all about our mental air energy and often bring up challenges. I believe the swords to be the best suit to give us strength in helping us learn to release. It could be that you are going through a romantic break up or that you are feeling like you are having an emotional detox, either way don't worry if some old felt emotions spring up this month. The strength in this card is to understand that it is our challenges that push us forwards and allow us to regain our personal power. Look at the past as a tool for learning and inspiration to reach for success. There is no such thing as failure or bad choices, just experiences that shape us into the best version of ourselves. Fight fear with love everything will spring into shape.
Virgo – Queen of Wands
Last month you were soul searching and now in May it's time to arise from your subconscious and use the fire energy from The Queen of Wands to expand and inspire. This is a good time for showing off your gift of the gab, networking and flitting from party to party from meeting to meeting and hauling in the success you deserve. It may feel like the last few months have been a bit uphill and in May it looks like things are finally levelling out a little, and bringing in some positive movement. Your eyes are on the prize Virgo, and if last month you were searching for new directions in all aspects of life and love, now you want to take action. Be fearless. The Wands always always bring opportunities your way so please be ready to receive these 'hellos' from the Universe. You also have confidence and a powerful adrenaline at your disposal. Combined with your practical and balanced mind, nothing can stop you.
Libra – Prince (Knight) of Swords
Last month was about some new ideas, inspirations and beginnings for you Libra, and in May we move on to how you invoke the action needed to move forward. The Knights are always about this, while Swords carry the Air energy of mental thought processes. As an air sign you are no stranger to the swirling of ideas in your upper atmosphere and this will come in handy this month. You are absolutely ready to zoom ahead, and maybe feeling a little impatient. This card comes to remind you to set a plan, don't rush things and charge ahead with no structure! You will benefit from laying out your action plan and then elegantly riding on. Use your skills in the communication department to ask others for help, invite collaborators in and to form a solid structure with your ideas. This feels work related but you can take note for all aspects of your life, never forget that balance is the key to feeling well. If you are embarking on a new health plan, don't push yourself too far so that you end up giving up and feeling like you've failed. Scan your external and internal environments and plan accordingly for your well being, while should be a nice line up of work, play and soul food.
Scorpio – 8 of Cups
Last month was also an eight and this number is linked to the planet of Saturn which happens to be sitting in Scorpio for the next couple of years. Saturn and the Eights encourage us to move forwards in some way and abandon our fears. The Eight of Cups addresses emotional issues and is a deep and weighty card. I sense you have been building up to this release for the last few months, or even the past year, and May is going to be the perfect time to really cut those last ties to relationships, habits and practices that no longer serve you. The card is about walking away, but not in a negative sense. It shows that if you have the courage to let go of what you know is not good for you then ahead of you is a sparkling time of opportunities and a place where you can enjoy love. See this card as a brisk wake up call. I feel this card can really ring in change in a positive way, as it is reminding you not to wallow or brood about the past or things that 'haven't worked out' but to put your attention to what brings you joy and go to that place. Disappointment is a very difficult feeling to manage but it can serve to move you a step higher in your spiritual development by allowing yourself to surrender and move on.
Sagittarius – The Tower
This is a really powerful card and no doubt you have been feeling its energy already over the past few days or week. This card is the catalyst for change and it is a big flashing neon sign that says it's time for you to welcome in the winds of change, because if not the Universe will do the shaking up for you and that is always WAY more uncomfortable. Be fluid, be lucid, BE BRAVE. Remember that change is never a bad thing, it's part of the cyclical wonder that is human life in which there are no beginnings or endings, just a constant flow. If you can embrace this concept, then your life will work with you instead of against you. So, in May, be kind to your body and respect your mind, be aware that changes may be unexpected and choose to swing everything in your favour. You are a fire sign after all, with your eyes on the prize and heart facing the sunshine. How about you beat the Universe to it and get into that flow ahead of time? March yourself away from all that isn't serving your emotions and creative mind and get your dream plans into action!
Capricorn – The Star
So for May you get to show off and stand in the limelight! if you wish that is, but it will suit you. The energy of The Star is about pouring water on the seeds of your dreams, nurturing your body, mind and spirit, everything, so you can have it all! Do you want it all? Have some fun this month, be a little less 'earthy' and welcome in some more fire and water energy, get out and be social because you are shining this month. It might be that you feel like winter has finally departed and you are ready to shed your skin and embrace those new ideas and self discoveries that you've been sitting on for months. Get participating in your life and choose where you want to put your energy, it's a wonderful month to be practicing living in the present moment and being in your own 'flow'. Alongside that, start manifesting what else you fancy for the rest of the year. You have a bit of magic about you this month and it's likely that the stars will align if you just give them a little instruction.
Aquarius – King of Cups
Following on from last month you are have another card from the Cups, this time the King who is encouraging you to find your emotional balance. It may be that you want to start the month recuperating from changes at the end of April, or just hibernating a little at home. Cups are about our water element and as the King has learned to be the master of his emotions this may be a lesson for you this month. If you feel like you swing from mood to mood or that your emotions feel too overwhelming, start a practice of 'feeling' your feelings, say them out loud like a mantra: 'I feel angry', 'I feel happy', 'I feel anxious'. This will help you understand that all your feelings are valid, the positive and the negative, and by using 'I am' you take a personal power over your emotional state. Be gracious this month to those around you, practice empathy by remembering that we are all people working on our own challenges. For instance The King of Cups would always act in a diplomatic way, rather than being dramatic, through a learned way of managing inner balance. In May remember to let yourself give and receive love, reach for balance in all areas, to get intuitive and to remind yourself what you are looking for and honour that.
Pisces – Two of Cups
The anxiety of last month swoons away with the Two of Cups as your card for May. One of the most beautiful in the deck this card ushers in a focus on emotional connections, new relationships and a positive vibe for all type of partnerships. This card can symbolise a balance within romantic unions, if you are single get out and about as May could find you socially successful and your dance card full. If you are in a relationship already then this card can bring more energy to the romance, a rekindling of your love or a new understanding and respect. This card isn't just about love though, it signifies a great time for all types of partnerships, making this a positive month for not going it alone in business or friendships either. Can you expand your work life by adding someone new to the team or collaborating with a respected peer? In friendships, partner up and enjoy each others company, or use this month to reconnect to those you love by sending out 'I am grateful for you' notes to your nearest and dearest. Finally, for the soul searching meaning to this month, try and reconnect to what love, respect and support means to you. Have you given yourself enough love to be willing to allow that into your life? Recognise your own inner light so others can see it too.
Aries – The Moon
Last month was fire driven and inspired and in May there is a bit more of a deep driven energy rushing in with The Moon, the card that highlights our hidden mind. This month I feel is going to still be quite active for you, but on all levels, you are going to notice that you are working on the material, physical and the spiritual, so get ready to dive in. A negative way to use the energy of the Moon card is to travel back in time and punish ourselves over the past. The absolute best way is to shake hands with your subconscious and invite it to your party. It's time to tap into your intuitive side (if you haven't already) as much of the advice you need this month is lying there, so get meditating and soul searching and you may unlock some powerful tools to keep you moving through the rest of the year. Sounds a bit cryptic? Some practical advice: try to avoid brooding, and remember life is about cycles. You are en route somewhere amazing and this month is about nurturing that and recharging for some major work and life action at the end of the month and beyond. GO TEAM ARIES!
TAROTSCOPES Cast using the Cosmic Tarot Deck.
www.louiseandrolia.com
@Louniverse