WHAT'S in the cards for your sign this month? Resident tarot lady Loulou Androlia dips into her deck…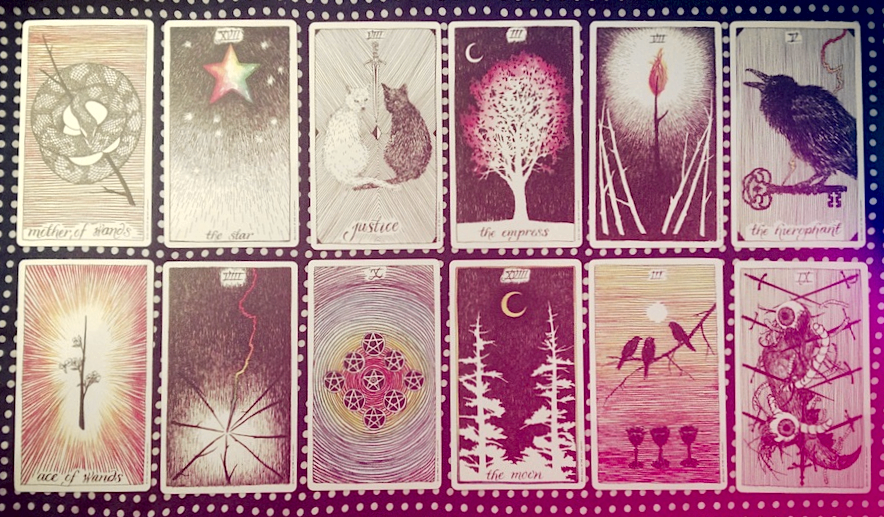 Aries – Queen of Wands
When I have to get things done I always try to channel the Queen of Wands. This month you have her "can do, will do" attitude and you are brimming with creativity and passion, so dive in with a knowing confidence that your visions are attainable. This month is about pushing forwards on the work and life front, opportunities are going to come at you hard and fast so make sure you are present to receive them. Of course you will undertake this all in a warm and compassionate manner, there is no invite for your ego to this party. This fire energy may bring up some remnants of personal challenges past, but the Queen of Wands shows you that you have the ability to tame your inner fears and keep reaching to the stars.

Taurus – The Star
This month will be what you make of it, and is the finest time to consider and re-evaluate what you want to manifest. Things are going to really swing in your favour IF you are putting your energy into the right place. Feel hopeful and trusting in your abilities, leave the situations and people that you need to in the past – you know what and who they are. The star reminds us of our own personal transformation, and pushes us to consider our spiritual values. Honour your intuition this month and know if that the steps you take are from your highest passion then you are headed into the wide open arms of success and joy. The stars will align as they say!
Gemini – Justice
Justice is all about truth and decision making, and this month sees a need for you to regain your balance. You may need to look at your trust issues with others and with yourself; what have you been putting off, and what have you been trying to push beneath the surface? Spending time considering what you really want from relationships and life will never harm you, take a step back, tune into your own gut knowledge and then make your decisions with confidence. You may find this month also rolls in the need to get some more boring tasks done, you'd rather not bother but actually reorganising your work space and getting ahead of your accounts will have you polishing your halo in no time.
Cancer – The Empress
April will be full of abundance for you, and career options look to be blooming as you give birth to idea after idea and finally you feel like you have a stable platform to grow from. It's time to also check that you are giving yourself as much love as you are putting out. Life is about giving AND receiving and The Empress will always appear to remind you to nurture yourself, mind, body and spirit, especially if you spend a lot of time caring for other people. If you are aware that you haven't been looking after your health recently then this month is perfect for checking in, detoxing and connecting back to mother earth. The Empress card is full of fertility so if you aren't planning on extending your family, plan accordingly! Also make time to connect or reconnect with family this month, see what you can learn from your roots and consider the mark you want to leave on this life.
Leo – 7 of Wands
If you've been feeling a little challenged the last few months, you might still be feeling the crunch as we head into April but it feels like the pressure is lessening. It could be external but also please look at whether you may have been putting a little too much stress on yourself recently – instead of celebrating your victories, have you been learning towards self sabotage and fear tripping? Hold your ground this month and have courage that if you keep your composure, and stick with your 'treat others as you wish to be treated yourself' attitude then you will feel successful. You are a fighter and that will help you but remember that you can't always please everyone and stepping back from difficult situations doesn't mean 'losing'. Being stubborn can sometimes be a self fulfilling prophecy, hold strength in your compassionate personality and move on.
Virgo – The Hierophant
This month calls for some true soul searching. Despite your steadfast earthiness, step back, dive into your subconscious and tap into that dreamy water energy. Look at some of your own personal traditions and values, do you feel like you've strayed from some of your own truths recently? Now is a good time to reflect and so make sure that you use your past as a teacher and not as an excuse to obsess about what has gone and can't be changed. Whilst reflecting, be open to new ways of looking at things and be inspired by the Phoenix attitude some of your friends appear to have. If you need to let some things fly then know that there is never an end, only an ongoing cycle.
Libra – Ace of Wands
Hurrah! You are feeling inspired. The Aces are about new beginnings and the wands bring in our fire energy and passions. This card is a gift from the Universe and brings a lot of potential.
This gift is about growth and personal development. You may find new opportunities come externally or it may be that you finally feel like you have a personal breakthrough. This feels quite career based but don't be surprised if you also have a flash of inspiration regarding a relationship or a current crush. This month means you also have to be motivated, you don't want to waste a time of possibility. As this card is about beginnings it doesn't mean that you will be handed things on a plate but you will see where the seeds are – the wands are always like sparks, and you must look at where you want the fire to spread. Be wise in decision making and pay attention to where you place your energy.
Scorpio – 8 of Wands 
This month brings a lot of fast movement and communication. If you felt like things had slowed down then get ready to go again. You don't really like it when you feel static so the end of March may have got to a point of frustration for you, feeling like projects were uninspired and your love life was a repetitive bore. The wands bring enthusiasm back in and also a travel energy so now is a good time to go away or to book your summer holiday. There is a sense of speed with this card which means that you also must be on focus and ready for action as you want to be holding the reigns and not feel like you are being swept away. Direct your energy into the things that are right for you, regain your centre. Communication in all areas can be positive this month so feel confident about forthcoming business meetings as well as about putting yourself out there emotionally.
Sagittarius – 10 of Pentacles
This is a great career month for you and it's time to push yourself even further ahead, and out of your own personal boundaries. Pentacles are about career, money and the material world and the ten is the last part of the cycle where we are asked to reflect on recent achievements and consider what mark we want to leave on the world. It's about taking a step into the spotlight and showing what you have learnt. Now isn't the time to sit in the shadows or be overcome by fears, it is time to get on the physical or metaphorical stage and show the world what you've got. You are going to be feeling more secure and don't be afraid that just because things are going ok that everything is going to fall away. The ten of pentacles also reminds us about family bonding and connections, our family can be our blood family but also our friends and relationships, celebrate those who make you feel part of a team this month.
Capricorn – The Moon
The Moon deals with our unconscious and what is going on behind closed doors so for April you might find yourself wanting to hibernate and even could feel a bit like wallowing. The moon is our shadow side and so it might be time to do a little soul clearance. If you're up for it consider some hypnotherapy or past life regression, you may make a massive and unexpected breakthrough. We benefit from recognising our fears but not giving them power. Whilst you are in this mood for laying low, use it as a regeneration for all aspects of your life. Look at your home environment and remember that our resting place is our root and so do what you can to keep your nest comfortable and comforting. Don't worry if you feel unproductive this month, think of it as a build up for a rush of new and inspired energy.
Aquarius – 3 of Cups
Everything is expanding and there is a lot to celebrate. The Three of Cups is a celebratory card showing great joy for the month ahead. The cups focus on our emotional life and with the three shows that you might have quite a social time ahead. You have the gift of communication and charm this April which is going to be positive for dating, parties and definitely for career networking. The month is full of promise and so make the most of it by projecting confidence without showing off, you have a magical window to bringing people in closer to you so don't mess it up by being analytical. Try and be present and enjoy your successes. The only thing to watch our for is over indulgence, for instance be social but don't ruin your month by losing touch with your health. Be forthcoming about dating but don't get lost in an old drama, be progressive and mindful and things will keep on feeling positive.
Pisces – 9 of Swords
You may have been feeling anxious and down in the dumps recently with a serious touch of paralysis of the analysis. There have been challenges recently but a lot of your recent anxiety could be from your own fears and tendency to indulge your own drama queen. The good news is that you are in a position to come out of this feeling of suffering and give yourself the love that you need. This month don't be hard on yourself or self punish, focus on taking steps to heal. Reinforce positivity with a gratitude practise and choose to place your energy on the things you recognise as good for you. It's important that this month you see how great you are and not forget your light. You have a tendency to fantasise, so instead work on a visualisation and manifestation project which is way more productive than an unproductive daydream trip
TAROTSCOPES Cast using using The Wild Unknown deck by Kim Krans, www.thewildunknown.com