THE 2018 LIBRA NEW MOON WANTS YOU TO CHOOSE HEALING
Intensified by powerhouse Pluto, the 2018 Libra New Moon wants us to sit with challenging emotions, tend to deep-rooted wounds, and embrace release through conscious healing, says Sandy Sitron …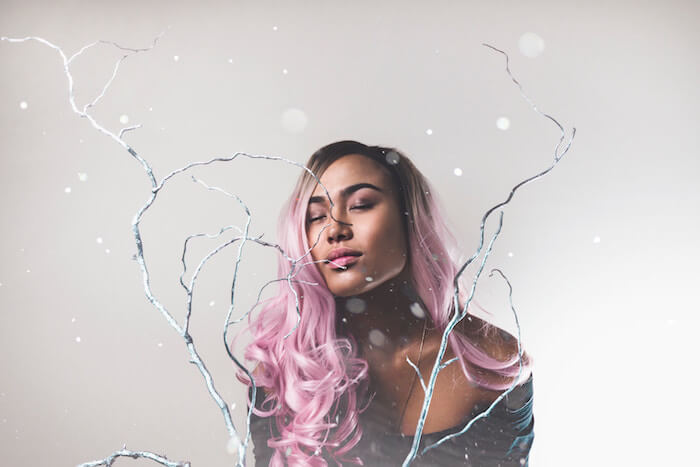 New Moon :: October 8, 2018 :: 11:47 pm ET :: 15 degrees Libra
A droplet of rain rolls slowly off a leaf and lands in the shadows below. The sun comes out and the leaf quickly dries. But the water that has pooled in the shadows remains.
The symbolism reads: just become a tiny puddle. Find your spot in the shade and wait. While you're there, feel your feelings and heal.
This New Moon is in the sign of balance, and the Moon and Sun are making a square to Pluto, the planet that symbolizes grief, loss, letting go, healing the past, and rebirth. This is an emotional New Moon, but in air sign Libra, it's an intellectual time as well. Tending to your feelings will help you make room for new ideas.
Letting yourself go through the phases of grief will support your ability to speak your mind, say what your boundaries are, and communicate diplomatically with those who have different viewpoints. This air sign New Moon can help you verbalize and communicate your emotions.
Because this is a New Moon, it's a time of germination. A chance to plan the future. While you're resting in your emotional puddle, tucked away in the shadows— pinpoint what you want. What are your intentions for fairness, harmony, balance, healthy relationships, and open communication?
The balance that is developing will feel like fresh air after a thunderstorm. But the first step is to slow down and sit quietly with what you're feeling.
Remember that somewhere along the way, it's important to face challenging emotions. The Plutonian wound is festering. This New Moon invites us to perform a sacred purge. The only way to move past this moment in history is to push right through. We must sit with the wounds. Let the emotions move. Let the emotions flow. Release. Burn it up. It will take time. This is a cathartic process of healthy release.
Heavy healing. We don't always want to do it. But here we are, working with personal and collective wounds to move through and come out the other side. Pluto's symbols are the Phoenix rising out of the ashes, the butterfly coming out of the cocoon and the snake shedding its skin. We can move through this phase with the resilience of a Phoenix, the grace of a butterfly, and the wisdom of a snake. The cycles continue and change is wonderful.
The heaviness of this moment will soon funnel into action and activism because of an upcoming t-square between Uranus (change), Mercury (clarity), and the North Node (purpose). So don't worry, we won't be sitting in the emotional muck for ever. But sitting here for now can help
Heal as deeply and powerfully as you can. Put your conscious attention on it. Ponder the parts of you that are triggered and asking for support. What kind of support do you need to rally, so that your inner child feels safe? Imagine your healing happening on a cellular level.
As this is an intention setting time, keep part of your vision trained on what you are creating. Mark some intentions. Visualize what you want to see when the healing is complete.
///
New Moon Trine Mars
A fire ball. An important part of this New Moon story is the energizing jolt that comes through its trine to Mars. Drive, enthusiasm, motivation. Where does this energy want to go? Let it help you integrate your healing and impassion your speech. Having energy can help you feel that you can get through whatever needs to be done. This aspect offers a dose of spirit.
New Moon square Pluto
Sharpening a stick until it becomes a spear. Getting yourself to sit down and do the work of emotional healing may be a challenge. The Moon and Pluto are square, which is an aspect that requires practice before it can be mastered. Repetitive, steady effort is required. Keep chipping away and soon the stick transforms. Eventually, you'll break through into a new shape. Look at whatever is happening in your life and notice where persistence may be the answer.
///
Use the below journal questions to help you set intentions the 2018 Libra New Moon. Look for the house containing 15 degrees Libra in your chart for the most accurate insights. Don't know your chart? You can enter your birth details HERE to calculate it for free.
Aries // Aries Rising // New Moon in the 7th house
"My most healing relationships allow me to …"
Taurus // Taurus Rising // New Moon in the 6th house
"I feel most joyfully productive when I …"
Gemini // Gemini Rising // New Moon in the 5th house
"I am falling in love with …"
Cancer // Cancer Rising // New Moon in the 4th house
"Truly caring for my self means …"
Leo // Leo Rising // New Moon in the 3rd house
"I can't stop myself getting excited about …"
Virgo // Virgo Rising // New Moon in the 2nd house
"I understand my value in the world when I …"
Libra // Libra Rising // New Moon in the 1st house
"My confidence gets a boost whenever I …"
Scorpio // Scorpio Rising // New Moon in the 12th house
"I am taking the steps to seek closure with …"
Sagittarius // Sagittarius Rising // New Moon in the 11th house
"When I rise above the small stuff I see …"
Capricorn // Capricorn Rising // New Moon in the 10th house
"I feel most confident in my abilities when I …"
Aquarius // Aquarius Rising // New Moon in the 9th house
"My next big adventure will be …"
Pisces // Pisces Rising // New Moon in the 8th house
"A deeper level of intimacy requires me to …"