NUMINOUS TAROTSCOPES: JUNE 2018
Dive into this month's medicine for your sign with our Numinous Tarotscopes June 2018, cast by Melinda Lee Holm using the Starchild Tarot …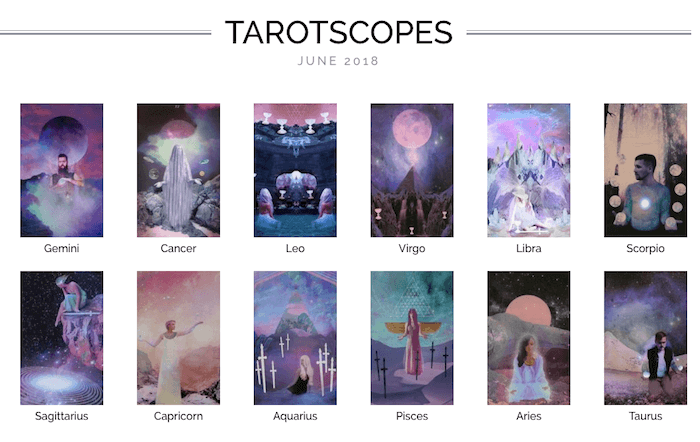 GEMINI // GEMINI RISING
Knight of Crystals
Happy Solar Return, Gemini! Your birthday present from my Tarot deck this month is the great gift of active grounding. Knights represent the Fire of their suit, and in the case of Crystals, we get the absolutely mythological-sounding Fire of Earth. Are you swooning? If not, get into it. The Knight of Crystals someties gets a bad rap in his incarnation in other decks as the Knight of Pentacles, but I don't buy it. Any figure that urges us to find a way to be grounded while remaining active and dynamic is cool in my book. You know that feeling when you're in a good groove on the dance floor and you feel the weight of your body holding you to the Earth even as you remain in constant, elegant motion? That's Knight of Crystals stuff right there.
So how (besides dancing) can you take advantage of this energy in your daily life? Look for ways that you feel comfortable and "at home" without feeling tied down. As the mutable Air sign of the zodiac, this is no small task. Your inherent flexibilty and ability to see (be?) all sides of any situation bring you many perks, but feeling naturally grounded is not one of them. Start small. Go to your favorite restaurant alone so you can stay as long as you want, spend time in nature, eat root vegetables. Follow your instincts – the fiery nature of Knights makes them act from the gut – just make sure that your compass is tuned Earthward.
Your stone for June: Moss Agate
>>>
CANCER // CANCER RISING
Oppression (The Devil)
We're in this together, Cancer (my natal Sun also falls under the spell of the Crab). I know this is one of the "scary" cards of the Tarot, but I have a confession. When I pulled this card for us this month, I was stoked and I want you to be too. We feel things deeply, sometimes painfully deeply, and sometimes we don't even know why. A heaviness can set in like a dark cloud and we simply sit and wait for the mysterious storm to clear. Not this month. This month we are being given the opportunity to uncover what is holding us back and to find that we alone have the power to lift those energetic chains. And this card does not deal in the small things. I am talking about huge life-shifting changes in perspective that allow us to step into our power like we never knew we could.
Will it be pleasant? Absolutely not. Whenever we discover we have been our own oppressors (or agents in our oppression) all along, there is going to be some sorrow, probably some guilt and shame. And for you and I, Cancer, this can be a terrible trap. Do whatever you can to lift yourself as you uncover these truths this month. It's a balancing act – go see the Shaman, meditate, journal, light black candles – and then let a friend cook you dinner. Make sure you spend at least as much time making yourself feel loved as you do sawing through those chains. And remember – manifesting up is just as easy as manifesting down.
Your stone for June: Howlite
>>>
LEO // LEO RISING
Eight of Cups
My dear leonine friends, your version of getting in shape for summer this year revolves around your emotional body. It's time to get very clear about your long term emotional needs and make the changes needed to ensure these needs are met. This doesn't mean confrontations or fireworks – really. I know your planet is the Sun and you like to be seen, but this month is a covert operation. Take this time to take stock of what is truly serving your emotional life in a lasting and sustainable way. Make lists and check them twice, spend time with people and see how you feel afterwards, and consider that any feelings of discomfort may have more to do with you than with your company. This is the low-hanging fruit. The true gift of long-term emotional stability can only come from within.
This will be more enjoyable and easier by carrying the metaphor of getting the emotional body in shape. How do we get and keep our physical bodies in shape? We make small, managable changes to our routine and we remain consistent. What is your current emotional health regimen? What do you do daily, weekly, monthly, and annually to ensure the continued health of your energetic heart? What healthy habits can you put in place that you can commit to keeping up with regularly? That's the key here. Just like a couple days of spin class will not make you a world class athlete, a couple days of journaling will not transform your emotional life. It's a marathon, not a sprint!
Your stone for June: Green Tourmaline
>>>
VIRGO // VIRGO RISING
Three of Cups
Time to put all those emotional connections you embraced last month to work, Virgo! June is bringing you a gorgeous pool of heart-centered collaboration to dive into. Gather your most prolific besties and see what magic you can make together.  Whatever you get into, it is sure to be fulfilling. Will it be lucrative? Popular? The start of something grand? Eh, maybe. That's really not the point. The goal here is to train yourself to believe that it is ok to make practical decisions based purely on your feelings. I am not suggesting you quit your day job to run away and join the circus because you feel close to your friends in trapeze class. But, I'm not NOT saying that either.
Emotional collaboration should not only pull you out of your comfort zone a bit, it should also pull you out of your reality. The wonderful thing about working closely with others is that they provide us with a window on a whole different world – the one they see through their eyes and experience. These windows allow us to see out into other worlds and also to see our own reflection in the glass – we learn about ourselves by learning about those who are different from us.  Are you seeing how important it is to really follow your heart in this project? Your very identity can be transformed by your work with these collaborators. So if you do decide to run off, make sure it's a really good circus.
Your stone for June: Rhodonite
>>>
LIBRA // LIBRA RISING
The Magician
Halleluljah, Libra! Now that you've completed the task of staring sorrow in the face, you have earned the opportunity to advance your manifesting game and not just a little. The Magician is major (pun intended). You are on a quest this month to gather the power of the Four Earthly Elements of the tarot suits (Air, Earth, Fire, and Water) and to align with the 5th Element of Spirit to create your world anew. We often think of manifesting in terms of specific things – getting a job or a home, increasing income, calling in a lover. These are small potatoes to The Magician. What you are called to manifest now is a whole paradigm of existence that allows these things to grow naturally.
What do you want to feel like? Free, satisfied, rich, happy, loved? What is the unique mix that is you? How do you want to think about yourself and your role in the world? What do you know in your gut is the most important thing to your overall feeling of accomplishment? How can all of this materialize in the three dimensional world? Got it all? Great. Now make sure that everything you have conjured up served not only you, but the whole Universe. As above, so below. Aligning with Spirit ensures that your personal mode of manifestation will be a beautiful reflection of the Divine. Be brutally honest with yourself on this. Staying on the up and up with Spirit and your Earthly neighbors ensures you will maintain support for your vision.
Your stone for June: Nuumite
>>>
SCORPIO // SCORPIO RISING
King of Crystals
I have a confession, Scorpio. I have a huge crush on the King of Crystals. His Air of Earth vibes have his intellect so finely tuned to what is truly best for growing Earthly bounty that he never ever worries about being provided for. This dude has never known lack, but he has seen it and stepped up and filled the needs of others. Get into this energy by taking a step back and finding where you may be trying to force something to grow in a way that is not natural or is in conflict with its inherent strengths. This requires a very healthy dose of trust. It is so easy to fall into patterns of worry and anxiety when waiting for material abundance to grow, particulary for someone who feels as deeply as you do. Resist this urge and force yourself to be annoyingly optimistic.
What do you do when you identify where you are pushing in unfruitful places or in unproductive ways? Judging yourself for it will get you nowhere. The task is simply to identify, redirect, and repeat. A great method for this work would be to list out your Earth-bound goals (anything having to do with the material world and finances) and assess your daily patterns by whether and how effectively they are moving you closer to achieving these goals. Are you taking advantage of your body's natural rhythms? Are your inherent strengths and gifts being cultivated and put to work to support the life you desire? To build the kingdom, first be the King.
Your stone for June: Peridot
>>>
SAGITTARIUS // SAGITTARIUS RISING
Knight of Swords
Are you feeling good, Sagittarius? Feeling loved, feeling open? If not, dig in and get close because you have something to say this month and a need to get it out, and we want those words coming from a place of love and confidence, not fear and resentment. The Fire of Knights tends to give their energy an urgency that can be difficult to contain. This is why the Knights are so often described as havng a teenage quality to them – they remind us of the overwhelming urgency to act we felt as adolescents. This can be exhilerating or terrifying depending on where you are. Since your cards for the past few months have fallen heavily in the uplifting/opening realm, I am hoping this falls on the exhilerating side.
The need to speak your mind will be most noticable when you feel compelled to express your thoughts to others, so keep your ear tuned to messages you need to hear yourself. So often the flaws we perceive most clearly in others are smply there as mirrors to show us where we have internal work to do – either an adjustmant or acceptance of these same flaws. This is where your real work comes in this month. I want you to focus on directing all of these urgent communicatons you feel at yourself first. It's going to seem silly and even crazy sometimes, but go with it. Take a breath, open your heart and mind, and hear what you have to say yourself before saying it out loud to others.
Your stone for June: Larmiar
>>>
CAPRICORN // CAPRICORN RISING
Nine of Crystals
You're on an Earthy roll, Capricorn! And after the big push of grounded planning last month, you should know just where to put the high-achieving practicality of this month's energy. I have to admit, the Nines are my sweet spot. Reaching beyond the long-term stability of the Eights, not satisfied to be simply sustained, wanting to grow and develop further from a place of relative comfort, reaching a high level of wisdom, but still knowing there is so much left to learn. It's a goregous energy in any suit in my book (though you wouldn't know it from the illustrations in some decks!), but in your native element of Earth, it's particularly lovely. You have an opportunity here to reach for the stars with your feet on the ground to create what could become a legacy.
But let's not get ahead of ourselves quite yet. The pip cards ask us to step into the daily work of the real world. So, rather than focusing on legacy, focus on what you have the power to grow right here and now. Where in your life have you reached a good level of achievement and stability? What tasks or skills are you pretty good at already? How can you make those things bigger and better? If you're a skilled artist, try a new technique or medium, refine a process you've wanted to branch out into. Take a class in your field, learn something new about what you already know and do and love and succeed in. You're ready to reach beyond what you previously thought possible.
Your stone for June: Optical Calcite
>>>
AQUARIUS // AQUARIUS RISING
Eight of Swords
I am pleased to inform you, dear Aquarius, that this month brings you one of your very favorite passtimes: thinking about thinking. The Eight of Swords asks us to find a place of lasting stability in the realm of Air and there's no better way to do it but to think, think about those thoughts, talk about them, and then think some more. And seeing that the one thing you can count on for the distant future is that you will be there with yourself, the best person to work this out with is you. Take as much time as you can to sit and ruminate this month, focusing on examining how patterns of thought and communication can or cannot sustain your long-term health and wellbeing.
I know it can be stressful to look this closely at your own interior dialog. Keep it light, refrain from judgment, and take breaks to go into full-on daydream mode when needed. The goal here is not to stress you out, but to get to a place where you have an internal system in place that automatically gets you back on track when you hit bumps in the mental road. This energy is about setting up your patterns in a way that serves you now and well into the future. I recently figured out I could set my online scheduling system to see my calendar and I suddenly had SO MUCH MORE SPACE in my head. That's what I'm talking about. Bonus points if you close loops that keep you from taking risks to grow.
Your stone for June: Magnesite
>>>
PISCES //PISCES RISING
Five of Swords
Ok, Pisces, I'm just going to get right into it. You've got a bit of work to do this month. Not in the active way that lets you see your accomplishments and feel good about being of service in the world. This is interior work. It is time to stop wondering what people think about you, or worse – assuming you know what they think and what their intentions are. Chaos in the realm of Air is familiar to all of us, but to you it can become a place of dark comfort. Break those chains that bind you, Pisces! It's not even that you can't know for sure what other people are thinking about you (no matter how much you wonder or even ask), it's that it doesn't matter.
I can feel you tensing up. Hear me out. How people treat you is the metric you want to go by. Think about it – if you have a friend who thinks you're AMAZING, but cannot keep a date with you, you have to manage the relationship based on their behavior. You can't keep making dinner reservations hoping that their opinion of you overrides their deficiencies in punctuality. Besides, you'll drive yourself crazy trying to be a mind reader. All month, I want you to notice when you get caught in traps of swirling thoughts and just stop to make note of what actual evidence you have. Be Olivia Benson and Alex Cabot rolled into one – follow your gut, but make sure the evidence is there to back it up.
Your stone for June: Hematite
>>>
ARIES // ARIES RISING
Serenity (The Hermit)
Dear Aries, you are kicking off the summer months in enviable fashion. You are being called to pump the breaks and take a well earned break from your drive for achievement. While this isn't exactly your comfort zone, I think you'll have little trouble talking yourself into it. This month, stand ready to do just that – stand ready. No need to move forward, get new clients, accomplish goals or complete tasks. With the year you've had, I'm guessing you have things at least adequately lined up to support your daily life, so sit back, take a deep breath, and turn inward. It's time to do some solo exploation on your own energetic backyard.
If you're able to actually take a little sabbatical or a vacation, that's wonderful. But even if your work routine can't change, you can priorotize solitary time. Be your own dream date. Take yourself to movies you want to see, explore parks you've never been to, go to a museum, listen to that record you used to play on repeat, reconnect with parts of yourself you haven't hung out with in a while. The grind of modern life can run us ragged and conflicting priorities can force us to neglect aspects of ourselves and the world that were once important to us. This is a wonderful oppotunity to focus on gathering up those pieces and trying them on again to see what we want to bring forward and share with the other people in our lives. But not quite yet. This month is just for you.
Your stone for June: Peach Moonstone
>>>
TAURUS // TAURUS RISING
Four of Crystals
I love this narrative, Taurus. Trust the timing of the Universe, trust yourself, find stability. And for you, dear Fixed Earth friend, stability in your native element is deeply comfortable and comforting. Spring may have kept you on your toes, but you're starting summer in the energetic equivalent of lounging in a hammock in a gentle breeze. If you've felt uneasy or unsure about your standing in a situation, June should clear that up and have you putting stakes in the ground for the future. Trust your inner compass (well-honed by now) to tell you when and where it is safe to lay your claim. I only ask, nudge, urge you to be sure that you are thinking big and thinking scalable.
I always get the tiniest bit nervous when this card comes up. Stability in Earth is just a little too easy to lean a little too hard into. It can get sticky, stagnant even. That's why we have the Fives to come along and shake things up. To avoid unintentionally drawing any chaos into your life, enjoy the comfort without getting too attached to the container. You are the true source of the cozy security you long for. The more secure you are in yourself, the more comfortable in your own body, the more support you will naturally draw. My greatest hope for you is that this month you turn this energy inward and get so grounded in your own physical, emotional, and spiritual bodies that you alone are the living embodiment of the Four of Crystals. Make me proud, Taurus!
Your stone for June: Rhodochrosite