THE 2017 SCORPIO NEW MOON WANTS YOU TO GIVE UP THE CONTROLS
The 2017 Scorpio New Moon asks us to risk the deepest dives so we can reap the reward of profound emotional truth, says Sandra Sitron.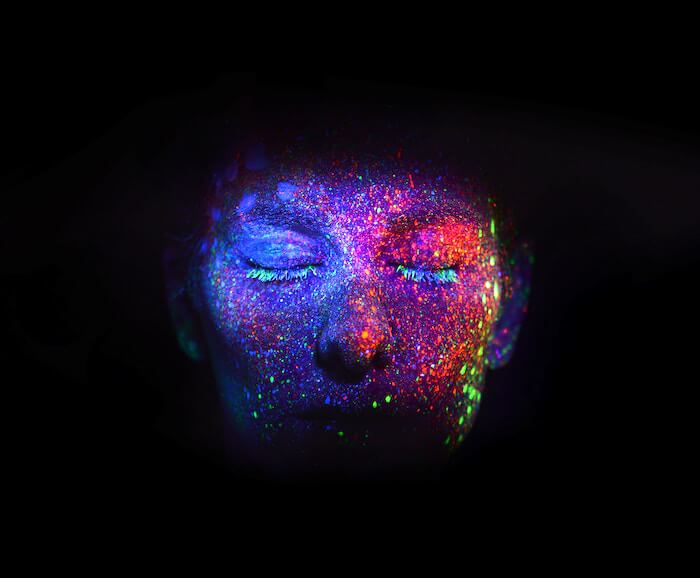 New Moon :: November 18 2017 :: 6:24 am ET :: 26 degrees Scorpio
A mountain is moving aside. It's creaking and squealing on a hidden mechanism to reveal a dusty trapdoor leading into the depths of the earth.
Are you ready to take a risk and travel into the unknown region of your psyche? Are you willing to be vulnerable and face the challenges of the season?
The opening of this secret passageway is a rare occurrence. And if you venture forth, you'll go deeper than you've ever gone before. It may be a frightening journey, but your guides are waiting.
Pause and consider how this metaphorical journey into the depths of your psyche is showing up in your life right now. However it's happening, the overall message of this New Moon is to trust in transformation. 
These challenges may relate to emotional sharing and release, being truly seen for who you are, sexual healing, psychological transformation, forgiveness, and empowerment. Settle into a quiet place. Find a moment to set new intentions for these Scorpio themes.
If you want to go through the secret passageway beneath the mountain, you must let go of control.
And when you've completely faced your fear, you'll find hidden resources of water— a thermal hot spring of emotional truth and intuitive trust … 
>>>
New Moon inconjunct Uranus
Removing a mask.
Remove a feeling of being separate. Accept yourself for all the ways that you are different. You don't have to wear a mask anymore. Your true self — all the beautiful and gnarly parts — can be accepted by others.
Remove the mask and allow yourself the ability to get really close to another human without being afraid that you'll lose a part of yourself.
>>>
New Moon trine Chiron
Watching water move.
Is there a place in your body where you need to relax? Imagine a rushing waterfall in that area of your body. For example, if it's your jaw that's tight try to spend a few moments imagining a sparkly, dancing, glittering flow of water and air just below the surface of your skin.
It sounds simple, but this kind of visualization can help you trigger somatic healing and emotional release. Let go of tension in your physical body and that may help you release old emotions. Lean into the process of letting go.
>>>
New Moon semi-sextile Saturn
Grafting a fruit tree.
Seek an unfamiliar way that you can support yourself in this transformational time. Maybe this new, unfamiliar way is as mundane as drinking more water. Maybe it's something deeper, like letting yourself be wrong, or admitting that you don't have all the answers.
>>>
The study questions below are to help you get deeper into what the 2017 Scorpio New Moon means for you. Use them as journal prompts. For the most accurate reading, look to which house holds 26 degrees Scorpio in your chart and use the question for that house. Do yours for free HERE. 
Aries or New Moon in the 8th house 
What are you ready and willing to release?
Taurus or New Moon in the 7th house
When do you know that it's safe to unfold and reveal yourself to a partner?
Gemini or New Moon in the 6th house 
Your body is a finely tuned receiving instrument. What signal is it emitting? Don't answer this question with your mind, answer it with movement.
Cancer or New Moon in the 5th house 
What needs to change so that you are able to giggle more often?
Leo or New Moon in the 4th house 
How can you honor your need for privacy and self-reflection?
Virgo or New Moon in the 3rd house 
Where does your curiosity want you to go?
Libra or New Moon in the 2nd house 
What are the feelings that more money and resources would provide? Can you use your imagination to embody those feelings today?
Scorpio or New Moon in the 1st house
What do you need to tell yourself so that you have free rein to grow and transform in the exact way that you want to?
Sagittarius or New Moon in the 12th house 
What is your self-love philosophy? Do you think humans should love themselves? Why? How? When?
Capricorn or New Moon in the 11th house 
What have you built that needs a renovation? This may be a mental concept, ideal, business structure, plan or habit.
Aquarius or New Moon in the 10th house
What idea or attitude will help you meet your goals?
Pisces or New Moon in the 9th house
If you were going to take a journey on a philosophical search for truth, where would you begin? What attitude would you have to embody?
Want more wisdom? Book a reading with Sandra here.