THE 2017 VIRGO NEW MOON WANTS YOU TO MAKE A FRESH PLAN
The 2017 Virgo New Moon asks us to tune into the details, discern what's truly important, and commit to a brand new upgrade, says Sandra Sitron …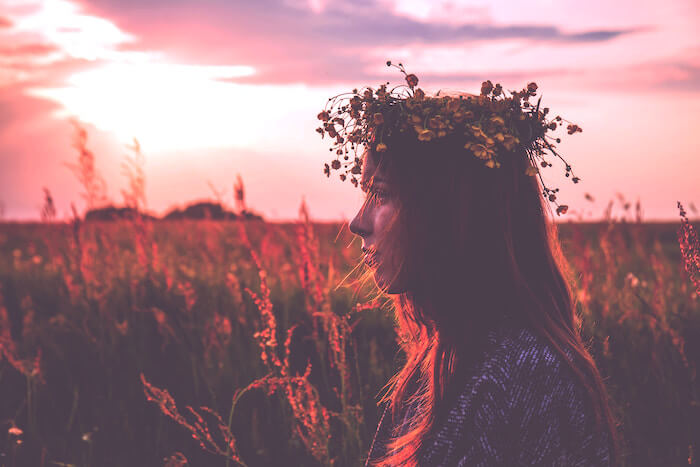 :: New Moon :: September 20 2017 :: 1:30am ET :: 27 degrees Virgo 
The Virgo New Moon is the Goddess of the Harvest. Her power exists in her ability to discern. The farmers deliver the harvest in bushels and baskets at her feet. She appraises and sorts; good bean here, bad bean there. Through her effort, the bounty is made even more beautiful. Through her attention to detail, the fruits of labor are made even more perfect.
There's a moving and adaptive energy to this New Moon. You may find yourself sorting. You may find your thoughts moving quickly, making appraisals. Making decisions. Making things better, but sometimes making yourself batty with the heightened need to find perfection.
Your salve is in the forest, at the beach, in the park. Get your feet and your body close to the Earth. Get yourself grounded in the undeniable perfection that exists in a blade of grass.
There are other ways you can get grounded too: drink enough water, eat nutritious meals, drink herbal tea, exercise outside. Listen. Observe. Chew your food slowly. Notice how many decisions you are making in a day. Try to have times of the day when you aren't making decisions— less online shopping and more time spent listening to music or washing dishes.
Harness the power of this New Moon by taking the opportunity to refresh your habits and overhaul the operating system of your life.
Virgo energy can help you set new intentions around how you live your daily life. Sometimes focusing on Virgo topics means focusing on the most mundane things. How's your digestion? How's your overall health?
Avoid the urge to overthink and instead focus on the habits you want to change. Make a detailed plan. Decide which categories you want to improve— spiritual practices, sleep, nutrition, exercise, email management, money management, social-life, creative outlets, household efficiency, cleanliness, getting rid of clutter, workflows, volunteerism, activism …
This New Moon is involved in some terse aspects with no-nonsense planets. You may feel a depth of intensity that makes these life adjustments feel more intimidating or overwhelming than they need to be.
Stay grounded and notice when you are feeling triggered. Just observe yourself. Encourage yourself whenever you can. Reach out to your most giraffe-like friends for perspective. Once you've decided where you will put your energy, decide on which healthy habits you are ready to begin. Put systems in place to make it happen. Set your intentions and repeat them aloud over the next few weeks.
This Moon can help you make your improvements a reality … 
>>>
Moon opposite Chiron
A map of an unfamiliar territory. 
Here's the roadmap to take a journey through the thorny terrain of our collective wounds. This is not an easy aspect. But it is a necessary one. This trip must be taken. So gear up. Make sure you are well outfitted. Bring your crinkly silver emergency blanket and your waterproof matches.
Be prepared to notice when you are being triggered and respond responsibly. Take care of yourself. If you see someone acting out, try to understand what they are getting triggered by. Yet at the same time, continue to protect yourself. This aspect can result in massive healing if approached with awareness. Dedicate yourself to observing your feelings and contemplating your unconscious wounds. Decide how you will navigate the terrain.
Moon inconjunct Uranus
Crossed wires.
This aspect combines emotional sensitivity, frustration, and rebellion. Yet these energies can be transmuted to receptivity, stretching yourself and innovation.
So, if you are feeling erratic "eject button" energy, tune in. Ask to receive a better feeling thought. Brainstorm solutions. Put things in perspective. Use the powers of gratitude and prayer to welcome in the "New Idea" that offers an innovative solution. Don't let frustration squelch your search for a resolution.
Moon square Saturn
The diamond is beautiful but sharp.
A challenge: take responsibility for your emotions. What is emotional maturity? It may be that you are emotionally mature when you are willing to fully feel an emotion, give yourself empathy, and take responsibility for your reaction.
What does it mean to take responsibility for your reaction? Your reaction should give your emotion somewhere to go– an outlet. And when you react to your emotion, find a way to do so without laying blame for the emotion on someone else.
Gain awareness the emotion's source and let it act as guidance system, teaching you how you can make your life more wonderful.
Make sure that you don't isolate yourself during this Moon phase. Find your buddies who will empathize with you and help you feel grounded and secure.
>>>
The study questions below are to help you get deeper into what the 2017 Virgo New Moon means for you. Use them as journal prompts. For the most accurate reading, look to which house holds 27 degrees Virgo in you chart and use the question for that house. 
Aries or New Moon in the 6th house
What healthy habits are you ready to create?
Taurus or New Moon in the 5th house
Are you meeting your need for fun and enjoyment? Do you honor this need?
Gemini or New Moon in the 4th house
What emotion is easiest for you to express and why? What emotion is most difficult for you to express and why?
Cancer or New Moon in the 3rd house
What mental pattern are you ready to change? What belief is at the root of this pattern? What new belief would you rather think?
Leo or New Moon in the 2nd house
What systems will you create improve your financial worth and what adjustments will you make to your understanding of your self-worth?
Virgo or New Moon in the 1st house
When are you proud of yourself? Name all the ways and journal about self-confidence.
Libra or New Moon in the 12th house
What do you need to see that you aren't seeing?
Scorpio or New Moon in the 11th house
What do you need from your larger community?
Sagittarius or New Moon in the 10th house
What fresh intentions are ready to make when it comes to career?
Capricorn or New Moon in the 9th house
What is your "why?" (aka, your philosophy, your mission statement?)
Aquarius or New Moon in the 8th house
What are you ready to let go of?
Pisces or New Moon in the 7th house
When it comes to relationships, what are you grateful for?
Want more wisdom? Book a reading with Sandra here.