THE TAURUS WANING QUARTER MOON WANTS YOU TO GET SET
While Eclipse Season may have us feeling like we've caught a serious case of the cosmic crazies, the Taurus Waning Quarter Moon invites us to stay steady as we make space for the future to appear, says Jennifer Racioppi.  Artwork: Seana Gavin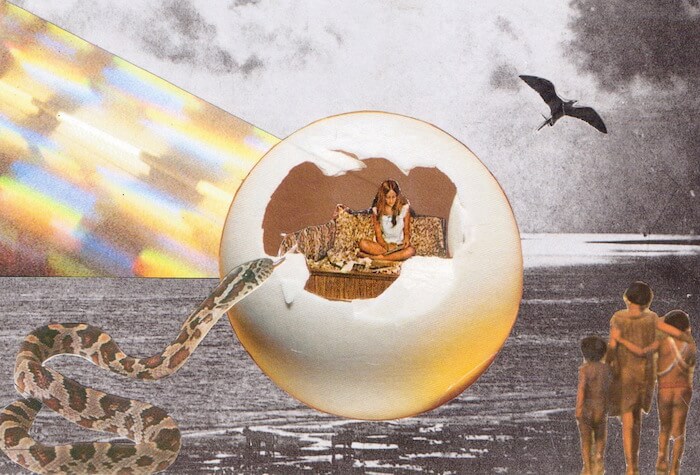 :: Waning Quarter Moon :: August 14 2017 :: 9:15pm EST :: 22 degrees Taurus 
As the cosmic wheel spins out of our control, we need to find our centers. The art is to lovingly let things be shaken up without any unnecessary drama.
With August 21st's highly anticipated Leo New Moon Solar Eclipse on the horizon (which boasts the power of a New Moon times three), plus Mercury retro, it's a trippy month that marks a moment of transformation we'll all be referencing for some time to come.
Amidst all these shifts, we couldn't ask for a better Waning Quarter Moon as the denouement of this lunar cycle.
This Taurus Waning Quarter Moon provides grounded stability. Perfection.
While Leo, a sign with ample dramatic flair, may love a big show, the Taurus Waning Quarter Moon asks us to stay humble and centered—so we can keep steady amidst the transformation that's upon us. … 
>>>
:: The Sun :: 
With the Sun zooming through the fixed fire sign of Leo as it preps for the Solar Eclipse, it's time to surrender your ego and your desires for the greater good. While it may seem ironic that the strongly self-possessed Leo Sun is pushing us to surrender our ego, the Quarter Moon cycle asks us to find our humility as we wrap up Leo season and prep for Virgo.
The trick? Don't cling too tightly to anything right now, especially anything you're attached to for its external value. Thankfully, the Sun and Saturn are perfecting aligned during this Taurus Waning Quarter Moon, supporting you to utilize the gift of surrender as a way back to stability.
:: The Moon :: 
The Moon, exalted in Taurus, asks you to put your feet on the ground, and connect with the earth. Literally! And while you're at it, connect with your body too. Take time to nourish and nurture your skin. Try dry brushing, give yourself a luxurious foot massage.
Give yourself a chance to feel your presence on this earth in your body. And don't forget about delicious savory meals too. Practice mindful self-care. And connect to the dependability and steadfastness of Taurus.
:: The Square :: 
Every Waning Quarter Moons help us wrap things up, so we can prepare for new beginnings right around the corner with the upcoming New Moon. And with the Great American Eclipse on the horizon, this closing square has a SERIOUS message. 
Let the practical sensibility of the Taurus moon take it slow and steady. Let it help you be methodical and realistic, as you sweep your life clean of anything holding you back from the new chapter about to emerge next week.
Create space in your life, and your heart, for your new future to appear. Surrender anything standing in your way at this point, especially your ego.
:: The Message :: 
Let this Taurus Waning Quarter Moon moon help you to feel grounded, connected to your center, and ready to ride the cosmic rollercoaster ahead.
Stand tall in your humility with both feet on the ground (preferably barefoot, in the grass!) From this place of presence, assess what truly does and does not feed your most abundant life, as you ready yourself for the potency of the upcoming eclipse.
Because, baby, things are about to shift … 
For more Moon wisdom or to book a coaching session with Jennifer visit Jenniferracioppi.com. And to learn more about how to work with each Moon phase, check out Moon Club, our community of lunar loving cosmic change makers!