THE CAPRICORN WANING QUARTER MOON ASKS HOW WE ARE USING OUR POWER
Clear any debris from the past to make way for new beginnings this Capricorn Waning Quarter Moon, says Jennifer Racioppi…Artwork: Seana Gavin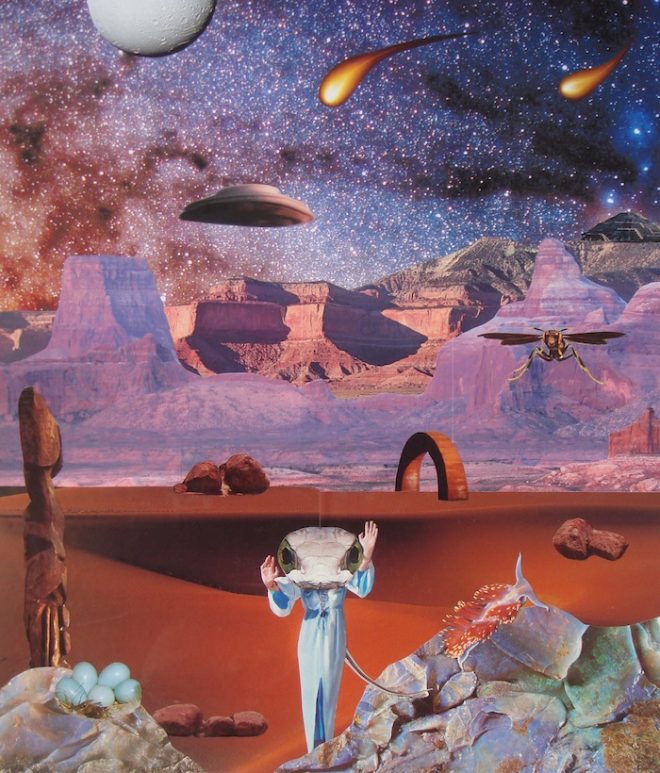 Waning Quarter Moon :: April 19 2017 :: 5.56am EST :: 29 Degrees Capricorn
Like an elegant wine with unpredictable hints of licorice, cacao, leather, black tea and sour cherry, the complexity of this Aries Waning Quarter Moon challenges us to interpret complex aromas and flavors.
However, with the moon shifting from stalwart Capricorn into courageous and progressive Aquarius an hour later, and the Sun moving into stable and steady Taurus at 5:26pm the same day, the Capricorn Waning Quarter Moon lingers with complex, multifaceted nuances. Like a theatrical dinner, with a banquet of flavors to take in and digest, this is a vibrant and intricate transit.
Not only does the exact square between the Capricorn Moon and the Aries Sun, at 2 degrees of each sign, occur right before their ingress (entrance into new signs), this Capricorn Waning Quarter Moon occurs one day before powerhouse Pluto stations retrograde. Pluto rules our shadow, and when he commences his retrograde journey, he extends an invitation to look at how we relate to power and control.
Further, on April 20th, Mercury in retrograde will also form her conjunction with the Sun, signifying an intense moment in the Mercury retrograde journey—when the Sun and Mercury swap positions, the Sun is moving into Taurus, while Mercury slips back into Aries.
>>>
:: The Sun ::
With the Sun at the tail end of pioneering, bold and courageous Aries, preparing to move into salt of the earth (with a twist of divine luxury) Taurus, she wraps up her Aries story. Having traveled side by side with both Uranus, the planet of revolution, and Eris, the planet of feminine discord, in recent weeks, our egos and identities have certainly endured a few shake-ups. The full moon in Libra, which happened one week prior to this Capricorn Waning Quarter Moon, opposed the Sun and Uranus—infusing the lunation with a few unexpected results. Now it's up to us to decipher what we need to release. Something needs to go.
:: The Moon ::
This practical and efficient Capricorn Waning Quarter Moon trines Mars in Taurus—a fortunate connection to the planet of action. This common-sense, down-to-earth influence brings stoic expediency when it comes to executing on the daily chores of life. Thank Goddess! With the recent emphasis in Aries, a focus on getting things started didn't leave a ton of room for completion. Fortunately, the day leading up to this Waning Quarter Moon emphasizes the finishing point. That said, with the Moon renewing itself next week, a time that's ripe for new beginnings, it's essential to clear the debris of our past—and now! Cultivate the wisdom gained over the last few weeks to decide what needs releasing in order to to bring things to completion consciously.
:: The Square ::
With the Sun and the Moon in a waning square as they ingress into new signs (Taurus and Aquarius, also square) this Capricorn Waning Quarter Moon asks us to trust our feelings and to be assertive. Both Capricorn and Aries represent the Cardinal signs (or signs that initiate new seasons) asking us to take action. Now that we are a month deep in spring, it's essential to evaluate how we are doing at both being true to ourselves, our hearts, and our power, while simultaneously staying mindful of others. This isn't about being right; it's about making space. Releasing what needs to go.
:: The message ::
We've gained so much knowledge and wisdom through our experiences over the last couple of weeks, especially while Venus took her retrograde spin. Now that she's direct, and with Pluto getting ready to go retrograde (along with Saturn, Mercury, and Jupiter) it's essential to look at how we are using our power, as we likely need to make some changes. What better time than now?! This waning quarter moon asks us to decipher what needs to shift and encourages us to think for ourselves and be decisive. Only you know you best! So let go of that which doesn't serve you.
For more Moon wisdom or to book a coaching session with from Jennifer visit Jenniferracioppi.com. To learn more about how to work with each Moon phase, join our community of likeminded spiritual activists at Moon Club!