READING FOR THE CAPRICORN WANING QUARTER MOON
The Capricorn waning quarter moon helps tie up loose ends so we can begin anew, says Jennifer Racioppi…Collage: Seana Gavin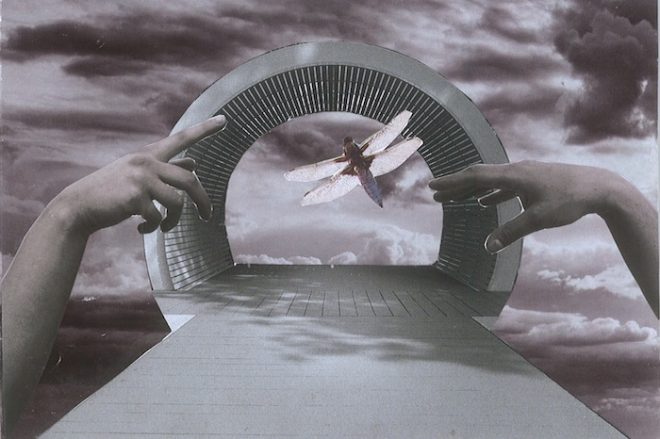 Waning Quarter Moon :: March 20th 2017 :: 11.58am EST :: 0 degrees Capricorn
As a new season arrives, the verve of pristine beginnings abounds. With the Sun in Aries and the waning moon in Capricorn squaring at the precise time of the spring Equinox, the cosmic clock turns forward.
Halfway between the recent full moon in Virgo and upcoming new moon in Aries, this Capricorn waning quarter moon supports you to release that which you do not wish to take with you into the astrological new year.
Warning: this is NOT a mild energy. Things may feel like a shaken bottle of champagne about to explode. Lean into the intensity and let go of what does not serve you.
>>>
:: The Sun ::
The Sun, in the first sign of the zodiac, joins Mercury, Venus, Uranus, and Eris, also all in Aries. Aries, a fire sign, kicks off the entire zodiac and initiates new beginnings. Yes. Expect things to feel on fire. Collectively we crave this bold, brazen and enthusiastic focus of initiation; especially those of us in the northern hemisphere experiencing the last dregs of winter. However, this Capricorn waning quarter moon offers the opportunity to productively to bring things to completion before initiating new beginnings.
:: The Moon ::
This industrious moon asks you to focus on what you most need to complete, so that come the March 28 new moon in Aries you feel ready to begin again. Since the Moon at 0 degrees of Capricorn just met up with Saturn at 27 degrees of Sagittarius, this sobering waning quarter moon fosters the perfect conditions to finish any old projects and wrap up lose ends.
The Moon represents our emotional needs, and Capricorn signifies ambition, drive, and determination. Saturn, the ruler of Capricorn, epitomizes discipline, hard work, and structure. This  isn't a soft and gentle moon. Therefore, staying kind and compassionate with yourself goes a long way, specifically as you complete meaningful projects, end relationships and clear the decks of your life.
:: The Square ::
This cardinal Capricorn waning quarter moon brings a concentrated focus on productivity—especially as it serves your goals, dreams, and desires. With the Moon and Sun squaring, your emotional needs might not align with your conscious desires. If so give yourself space to sort things through. With so much fire in the sky, impatience is a theme this waning quarter moon. It's essential to take a step back and reconcile this internal conflict. Doing so sets you up for success come the new moon in Aries next week.
:: The Message ::
Aries and Capricorn, both cardinal signs, suggest action. This quarter moon sees where your soul's purpose is guiding you and how you can apply prudence and focus on behalf of your dreams and desires. Let Saturn guide you. Take the high road and channel your focus on discernment so you can shed that which doesn't serve you. Stay in a place of self-compassion and empathy, and guide the intensity of the fire in the sky towards your deepest desires. As the moon moves through disciplined and structured Capricorn, it's a time to get things done.
For more Moon wisdom or to book a coaching session with from Jennifer visit Jenniferracioppi.com. To learn more about how to work with each Moon phase, join our community of likeminded spiritual activists at Moon Club!