BACK TO THE FUTURE: READING FOR THE AQUARIUS NEW MOON
The Aquarius New Moon is here to help us chart a course into the future, says Sandra Sitron…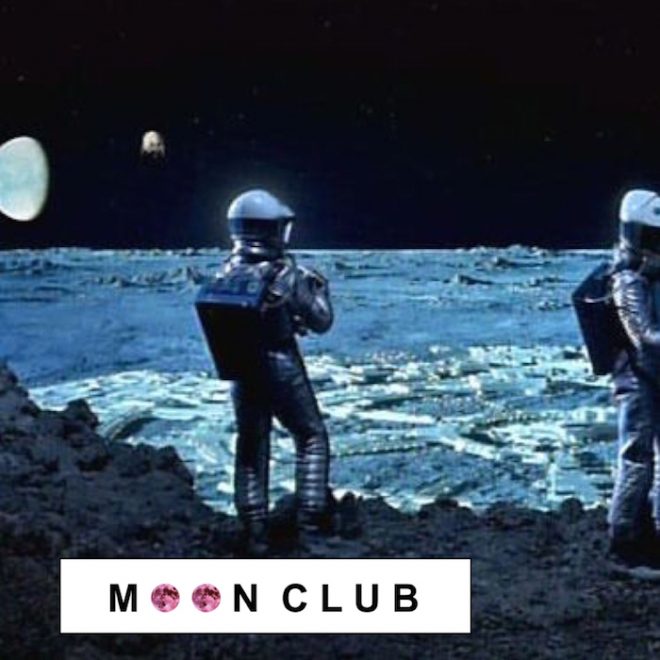 New Moon :: January 27 2017 :: 7:08 pm EST :: 8 degrees Aquarius
Be ready. You are winding up for the swing. This is your time to come into alignment with your values and vision. Focus your intentions for innovation, change, and a more loving society.
On Friday, the Sun and the Moon meet in the sign of Aquarius. This is the Aquarius New Moon. Aquarius energy is airy and determined. Light and changeable, yet persistently moving forward. Aquarius represents the greater community and our dreams for the future. This is a visionary time. During this season we will take our positions in the social and political arenas. Friday's New Moon is the point at which we take the seed of our intention and plant it in our subconscious.
Think of this New Moon as your planning stage. Gather your vision for the future. It must be detailed and clear. You have a responsibility now to set the vision. It needs to be a shift. You must lean into a new approach. Make an adjustment. Surprise yourself. We are in a tumultuous political time. You are being called to take a position. The New Moon in Aquarius is helping you envision that position.
How you interact with the changes that are coming will be completely your choice. If you feel called to step forward then do so. If you feel called to stay still and hold space with love in your heart, then do that. You have other options too, you can either ignore what's happening, or ride someone else's wave of fear unconsciously. It's entirely up to you. Right now you get to envision how you want to be.
Be proactive in your approach. Notice each and every emotion that flows through you and validate it. This alone is a major upgrade. We spend so much time unconsciously trying to not feel our feelings. When you honor your feelings you heal the world. On Friday, make a vision board. See yourself positioned in your future dream society. What does it look like? What are the predominant feelings? How are you connecting with others? Hold this vision strong. Feel yourself there. This is one of the most powerful things you can do.
The Aquarius New Moon is making no major aspects, and only two minor aspects. This is a rare configuration which elevates the emotionality of the New Moon. Think of this as airy emotional energy that is slightly un-tethered. Aquarius has two speeds. The first is completely detached. The second is an erratic swing between very high emotional intensity and then whoosh— it's over. Detachment follows. This is high energy that's very unpredictable.
You can ride the wave of these emotions to see where your psyche is ready to have it's software updated. If your MO is to keep the lid on your emotions and go through the motions, you may not have much luck with that this weekend. The lid is coming off. This is a good thing. It will help you get to the root of your feelings and experience cathartic release.
***
The Moon and it's Message
Drawing a map.
This is your chance to fill in your vision. Make it practical and hopeful. Take back control of your vibration. Through the practice of vision, align with the vibration that you want to hold. Use your creative ability to draw your boundaries, determine the topography and orient yourself.
New Moon Semi-square Saturn
Swimming underwater and watching the bubbles from your snorkel rise to the surface.
Give yourself a tool or a structure that will help you navigate emotionally. Feelings may take you deeper. You may be going deeper into your emotions then you are used too. You may feel out of your element. You are supported. You have the tools that you need. Use your new knowledge of the world to plan appropriately. Find stability.
Full Moon Semi-square Venus
Breaking bread together.
Nourish yourself and feel loved. Play, frolic, laugh, restore and enjoy. Socialize. Make sure to give yourself the emotional support that you need so that you can feel abundant, worthy and peaceful.
T-square with Uranus, Jupiter and Mercury/Pluto
The wolf pack's howl.
The Aquarius New Moon is ruled by Uranus. Uranus (change agent), is instigating a T-square with Jupiter (expansion) which is pointed toward Mercury and Pluto. In this scenario, Mercury and Pluto together symbolize the collective pain body. The old wounds that lodge in our consciousness and come out through our culture's norms and language are getting an electrical shock. The entire group (Aquarius) is planting a seed intention for how we want things to go down. There's a collective howl as some rush to cover up the wounds and maintain the status quo, while others are diving in deeper to tear off the bandage. The Great Awakener is on the scene. We are urgently being prodded to choose our positions and intentions.
***
SUMMARY
The Aquarius New Moon has got your back. She wants you to know that it's not too late. That everything is perfectly aligned. She is sending you loving thoughts for you to carry into the future. But you must carry them. Don't put down you parcel. Don't rest. Don't turn off and deny yourself. There is such a thing as walking into battle with love in your heart. This is like parenting. A good parent is present for the easy stuff and hard things. A good parent leans forward and lovingly teaches. Sometimes they are firm. Sometimes they are emotional. But they keep showing up. You are being called to step into a role of love. Lead through example.
***
For more personal insight into the Aquarius New Moon, journal with the below study questions for each sign.If you know what house of the zodiac 8 degrees Aquarius falls in your chart, read for that house too.
Aries or 11th house
How might you bring more community into your life?
Taurus or 10th house
What's your vision for your career? How do you want it to feel?
Gemini or 9th house
How would you best express your mission statement right now?
Cancer or 8th house
Where in your life are trying to control an outcome? What would happen if you just let go?
Leo or 7th house
What's your vision for relationship? How do you want it to feel?
Virgo or 6th house
What is blocking you from practicing healthy habits? What is one healthy habit you would like to form?
Libra or 5th house
Tune into the things that bring you joy. How can make more space for these things in your life?
Scorpio or 4th house
What's your vision for your home and your relationships with your family members? How do you want it to feel?
Sagittarius or 3rd house
Can you think about one issue in your life from a new perspective?
Capricorn or 2nd house
What thought is preventing you from feeling worthy and deserving? How could you view that experience positively?
Aquarius or 1st house
What's your vision of your personal power? How can you express your gifts, talents and individuality?
Pisces or 12th house
Where can you bring the feeling of hope into your life? How might you do that?
Want more wisdom? Book a reading with Sandra here or follow her on Instagram.