STRONG EYE ASTROLOGY: DECEMBER 12—18
A symbolic reading for the week ahead, direct from the third eye of Sandra Sitron—a.k.a. Strong Eye Astrology…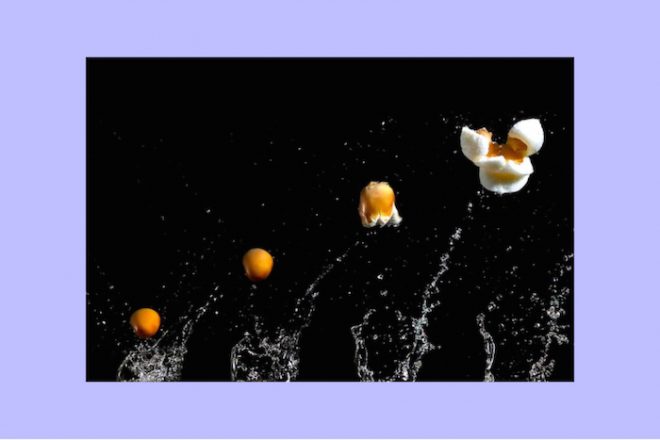 Sagittarius :: Sagittarius Rising
Popcorn popping. Your relationship zone is popping. Things are coming up. Maybe an important relationship is gelling and flowing. Or maybe the opposite is happening and you are getting triggered. Maybe a little bit of both. If there is no relationship stuff happening in your external world, study your internal world. Notice what thoughts are coming up about what a primary relationship is or isn't. The emotional (aka reactive) Moon is lit up like a beacon in your relationship sector. This means that you're watching emotions come up around how it feels to share, commune, give, receive, and face-off with a primary partner (significant other, potential significant other, business partner, best friend.)Appreciate the moments that trigger you. Getting triggered is an invitation to work with an old pattern. Wade through the high emotions and just sit with them. Question them. Take responsibility for them. Decipher the pattern that they represent. Take deep breaths and be present. Then talk it out with "I" statements. This Full Moon invites lots of talking. It wants you to flood your thinking with new ideas and create new patterns of communication. Stay light and versatile in your thoughts about relationships. Allow for new connections that help you break free of an out-dated pattern.
Want more wisdom? Book a reading with Sandra here or follow her on Instagram.
Capricorn :: Capricorn Rising
A fox moving steadily through the forest. You are building upon what you have started. It's time to make your life, your projects, your work, your body better, stronger, faster, smarter. The adjustments that you are making now are integral and cautious. They aren't sudden or disconnected. Fine-tune. What are the things that you can do that are no-brainers? What are the easy ways to make your life run more smoothly? Deep down, you know what these things are. Implement the ones that you've been putting off. The changes you're making now may be micro-adjustments. They're designed to keep you balanced. For example, you could add in an additional 10 minutes of meditation, or create parameters for how long you're on Facebook. Whatever the changes are, it's likely that you've known deep in your heart that you need to make them. Take some time to listen to the subtle language of your body. Receive inner guidance that will help you make practical adjustments to your daily existence.
Want more wisdom? Book a reading with Sandra here or follow her on Instagram.
Aquarius :: Aquarius Rising
The periscope of a submarine. It's time to break the surface. Extend your reach and shine your light. The periscope reaching up, up, up symbolizes perspective, elevation, joy and fun. It's about getting a break from a life lived under pressure. This is your time to expand your creativity. What does it mean for you to light up? Whatever it is, do it. Express your heart through voice, movement, craft, paint, words, nurturance, cooking, an instrument, a DIY project— anything creative. Maybe you've been in a period of reserving your energy, that's been fine, but it's shifting now. Now you need to be able to restore and then expand. Receive and then give. The contractions and expansions you're experiencing now are like breathing. In and out. Make sure you're participating in both giving and receiving. Do all of this with a full and joyous heart. Be very generous with your spirit. You'll be rewarded with positive attention.
Want more wisdom? Book a reading with Sandra here or follow her on Instagram.
Pisces :: Pisces Rising
The fog lifts. Get cozy. Rest at home. As you rest and restore, You may find that you see something in a new way. New clarity arises. New information comes together. The fog lifts. It's time to move from foggy denial to love and acceptance. You are a lover and you have to love. And loving means being present. Being in your body. Don't mess around with half-truths or buried feelings. Participate fully. The key to doing all of this right now lies in emotional security. You have to know that you are sheltered and protected. That you are safe enough to feel your feelings. Put extra attention toward your metaphorical and actual home-zone. Cleaning up stacks of papers and dusty corners will help you feel clear. Cleaning emotional house will help you get clear too. These are inward processes. That's why carving out some time for yourself will help you achieve clarity.
Want more wisdom? Book a reading with Sandra here or follow her on Instagram.
Aries :: Aries Rising
Arms outstretched. It's time to make connections. Embrace your community, your friends, your tribe. Go after new ideas. It might be time to take a class. Engage. You are ready to participate in your world. Doing so will help you feel inspired. Or even fired up. Be done with the same old routine. You should be invigorating your mind. Shock yourself out of an old paradigm. This time for you is about opening your heart and your mind. It's something you need to actually do. You can't just assume that it will happen on it's own. Keep pushing yourself to engage, arms outstretched. Throw yourself into new situations, with new groups of people. Remember that you don't always have to be the expert, you can let yourself "enjoy the beginner's mind." Allow the energy to come from curiosity and wonder. Tap into these. Make them your resources.
Want more wisdom? Book a reading with Sandra here or follow her on Instagram.
Taurus :: Taurus Rising
Lifting onto tiptoes. You are trying to find new ways to excel. New ways to lift off. Study your foundation. Is it solid? Is it rocky or lined with cracks? The quality of your base will help you understand how high you can go right now. Think of your foundation as being the same as your self worth. If you want to reach great heights you have to have a steady sense of self worth. This week's energy is helping you find security within yourself. What's blocking you from believing in yourself 100%? It's time to pinpoint this and let it go. You've got too much good work to do.
Want more wisdom? Book a reading with Sandra here or follow her on Instagram.
Gemini :: Gemini Rising
A drumroll. The drumroll is building anticipation. Are you ready to step out into the spotlight? What will be the big reveal? Most certainly you'll be defining a part of your personality. Allowing a part of yourself to flourish. You've got to come out on stage larger than life. You've got to let yourself be seen and heard and understood. The important thing for you right now is to be confident. Don't flicker or waver, just be you. You'll have to have strong boundaries to be able to assert yourself in the way that you are being called to right now. Whenever possible, choose action over contemplation this week. Think of yourself as the contemporary poster child for "Just do it."
Want more wisdom? Book a reading with Sandra here or follow her on Instagram.
Cancer :: Cancer Rising
A sheepskin rug. There is some weariness in constantly maintaining a physical body. Which is why at this moment your focus is on the inner worlds—the emotional, spiritual, psychic realms. Shake of the drudgeries of the outer world and go inward. Curl up in a dream chamber filled with sheepskin rugs, incense and candles, then flow through the veil. What does this actually mean? It means that you need to carve out some mental or physical space that is devoted to your spiritual life. Build an alter, start a meditation practice. Go in. You need a break, and you need some inner wisdom. All the wisdom of the Universe is inside you. You just need to set up an environment that's conducive for accessing it.
Want more wisdom? Book a reading with Sandra here or follow her on Instagram.
Leo :: Leo Rising
Jumping up and kicking your heels together. You could have a lot of information coming at you this week. A lot of dots will need to be connected. This symbol, representing exhilaration, reminds you to have a blast while being a boss. Your work needs to be hinged on joy. You'll be bringing people and ideas together. You'll be planning your future and honing your approach. Don't let this process be separate from love, grace and faith. Let it be light and fun. The tendency is to get bogged down in the ideas or philosophies of whatever you are trying to do . Remember the symbol of jumping in the air and clicking your heels together, so that throughout the week, you can keep coming back to a sense of exhilaration. Regardless of the administrative or logistical tasks you are facing, you will be able to maintain your direction and your lightness.
Want more wisdom? Book a reading with Sandra here or follow her on Instagram.
Virgo :: Virgo Rising
Changing the thermostat. You are turning up the heat. It's happening in your career. It's time to make some adjustments.You are being granted a moment of expansion in your career. Are you ready to heat up your work-zone? Basically, you are being called upon to make adjustments in your work that will help you take it to the next level. You have to take action here, by placing attention on what needs to change. Don't underestimate the help that a solid home foundation can offer you in this process. Your comfort and safety in your personal life is what will allow you to shake up your public sphere. Make space for yourself so that you can make the changes you need to make. No rushing or extra pressure. Spaciousness and calculated adjustments are what will allow you to soar.
Want more wisdom? Book a reading with Sandra here or follow her on Instagram.
Libra :: Libra Rising
On an airplane with a guidebook and breath-mints. New horizons. You are getting ready to broaden your mind. Allow it to be gentle. Help yourself grow and expand in an integrated way. Bring your guidebook. Stay clean and minty fresh. Travel in style to the outer realms of your experience. Think of this expansion as "coming into your own." You are ready, finally, to break free of old, out-dated patterns and upgrade your philosophy. Maybe you've gotten used to change being kind of hard. It doesn't have to be that way! This change is meant to feel supported. So slide into it. As you allow yourself to grow mentally, physically and spiritually, simultaneously recognize that you're already an authority. You are prepared. Now all you have to do is take the journey.
Want more wisdom? Book a reading with Sandra here or follow her on Instagram.
Scorpio :: Scorpio Rising
A handmade quilt. This quilt represents being comfortable enough with yourself to let go of the past. You are cleansing. Clearing. Getting rid of the old. And moving on to the new. It's time for you to bow down. Surrender. Get on your knees and cry into the soil. As each tear falls, shovel fresh soil over it to consecrate it. You are clearing out your psyche of any outdated emotions, beliefs and contracts. Give them all to the Earth to be transmuted into a different kind of energy. This is a keen moment for you to practice a letting-go ritual. You could try writing down what you are ready to let go of and conscientiously burn the paper. Or let a stick or a stone symbolize a feeling you are ready to let go of and then throw it into a river. A ritual is a symbol, and symbols are the language of the subconscious. Use your powerful subconscious mind to help you create change in your life.
Want more wisdom? Book a reading with Sandra here or follow her on Instagram.