EMBODY YOUR POWER: A MESSAGE FOR AMERICA
Welcome to a collective wake-up call for us to embody true power. As the dust begins to settle on the 2016 presidential election, Molly Burkett has a message for America…Portrait: Najva Sol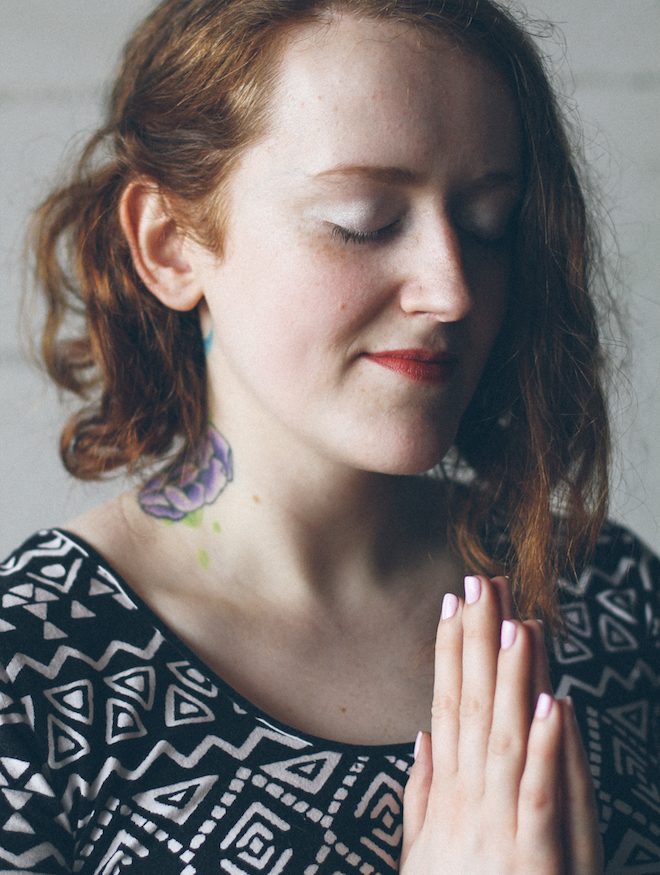 Election night I'll admit, I checked the coverage with feigned interest. As the daughter of a Marxist and a Neo-Pagan, I've grown up removed from any type of rousing faith in our political system. Beyond what Bernie represented. When he spoke in Washington Square Park in New York, I cried. (And I've never been moved to tears by a man in a suit, with the exception of Don Draper).
Nonetheless, of course I assumed Hilary would win, and that would be that. I went to sleep.
I was shocked, along with the rest of you, to wake up and see how things had unfolded. The following essay immediately began coming through. So I started typing, and I share it with you here to offer comfort in this time of grief, confusion, and fear, and to offer my perspective to the question we're all asking: "Is this a joke?"
:: A MESSAGE FOR AMERICA ::
The process of spiritual awakening, often referred to as "healing," is actually a great clearing—as all that is NOT love is released from the body. This is cathartic yet painful, like venom being drawn from a snake bite. All your fear and selfishness is often revealed to you in dramatic ways. Emotional trauma held in cellular memory begins to come up to be dissolved. Painful personal histories flash before your eyes like it happened yesterday. Anxiety, panic, anger, inflammation and PTSD-like symptoms are common as part of this process.
Sensitivity grows both psychically and physically. You are more attuned to the needs, feelings and wants of others, because you are coming to the realization that you are not separate, that serving them serves you. You also become less numb to the effects of toxins in food, drink, conversations, movies and TV, and are forced to update your lifestyle accordingly. The catalyst for awakening as individuals is often a great tragedy or sudden injury that humbles us and forces us to reevaluate our lives and commit to making changes. No wonder we call it a "wake-up call." I believe Trump is a collective wake-up call for us to change our ways as a nation.
Deepak Chopra says Donald Trump is an example of someone who holds so much trauma within him it has kept him infantilized, forever remaining in the lower chakras: reactive, survival-based, and deeply, deeply afraid. He rests in narcissism, never evolving to the higher consciousness where compassion is awakened and our interdependence is felt, known, and acted upon. It is from this injured place of fear and illusion that all violence stems. All violence towards others is ultimately a form of self-hatred and self-destruction, an attempt to mend a hurt in a way that regrettably, only causes more pain for ourselves.
So where do we go from here? I see a pathway.
Trump is a wounded child with a loaded gun. He will mirror to us in America our own wounds: our fears, our hatreds, our prejudices. His presence will draw out the darkest elements of the American collective being, and force us to bear witness to the ways we too have justified violent behavior, violent speech or violent thoughts in our lives.
Micro-violence in the form of gossip, complaining, judging, assuming, insulting and demeaning each other are among the seeds of large-scale violence in the form of systemic racism, misogyny and sexual assault, and abuse of natural resources. There will be a proliferation of this violence and it will be painful. There will be more terrible, vitriolic hate speech. There will be lives sacrificed. But there will also be redemption. There will be resistance, and activism. For women, for minorities, for immigrants, for the LGBTQ community, for the rights of all people to live a healthy and happy life. For nature, to heal and to be honored and ultimately be recognized as the source of all life and healing.
I believe in the power and potential of the American people, starting with you. I suggest you use this as an opportunity to embody the character traits that you wish you were seeing in the American president. What is your image of power that is also power for the people, and power for Mother Nature? What is your image of a divine protector or a sacred warrior who will protect our food, our water, our children, and lead us all to greater cooperation and peace?
Practice all the qualities of a great leader today in your own life. Envision good triumphing over evil. Do not embrace defeat. Love does not necessarily prevail in the space and time and the form that you expect, want or understand, but it does indeed prevail. Love is the first and the last word. This is the trajectory we are on, our shared destiny, and it cannot be un-written.
Witness the horror and shock of this moment from a place of deep knowing within yourself. Keep yourself attuned to the fundamental truth that beyond the dramas of the past and projections of the future, all is well now. The sun rose today and it will set this evening. The air gives us oxygen, and with every exhale we encourage the flowers to bloom.