TRANSMUTING TRAGEDY: HOW TO WORK WITH SATURN SQUARE NEPTUNE
The Saturn square Neptune astrology of the 17th century Salem Witch Trials is currently repeating. But beyond the cultural tension in the air, there is potential for great progress now too, says Amelia Quint…Artwork: Silvia Coco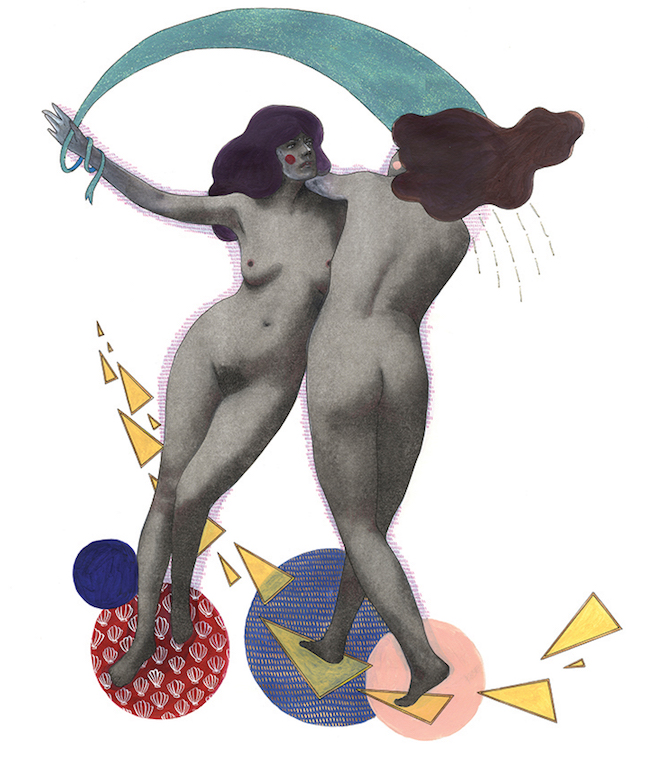 For better or for worse, 2016 has been a year of change. With tragedy after tragedy it can feel impossible to make any sense of the zeitgeist, but this cultural climate has been building since 2015. Thanks to an astrological alignment of Saturn square Neptune, we're all revising our belief systems.
What does that mean for you as an individual, and for our society as a whole?
:: WHAT IS SATURN SQUARE NEPTUNE? ::
Saturn and Neptune are both very powerful in their own rights. Saturn is the ruler of structure, responsibility, and karma. His mythology is complex, and he also had power to subvert social norms.
Meanwhile, Homer referred to Neptune's Greek counterpart Poseidon as "Shaker of the Earth"—because the god's volatile temper was known for causing earthquakes. Neptune was also "god of the deep", and is associated with the unknown and unknowable aspects of life, including magic and spirituality.
Right now, Saturn is in Sagittarius. Sagittarius is associated with all forms of expansion—and so overseas travel, foreign cultures, philosophy, and religious beliefs are all Sagittarian pursuits, given take you outside your comfort zone in one way or another.
Saturn here is challenging the way we as individuals and a community view our own ideologies and those of others. He asks, "What do you believe in, and why?" Sometimes, we may not like the answer.
In addition, Neptune in Pisces is putting pressure on Saturn in the form of a square aspect. It's a tough aspect, to be sure. And as a backdrop to current political and world events, it can feel like one step forward and two steps back. But history shows us this is not the case…
:: SIGN OF THE TIMES ::
Saturn square Neptune has been causing ideological clashes for nearly a millennia—and the 17th century alignment of Saturn in Sagittarius and Neptune in Pisces saw the Spanish Inquisition and Salem Witch Trials, both brutal regimes carried out in the name of religious belief. (An aside: It's curious that Robert Eggar's The Witch, set during that period, has had so much success during the same astrological lineup centuries later!)
Certainly ideology is a vital topic of discussion now. There has been progress and there has been adversity. As a resident of South Carolina, I felt the unspeakable sadness of the AME Church shooting in Charleston and celebrated the great victory for the black community that was removal of the Confederate flag from the SC Capitol grounds.
Only a few months later, the US Supreme Court ruled laws banning same sex marriage to be unconstitutional, effectively legalizing same sex marriage—something I thought might never happen in my highly conservative state. Outside of the US, Ireland legalized same sex marriage as well.
Then there are the acts of violence that we have become all too familiar with—the Charlie Hebdo shooting, the ISIL shootings at Bataclan and throughout Paris, bombings at Brussels airport in Belgium, and most recently, the shooting at Pulse gay nightclub in Orlando.
To list them all at once is a pain too acute to bear, but is necessary in order to acknowledge the common thread: that these are attacks on and because of belief.
They are intended to instill fear and feelings of otherness. But what we have seen at every turn is that humanity refuses to succumb to fear and doubt, and holds instead to the belief that "love is love is love".
Truly, this is the axis of Sagittarius and Pisces in its most heart-wrenchingly beautiful form—a invitation to use the Sagittarian freedoms of speech, religion, and love to conquer hate and to heal the world around us with selfless Piscean empathy.
:: CULTURAL METAMORPHOSIS ::
If you look just beneath the conflicts, you'll see that Saturn square Neptune is also a catalyst for incredible advancement in culture and spirituality. The 14th century Saturn in Sagittarius square to Neptune in Pisces saw the denouement of the High Renaissance in the West, including the building of the Royal Library at the Louvre in Paris.
Petrarch also wrote his collection of sonnets during this time, altering the poetic form for centuries to come. In the East, the powerful Ming dynasty assumed control and began construction on the Great Wall of China, one of the great wonders of the world.
These squares are also known for being portals for mystical revelations and supernatural events. An extremely rare alignment of Venus and Jupiter called an "occult" occurred during the 12th century square, and Halley's comet was observed during the 16th century square. During last year's square, NASA announced the existence of liquid water on Mars, which brings the possibility of life beyond of Earth closer than ever.
The Divine Feminine also seems to resurface during Saturn-Neptune squares, despite being suppressed throughout much of Western history.
Our Lady of Guadalupe, perhaps the most famous Marian apparition in the history of the Catholic Church, appeared during the 16th century square. In that same period, famous occultist Heinrich Cornelius Agrippa wrote De nobilitate et praecellentia foeminae sexus (On the Nobility and Excellence of the Feminine Sex), making a huge contribution to the modern magical understanding of femininity.
In the same way, feminine spirituality has experienced a massive renaissance in pop culture and fashion over the last year—and, for the first time, in America we have the opportunity to vote in a female President.
:: HOW TO WORK WITH THE ENERGY OF SATURN SQUARE NEPTUNE ::
The best way to collaborate with this vibe is to know where Saturn and Neptune are transiting in your natal chart. If you don't know where Sagittarius and Pisces are in your chart, you can calculate your chart here.
Once you know what houses are being activated for you personally, focus on transforming your beliefs in those areas for amazing results.
Wherever Saturn is transiting is where you need more structure and stability. Are your current methods and belief systems working for you? If not, how can you realign them to feel more free?
Wherever Neptune is transiting is where you need to heal and take a spiritual approach. Is there a dream, message, or vision you want to share with the world?
Finally, give yourself the time and space you need to process any feelings that come up. These are challenging times, and an extra focus on self-care is required. Write, rest, or do whatever else helps you feel whole again. While you're at it, see if someone near and dear to you needs some extra love too.
The exact dates of Saturn in Sagittarius square Neptune in Pisces are: 26 November 2015, 18 June 2016, 10 September 2016.