LOVE YOURSELF: A BODY WORSHIP RITUAL
Learn how worship your body with the same reverence you show when entering a sacred space of prayer, says Kitty Cavalier.  Artwork: Pedro Sacadura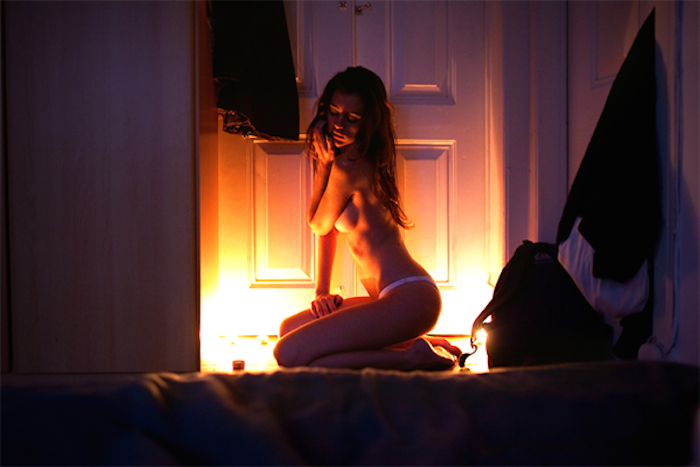 As a little girl, I loved volunteering to clean my church after mass on Sundays. My family and a few other parish members would polish the pews, switch out the flowers on the altar, sweep the long processional aisle of dust bunnies and organize the hymnals. As a very devoted little Catholic girl, I felt like I was being given a backstage pass to my favorite concert. Tending and caring for what I considered God's house was a huge honor and made me feel quite elite.
As time (read: puberty) went by, my beliefs about religion began to shift tremendously. As Mae West once said: "I used to be Snow White, but I drifted." The church no longer felt even remotely like home – and as for many of us, my spiritual path since has followed more of a curve than a straight line. But there's been one constant throughout: my body.
"My body is my temple" – it sounds so cliché. But let's really think about it for a second. A temple is defined as "a space devoted to religious reverence," and I can think of no greater house of worship than the cathedral of my very own heart. There is no holier a song than the sweet hum of my inhale and exhale. The light in my eyes mirrors the warmth of a candle's flame. My skin houses and protects me like the smooth, lavish marble of the Taj Mahal, and the flush of my cheeks after an orgasm can put the ceiling of Sistine chapel to shame.
Yes, my body IS my temple. So today I'd like to share with you one of my personal favorite rituals to start 2016 off right: body worship. There is no way to do this ritual wrong. Just like learning a prayer or a hymn, a little heart, a sprinkling of soul, and practice is all it takes.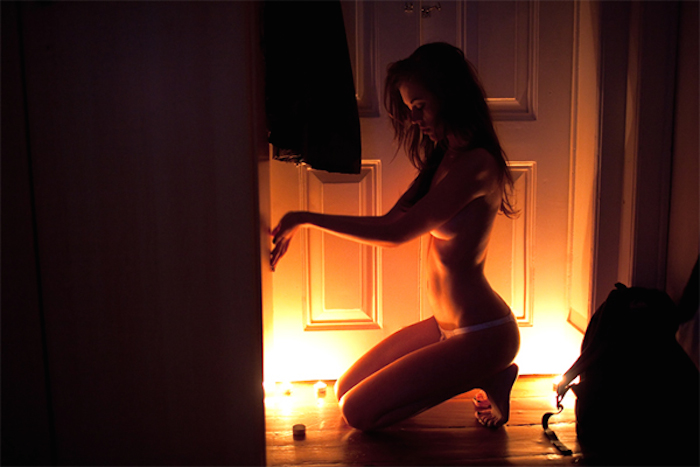 Suggested supplies for this body worship ritual:
Body Oil (such as coconut oil)
A mirror propped against a wall
A body scrub (like some sea salt mixed with body oil), or a loofah
A towel
Candlelight, incense, flowers, or anything else that helps you set sacred space
Music: click here for a free, hand-curated Body Worship Ritual playlist
1. Set Sacred Space
Imagine you are setting space for the high holy days of your inner temple. You can light candles, burn incense, place rose petals on your bath mat, fold your towel as you would for a guest, play music, or anything else that evokes the spirit of the sacred for you.
2. Tending The Temple Grounds
Step into the shower or bath. As you wash and scrub your skin, do so with the same care, attention and tenderness that you would show to the house of the Divine. Scrub and loofah your elbows and knees with the same softness and reverence you would show when walking into a sacred temple. Imagine that as you caress your body with soap suds, every bubble of soap is like a flower laid down in offering at the altar of YOU. When you rinse your body, feel the water wash away that which no longer serves you, and it's healing power to make space for something new to enter.
3. The Sacrament of Body Worship
Now you have prepared the temple, you are ready for ceremony and worship! Place a soft blanket or towel on the floor in front of your mirror. Position yourself naked by candlelight seated on the floor and bow to the beauty of your reflection. Take the body oil and warm it between your holy hands, using your breath to blow a prayer of gratitude into the oil. Then, allow your hands to be both pilgrim and priestess, as they slowly, reverently massage prayers into your skin. Approach each curve and corner of your body as a different room in the temple waiting to be explored.
4. Encountering Eternity
When you feel complete with your body worship, get very close to the mirror. Stare deep into your own eyes and see if you can glimpse the part of you that is eternal, that never ages, and transcends time. Just like that sense of divinity we feel when we walk on sacred ground, that spirit is right there, woven into the fibers of your DNA. All that's required to encounter it, is the courage to really look.