5 WAYS TO WORK WITH FULL MOON TAROT
If you're looking for a super potent time to work with the Tarot, the Full Moon could be the cosmic invitation you're after. Gabriela Herstik has five ways to work some Full Moon Tarot magick…Image: The Starchild Tarot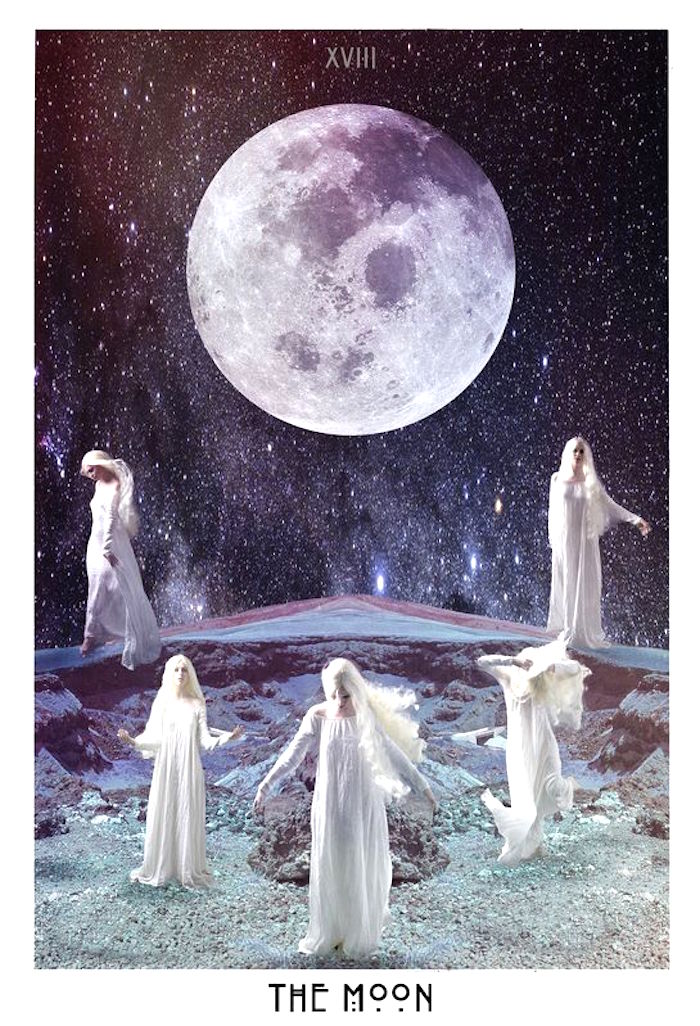 Read For The Month Ahead
Perhaps the most obvious and direct way to incorporate the Tarot into your Full Moon ritual is to do a reading. The cosmic energy now is ripe for making decisions on whatever's been brewing since the previous New Moon, so spending some time reflecting on what you now want to manifest can only serve you. Set up a sacred space, get centered, find a layout that sings to you and draw a card, any card. Reflect on the cycles of your life, and be open to what comes up in the card you've chosen.
Make A Tarot Temple
The Tarot is all about imagery and symbolism after all, so why not play with this? You can create a Tarot altar or temple by picking a card that resonates with you (or simply picking one randomly with your intention for the Full Moon in mind) and choosing objects and offerings that help you personify the card. Flowers, photos, statues of deities or animals, and anything else that taps the energy of your card can bring its message to life. You can even create a piece of art that relates to your card, and display it in your chosen sacred space. Focus on the feeling the card brings up for you – especially relating to what you want to manifest in the coming weeks – and channel it into your space.
Meditate on It
The day of the Full Moon is the perfect time to manifest the results of any intentions you've set in recent weeks. Once the moon starts to wane, aka lose light, it's the perfect time to let go and surrender all outcomes to the Universe. Meditating with your card can intensify whatever intention is set. So whether you're meditating on Death and choosing transformation as the result of any process you've been going through, or if you're simply sitting with The Moon card and focusing on the divine feminine, you're golden. Taking time to breathe, absorb the energy of the Full Moon and really channel it into your intention is simple, doesn't take a lot of time, and is a sweet reminder to just be.
Spell It Out
The Full Moon is a strong time for spell or magick work and um, hello, why not incorporate your cards into your work! Whether you're doing some sigil magick, candle magick or something in between, using the imagery from a card can help set the tone. There's a whole realm of tarot magick out there, so do your research and get creative.
Dress Like Your Favorite Card
If you really wanna channel your favorite card, take some sartorial cues. Dressing for your Full Moon ritual in something that chimes with the imagery of card you're working with is a super direct way of aligning yourself with its energy. Feeling the High Priestess this month? Why not wear some jewels or a dress that reminds you of your own connection to Goddess energy? Feeling kinda Two of Cups? How about you dress in something your lover gave you, or something red and sexy. Get creative and manifest, it really is that easy!
What card are you working with this Full Moon? Connect with us and share your Full Moon rituals on Instagram, Facebook and Twitter!