MAGIC IN EACH SIP: HOW TO HOST A SACRED TEA CEREMONY
When can drinking a cup of tea make you feel like you're "melting into kaleidoscopic clouds"? When it's part of a Living Tea ceremony, says Madeline Giles. Images: Lisandra Vazquez Photography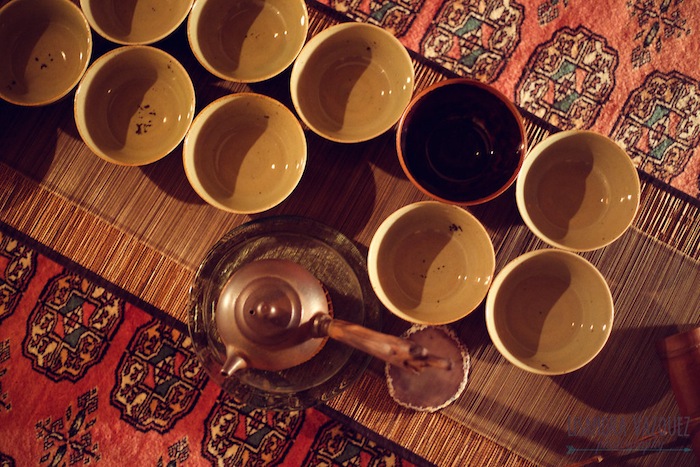 This time last year I enjoyed my tea bagged, bought from Whole Foods. I took jasmine green for breakfast, cacao yerba mate in the afternoon, and chamomile after dinner. If you asked me what I thought about tea then, I probably would've said: "It's a cozy alternative to coffee. It tastes good. I like it. Yum!" And that would've been the end of that. Like most Westerners, I related to tea as just a beverage. A constant companion I told my life's story to, but never considered listening to for a response. I didn't know any better. I didn't know there was more!
Then I moved to California, and by the grace of the tea gods, shortly thereafter I experienced my first taste of Living Tea during a love potion consultation. In one simple sip, the Tea pulled me out of my overly contemplative mind and into my body, where I felt transported into that magically meditative place where everything and nothing is known at once. It was heaven and earth alchemized in one simple swallow, and, as dramatic as this might sound, I felt I would never be the same.
"Really good Teas – that I call Living Teas – are from Old Growth forests in the high mountains and valleys of Yunnan, China and Taiwan, where the trees are hundreds and sometimes thousands of years old," explains Living Tea founder Colin Hudon. We're seated in his quaint Santa Monica cottage enjoying bowls of Purple Tea, which smells like wildflowers and makes me feel like I'm melting into kaleidoscopic clouds.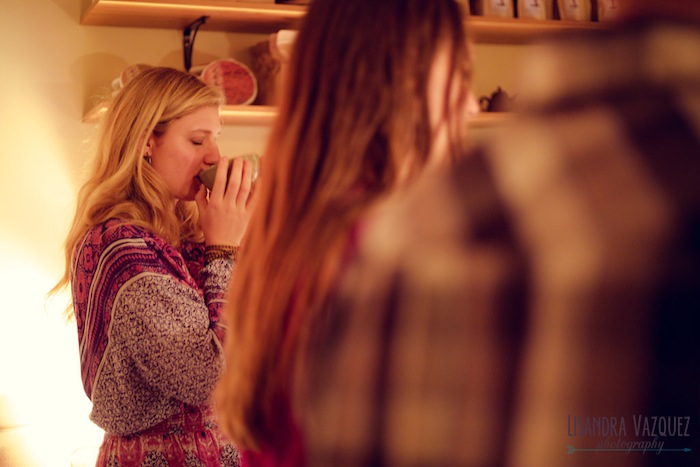 "If you think about a tree that's 100 or 500 or 1,000 years old, it's been gathering and concentrating a profound accumulation of chi – or energy –from the sun, the moon, the stars, the birdsong, the plants, and all the animals it's encountered over that time. The roots of a Living Tea tree can grow up to 100 meters deep, so they're pulling up trace minerals and phytonutrients that we don't get in our regular diet – that most plants we consume don't have. Then we process it in a certain way and bring it back to life with fire and water. It's alchemy."
Hudon began relating to Tea as a Tao when he synchronistically connected with a Taiwan-based Tea teacher during his travels through Asia in 2010. "I stayed for a whole month at [my teacher's] home, which is also a center called The Tea Sage Hut. I was profoundly moved by my experience there – it really kicked off my whole deep immersion into Tea. Prior to that it was just a curiosity of mine, a hobby." When Hudon returned to California, he began selling Tea, serving Tea ceremonies, and ultimately inspired a local tea community that's been growing ever since. Here, he shares the wisdom of Living Tea…
WHAT MAKES LIVING TEA DIFFERENT FROM CONVENTIONAL TEA?
The vast majority of Teas I carry are Old Growth, so they're from hundreds to thousand-year-old trees in wild forests. Unfortunately, 99 percent of tea in the world today is industrialized plantation tea. These tea farmers deprive the soil of certain nutrients so the trees are forced to grow more leaves for sustenance. Then, they pick those trees eight to 12 times a year, sometimes more.
Really good Teas – what I call Living Teas – are only pruned once or twice a year, and sometimes even left for a couple years, to grow as wild trees in the forest. Also, drinking Living Teas and relating to them as medicinal botanical herbs is very different than sipping a cup of plantation tea from Starbucks, or even a bagged tea from Whole Foods.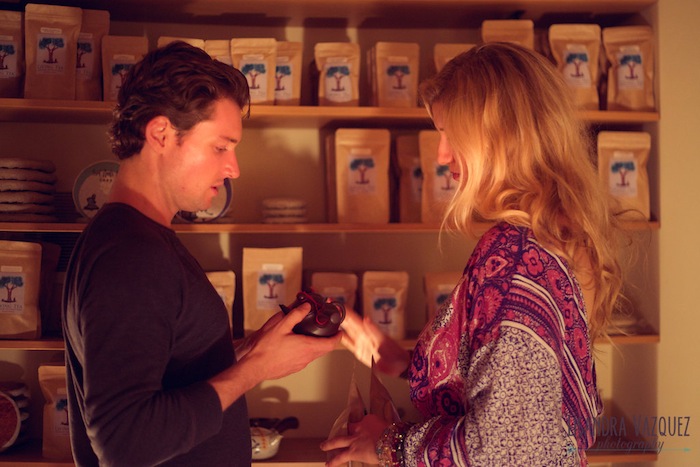 CAN YOU SHARE YOUR THOUGHTS ABOUT USING LIVING TEA AS A TOOL FOR MEDITATION?
Oftentimes meditation is about shunning the sixth sense – the mind. In an attempt to turn inwards [various Eastern] traditions often refer to the five senses as distractions to that path. Yet ultimately, we exist in the world – and you still have to get up and pay bills and call your dad and you've got to walk the dog and do the dishes, you know? So the question is: How can we bring that degree of mindfulness, of presence, of awareness, of connection, of open-heartedness to the more humdrum, prosaic aspects of our lives?
Tea is one bridge from the inside to the outside, because if I can brew Tea and talk to you and have a daily practice of coming back to this awareness of my body, my being, and of my life through Tea, then I'm building up this energy of mindfulness. And the more you build it up, the more of it you have. Tea is just one of many tools, but it's a very profound and powerful tool for this – especially if you come back to it every day. It's also very accessible, whereas for many people, sitting in meditation and observing their breath – doing some form of meditation or yoga or whatever they do – can be very challenging.
WHAT DO YOU RECOMMEND FOR PEOPLE WHO ARE INTERESTED IN DEVELOPING A RELATIONSHIP WITH LIVING TEA?
I tell people you can relate to Tea like a person. Every person we meet, we have an impression of them. Some are aggressive, some are loud, some are abrasive, some are gentle and soft and quiet and introspective and creative, and on and on and on. We meet people from so many backgrounds, and you can't meet a person without also meeting their education, their enculturation, their upbringing, their family – and the place they came from, which is true of Tea, too.
A lot of times when we do these Tea meditations or Tea ceremonies, it's about the senses initially, but as you drink tea, if you really pay attention, oftentimes images will start to arise and people can see the place from which the Tea came. We say when She or It or the Tea starts to communicate with you, then She or It becomes the teacher. Soon, how long you steep a Tea, how many leaves you use, what type of Tea ware is the most appropriate – all of that is something that the Tea communicates to you, It's not something you can read in a book.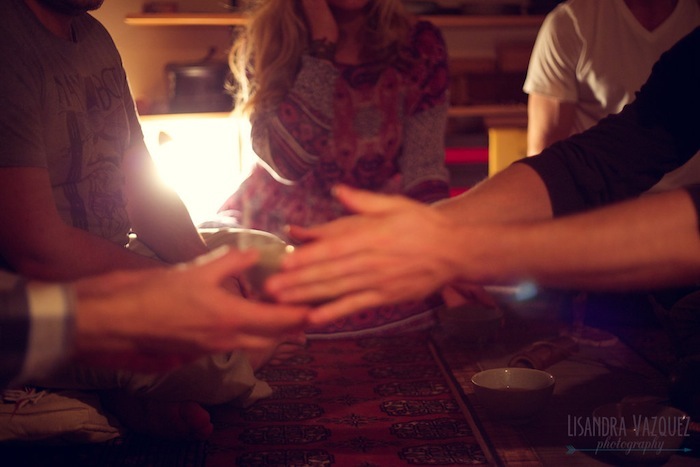 HOW CAN PEOPLE WHO DO NOT HAVE ACCESS TO A TEA COMMUNITY GET INVOLVED WITH TEA CEREMONY?
When a person starts to open the door to Tea beyond it just being an everyday beverage, it can be overwhelming. People will go, "Do I need to buy all this Tea stuff and do I need to learn all these traditions?" But the essence of Tea as a Tao, as a way, is simplicity. When my teacher, Wu De, introduces people to Tea, he says start with just a bowl and a couple leaves. Four to eight leaves of a large leaf Tea – because if it's too small, the pieces get stuck in your mouth.
All you need then is just a way to heat your water, a big leaf bowl, and the leaves. Step two is more about the methodology and aesthetics of Tea, whereas step one – bowl, leaves – is about letting all of that go. You can do that alone or invite friends over and explore. It's not about conversation, it's about experience.
WHEN I FIRST MET YOU AND TOLD YOU ABOUT MY INITIAL EXPERIENCES WITH THE TEA, YOU SAID, "YOU MUST HAVE GOOD TEA KARMA." WHAT DOES THAT MEAN TO YOU?
There's a saying in our tradition that as the man seeks the man, so the leaf seeks the man. If a person has a profound respect and reverence for Tea as a path, if they create space in their life for it, then certain types of Tea will find their way into their lives. If a person relates to Tea the same way they relate to any beverage, then a different type of Tea will find their way into their lives – but that's true of anything. In a sense, we get what we give.
To learn more about Tea as a Tao and tea ceremony, check out LivingTea.Net and Global Tea Hut. Numinous readers can also get a 10% discount on any purchases from Living Tea – just add the code "NUMINOUS TEA" at check out.