TURNED ON: SEXTING ACROSS THE MADONNA WHORE DIVIDE
Is sexting the same as cheating? It all depends if you're playing in the shadow or the light, says Ellie Burrows. Image: Katie Fischer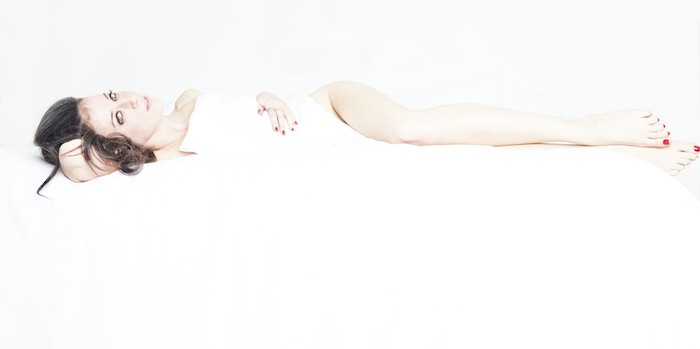 Sigh, the Madonna and the Whore. Is there anything more banal then reducing a woman to one of those two archetypes?
Madonna: Non-sexual woman. Keeper of morality. She offers her breasts to her children. She tempts you into eating your peas. She tempts you for your own good.
Whore: Sexual woman. Debaser of morality. She offers her breasts to everyone. She tempts your husband. She tempts you for her own good.
For thousands of years women have been cast in one of these two forms. There is no shortage of literature or decorated scholars who have devoted their lives to studying them. And, there are many feminists who have fought fiercely to destroy such narrow-minded classifications.
But I have a confession. I totally recognize this duality in myself and I'm not ashamed to admit it.
Enter: Sexting – digital fingering at its finest, and the space where I recently encountered my inner Madonna and Whore pushing their respective pleasure agendas. As it turns out, I was able to marry them when I understood how to align their supposedly conflicting interests. They were willing to sign a sacred contract, but they had to look each other in the face to do it.
A few months ago, I found myself in a budding Millennial relationship: we were really into each other but having a tough time sorting out the commitment piece. It forced me to evaluate my own feelings about monogamy. And when this column launched in April, it brought some men from my past out of the proverbial woodwork.
I hadn't talked to Eric in years (name obviously changed). We grew up in the same place and had always had that energetic-sexy-vibe thing happening but we never actually acted on it, mostly due to timing with a dash of trepidation. He reached out to tell me that he was proud of me and confess that he had fantasized about me since his preteens. Before I knew it, we were sexting and it was tons of fun, like major smile-ear-to-ear fun. And if I'm being totally truthful, it happened two more times. Over Gchat. Off the record. That was the problem.
Hello Whore Ellie. Eric has a very serious girlfriend.
The next weekend I was with my boyfriend-who-wasn't-my-boyfriend. He put up an Instagram that also drew out a woman from his past. When I saw his facial expression when he peeped at his screen, I was intrigued. He told me that she was someone he had a one-night-stand with and since then had occasionally sexted with. He assured me that I had nothing to worry about.
But, I wasn't concerned at all. Like, at all. See, I knew that I had just engaged in a sexting conversation with someone I was attracted to and it had absolutely nothing to do with him. It wasn't going anywhere: I'm monogamous and I like to flirt. Of course, someone could say that if I really loved him I wouldn't have sexted with someone else. If you're that someone, please go buy Esther Perel's Mating in Captivity: Unlocking Erotic Intelligence
. Immediately. #requiredreading
Then the following came out of my mouth:
"It's okay if you sext with her."
"What?"
"Well, I'm not sure sexting with her is a direct reflection of how you feel about me. It has nothing to do with me. It's just an aggressive form of flirting. I would be fine with it as long as she knows that I know that it's happening and it doesn't actually become physical."
"Explain."
"If you both know that I'm aware that it's going on and are still willing to sext, then you're playing in the light. Then we are all engaging in conscious behavior and all of us get to enjoy the fantasy. However, if you can't share it with me and you don't think I can be part of the fun then that's playing in the dark. That would be messy."
Then I dropped the bomb. "In fact, I sexted with someone last week."
"Really? Look at you." He had a mischievous smile on his face that mirrored mine.
"Yes, and that exchange had absolutely nothing to do with my love for you. Totally mutually exclusive. It's sophisticated flirtation. Except his girlfriend doesn't know about it which is a problem."
It was like we were sitting in an energetic room and the ceiling was lined with fluorescents. I could see everything. Deception is the fertile soil where the Madonna and the Whore's separateness is able to survive. And that really is some holy shit.
The next day, I reached out to Eric and shared my revelation. He loved his girlfriend very much but was doing this behind her back, casting her as the Madonna and me as the Whore. I didn't like engaging in this kind of shadow behavior because it didn't allow us to play together. It kept us separate.
Maybe Eric believed that his girlfriend couldn't see the duality and understand the nature of our flirting and so he felt the need to hide it from her. That, or he actually felt like it could go somewhere with me. But by going along with the deception, I wasn't holding a space; I was trampling straight through one. And if we couldn't play in the light, then it needed to end. So I ended it. I told him we could speak as long as we could keep it PG. Sadly, Eric and I haven't spoken in months.
Hello Madonna Ellie. I support monogamy so I wanted to support Eric's relationship. I also wanted to honor his girlfriend and only play with Eric if we could all play together.
The Madonna and Whore archetypes are in all of us. Both are remarkable extremes in their own right. I intimately know my Madonna and my Whore, and my life is an exercise in integrating them. It's way beyond just being "a lady in the streets but a freak between the sheets." I love both of them and so they love each other. I offer each a seat at my well-lit table and that is where they are able to break bread.
Read more from Ellie Burrows at Ellieburrows.com