DESERT ROSE: ERICA JAGO ON SPIRIT, SEX AND CREATIVITY
Jago Yoga founder Erica Jago talks to Ruby Warrington about finding her freedom at the Burn and creative collaborations her her twin flame. Images by Michael Chichi.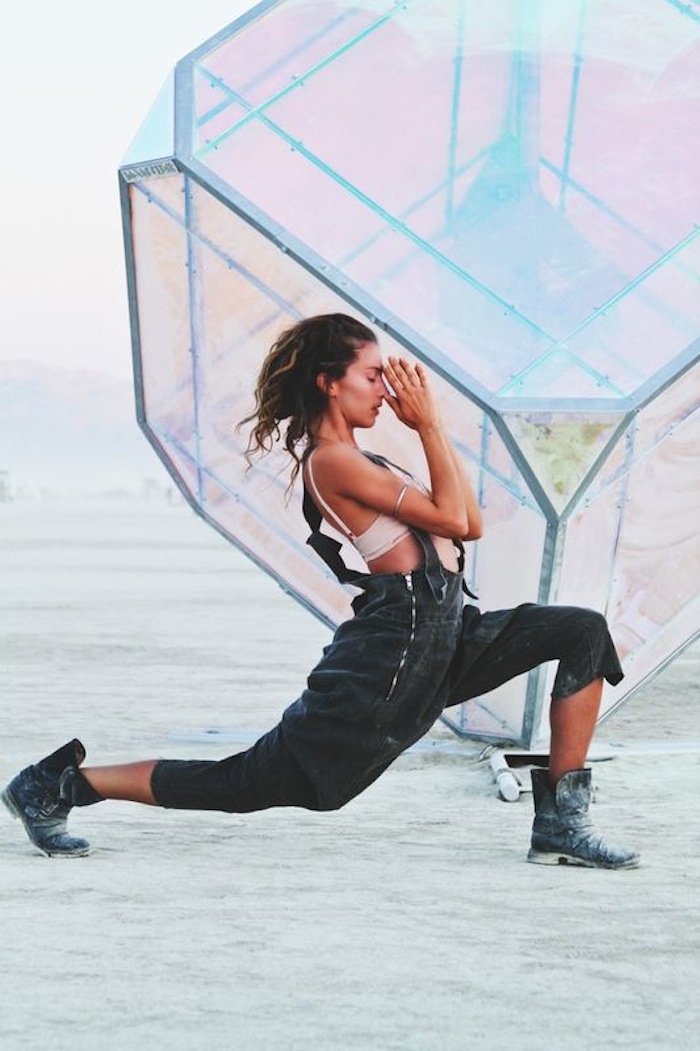 I first came across the work of Erica Jago and Michael Chichi in Art of Attention, the book Erica co-authored with NYC yogini extraordinaire Elena Brower.
The book opens with instructions for a fast-paced flow sequence to Reduce Tension and Find Forgiveness, and I was blown away by Michael's accompanying images of Erica and Elena, set against the backdrop of Burning Man's Black Rock City.
This was yoga FROM ANOTHER PLANET. One where fierce postures were infused with fashion, sex and a powerful and raw femininity. At the time, The Numinous was still in the very earliest phases of conception – but; "look," I would tell people, "THIS is Numinous."
When I reached out to Erica and Michael about creating some images for the site, I was beyond psyched when they said yes. Here are the results. And here is Erica on her yoga, her man and how she believes "my spirituality, sexuality and creativity" are one and the same thing.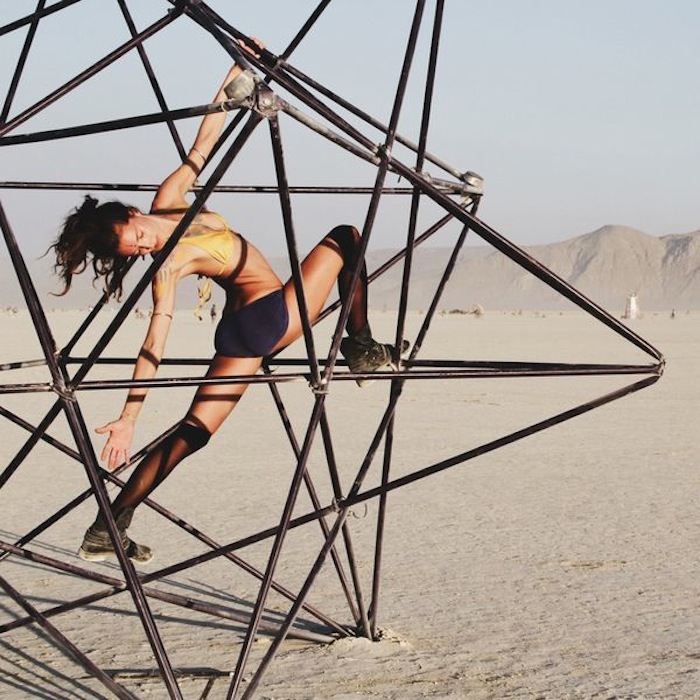 ERICA, I FIRST CAME ACROSS YOUR WORK IN ART OF ATTENTION. HOW DID YOU AND ELENA FIRST CONNECT?
Elena's poetic yoga classes came into my life right when I needed support and inspiration. I was transitioning out of a 13-year relationship, my job had just laid me off and I had no choice but to take my dreams seriously. Terrified of failure, I reluctantly sent her a pdf of my book and within days she responded with; "Could we / should we work together?" DREAM COME TRUE! Our relationship since has completely changed the course of my life. Not only did Elena bring me into her world, but she encouraged me to elevate mine on every level.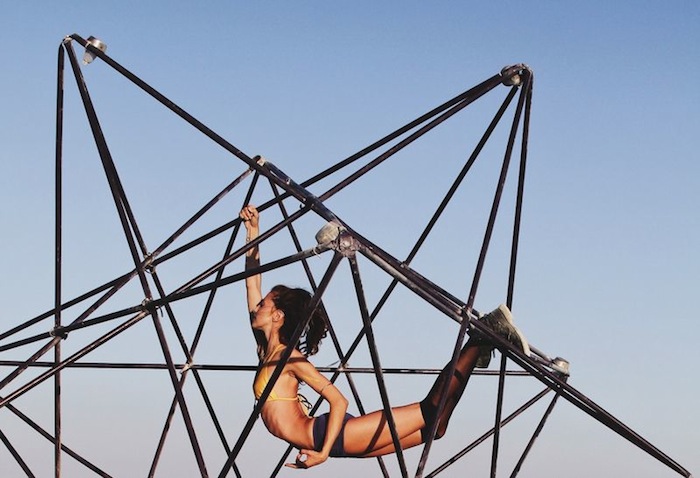 AND HOW DID YOU AND MICHAEL FIRST MEET?
Michael! My twin flame. I was kind of stalking him online, because his photography and artwork made me swoon. It's like he spoke the language of my heart through his visuals. Again, it came down to ASK and you shall receive. When I first reached out, we agreed to met in person about web design and photography. What I thought was a "business meeting" turned quickly into a discussion about relationships, spirituality and…Burning Man!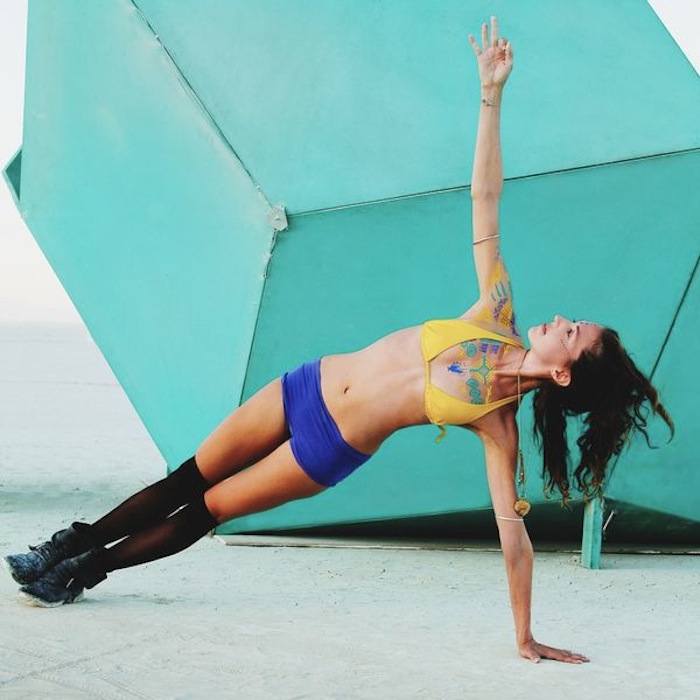 AH, THE BURN. IT'S IS OBVIOUSLY A SPECIAL PLACE FOR YOU TWO…
When I finally started attending these transformational festivals with Michael, I found myself moving my body and expressing myself 'wildly,' in a way that used to invoke caution to be careful, to be realistic and remind myself of my own limitations. Instead these experiences liberated and revolutionised my self-confidence. After years of putting out the request to learn self-love, I believe the Universe conspired the union between Michael and I that brought me to the Burn through the spiritual law of attraction.
WHAT ARE YOUR SIGNS, AND WHAT PART DOES THIS PLAY IN YOUR RELATIONSHIP?
Michael is Sagittarius, I am Leo. Both Fire signs! I believe Michael appreciates the way I'm not afraid to shine and take the lead, and I respect his outward focus on the world.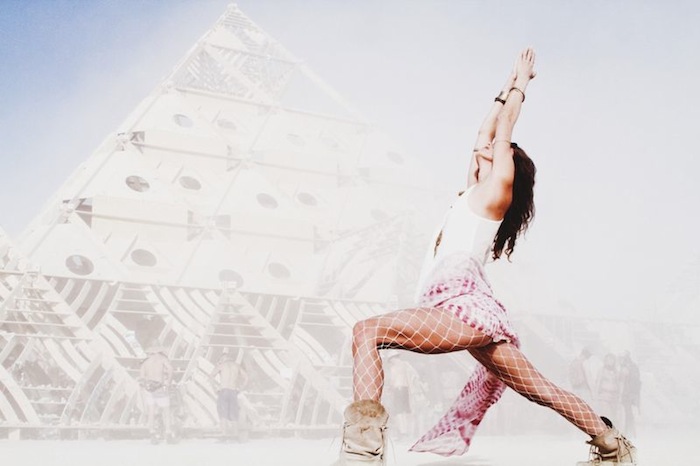 WHAT DOES IT FEEL LIKE TO CONNECT WITH EACH OTHER ON A CREATIVE LEVEL?
Michael's favorite line is; "When two people are saying YES, anything is possible…"
CAN YOU DESCRIBE THIS PROCESS TO ME?
You can count on me to take the lead in many, if not all of our creative projects. Michael shows up with a willingness to work as a team and there is a clear understanding on both our parts that there is something much larger at work here. We both know our place in the process, and our fiery passion to express beauty is magnetic to the type of work we attract. Hence working with The Numinous!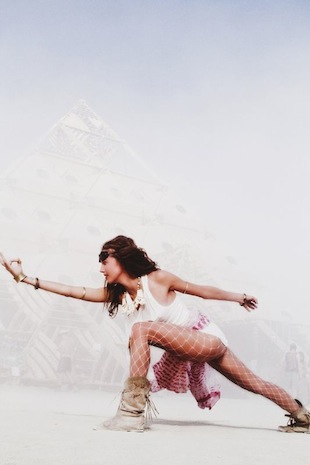 WHAT WAS THE INSPIRATION FOR THE PROJECT YOU SHOT FOR US?
Our inspiration for this shoot was really the sculpture. Michael knows both the artists, so we sought their pieces out specifically. Also, we always tried to shoot at 6am or 6pm, which we call 'magic hour,' that cinematic time of day with its soft luminosity.
YOU REALLY KNOW HOW TO PUT A LOOK TOGETHER. WHERE DO YOU GET YOUR CLOTHES AND HOW DO YOU STYLE YOURSELF?
My favorite designer is Lurdes Bergada. I found them in Barcelona while biking near the Rambla Catalunya. The window display stopped me in my tracks; feminine in nature but with that REVOLUCIÓN androgynous feel. I seek contemporary clothing with soft lines, clean shapes and natural fabrics for practicing yoga in, but which still have a sensual side for bopping around town and meeting friends out. The saris women wear in India are a huge inspiration for me and I love to adorn my body with bangles and bracelets…and body paint!
ANY RULES FOR THRIVING IN THE DESERT ENVIRONMENT?
Love your camp. Have a cushion for your bike seat. Plenty of baby wipes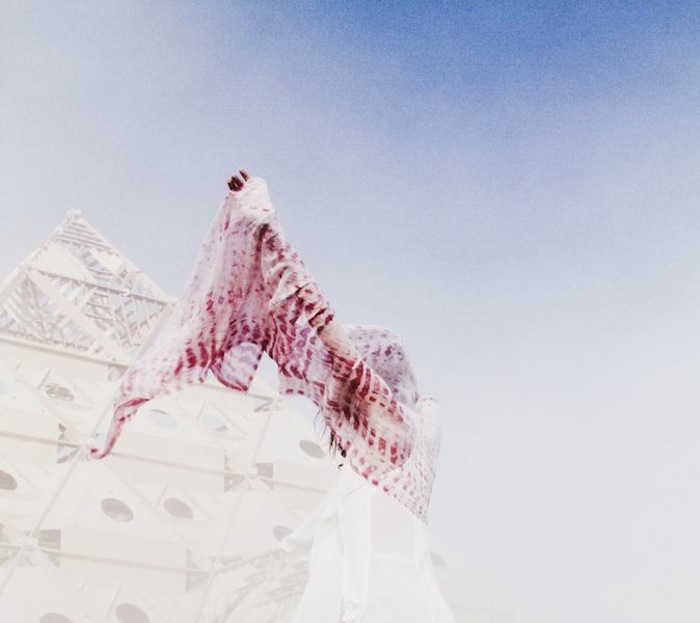 SO WHAT'S THE PHILOSOPHY OF YOUR YOGIC PRACTICE?
When we meet on the mat, I believe we are doing the work to become whole. This is an act of remembering who we really are, when all the outside programming and input is brought to a minimum and we resolve to stay present in the heart. In fact, the heart breath is an excellent way into our wholeness. Keeping our awareness right above the heart and below the throat is how we align all aspects of ourselves with love. It means seeing this life as a gift that we are the caretakers of.
AND DO YOU HAVE A PERSONAL LIFE PHILOSOPHY?
I think everything we say, do and think has to be a "win, win" for all concerned, otherwise it's not worthy of the heart space. And that if we practice together, we are in it together..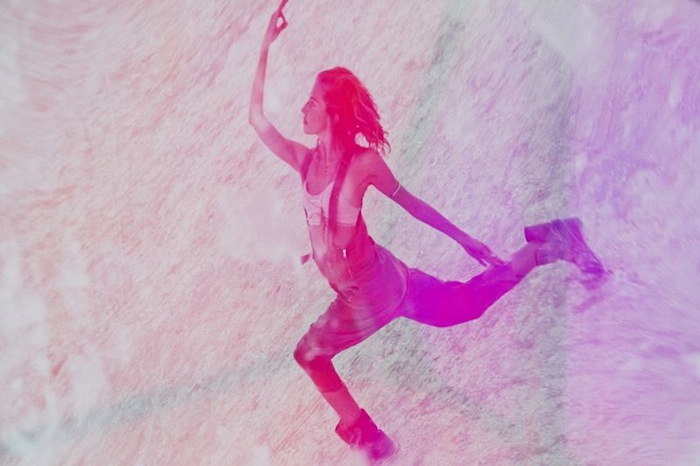 WHERE DID YOU GET YOUR NATURAL AFFINITY FOR SPIRITUAL TEACHINGS?
My grandmother was one of the first evangelical women preachers in Ohio and my father has saved cassette tapes of her voice in church. When I listen to those teachings I can hear the same inflection in my voice when I'm guiding a group. So there's a lineage here that my soul signed up for, and it's like my body is equipped to further the universal messages of love through art and design. I know my grandmother is very proud.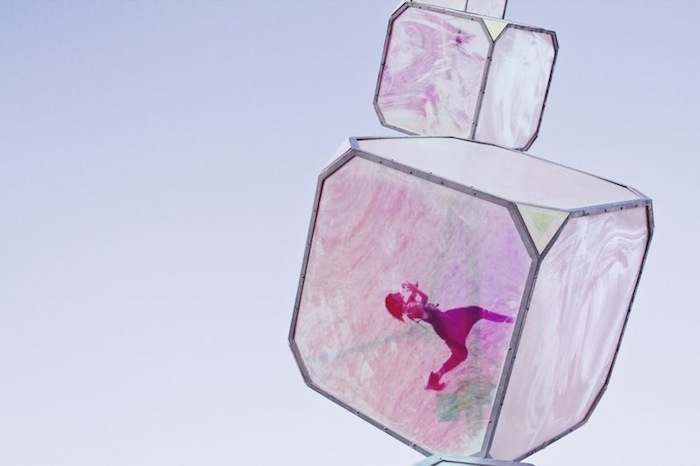 FINALLY, IN WHAT WAYS IS 'BEAUTY' AN EXPRESSION OF THE SPIRITUAL?
I love this question. I see no difference between my spirituality, sexuality and creativity. All three are working to evolve us into the next level of love through beauty and attraction. Beauty drives the feeling of peace and until each one of us knows how to find that place in ourselves, and to align with it, we will never have world peace.
Art of Attention by Erica Jago and Elena Brower is out now.
www.jagoyoga.com
@jagoyoga